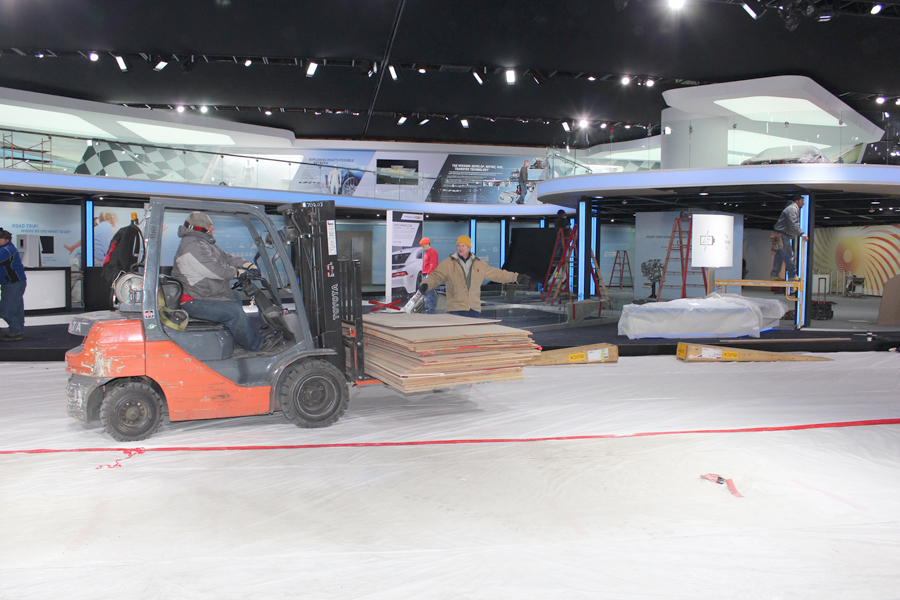 DETROIT – Last year's North American International Auto Show attracted the largest public crowd in a decade, 795,416 people. The show also brought in 5,000 journalists from around the world and featured the debut of 71 vehicles. This year, expect more of the same. The NAIAS is sponsored by the Detroit Auto Dealers Association, but it's made possible in large part due to the set-up work by men and women in the building trades and Stagehands unions. Hundreds of workers descend upon Cobo Center every year to set up the show over a three-month period.
"We have about 130 electricians out here now, and peak employment is probably about 150," said IBEW Local 58 steward Dave Nesbitt on Jan. 7, 10 days before the Charity Preview opening of the show. "It's nice, steady, indoor work for a lot of our members, and it comes around the holidays, when they could really use the work."
The auto show has positioned itself to be four shows in one, and the first is a Charity Preview on Jan. 17. Then comes a media preview, an industry preview and a public show with a nine-day run. The automakers' displays often reflect vehicle sales, and Nesbitt said the displays are a little more elaborate than last year's.
Cobo Center is in the midst of a major renovation, and one of the improved areas unseen to the public is a reconfigured loading dock. Mike Decker, the steward for Iron Workers Local 25 and Convention and Show Services, said the reconfigured dock still has some tight spots, "but it has made a big difference" in getting show materials in and out of the display area. "It's a lot more comfortable," Decker said.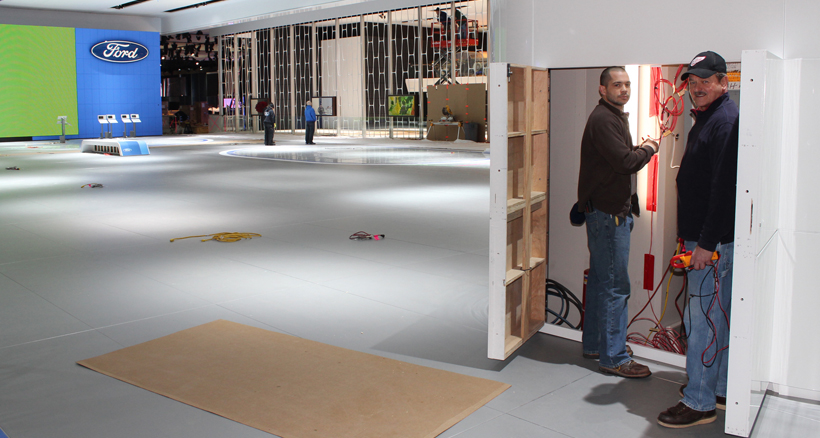 THE FORD MOTOR CO. display at the North American International Auto Show was empty, awaiting autos on Jan. 7 – but there were plenty of tradesworkers present setting up the show. Working on an electrical panel that will feed the display are (l-r) Derek Foreman and Bernie Matuszak of IBEW Local 58. They're working for Motor City Electric. The public show is open at Cobo Center Jan. 18-26.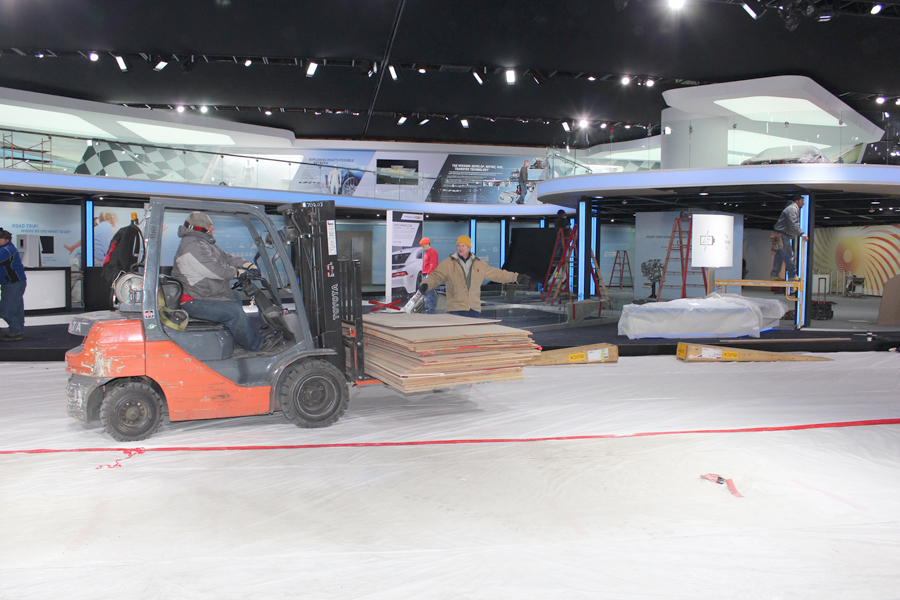 TEAMSTERS LOCAL 299 member Frank Gegovic motors materials around the Chevrolet display at the Detroit auto show. Directing traffic is Ken Lopata of Iron Workers Local 25.