MARQUETTE - Today's college students prefer a nice home away from home in their residence halls, with modern features, more space, and greater privacy.
And that's what Northern Michigan University is giving them: along with their construction partners they're building a beautiful new 1,229 bed, 350,000 square-foot residential complex that is sure to be an effective lure for current and prospective students.


Occupancy has already taken place in two of the three halls in the development dubbed The Woods, with the first building opening last August, and the second having opened in January with a common area called The Lodge - aka the "campus living room." The third phase is currently under construction and is slated to open in August. The three residence halls, which consist of six buildings, all have four floors with a central corridor connecting them to a common Marketplace area. There will also be classrooms, study spaces, and a 24/7 front desk.


Walbridge is acting as construction manager on the $75 million project, which will be the largest residence hall complex at NMU and is among the largest projects in the school's history. Walbridge Project Manager Tom DeMattia said it has been a very fast-paced project, with building trades labor at a premium in the busy Marquette/Upper Peninsula construction marketplace. "We're doing really well," he said. "We have your normal general issues, but overall, it's been a good project, with good people."


NMU says The Woods will also feature a large 24/7 multipurpose room, a fireplace, an outdoor patio, study spaces, and the opportunity to host university events.
There are two residence hall room options for students. Students will be assigned to either private bedroom suites where there are four private bedrooms with one shared bathroom or shared bedroom suites where two students are assigned to a room, and share a bath with two others. In addition, there are a small number of private bedroom and bathroom units available for students with medical needs.


Jeff Korpi, NMU's director of housing and residential life, said The Woods will replace 1,200 beds in four different residence halls built on campus in the early 1960s. He said the new residence hall rooms in The Woods - in buildings named "Birch," "Maple" and "Cedar" - are about 30 percent larger than the past configurations.


"We've already seen a positive impact on enrollment - this has transformed our department; it has transformed the entire institution," Korpi said. "We're undertaking all this to enhance the living and learning atmosphere on campus. We're expecting it will lead to better academic results from students and greater social success."


Ground was broken on the project in the summer of 2016. DeMattia said last month that the project was employing about 100 tradespeople, down from about 250 at peak employment. The floor plans of the three residence halls are largely the same, and DeMattia said "there have definitely been some efficiencies" that have been learned from the completed first two buildings.


DeMattia said he has heard that students who have lived in the new residence halls "absolutely love" their new surroundings, and he can see why. "They are beautiful," he said.


A number of NMU residence halls were renovated more than a decade ago, including Magers, Meyland, Hunt and VanAntwerp in the university's "Quad II." NMU's "Quad I" halls – Gant, Spalding, Payne and Halverson have largely been left unrenovated, and The Woods will replace them.


The project is proceeding under a public-private partnership model, with NMU's development partner, EdR, Inc. Walbridge was selected by EdR to manage construction. EdR, based in Memphis, is one of the nation's largest developers, owners and managers of high-quality collegiate housing communities. EdR will finance, construct, insure and maintain the halls.


NMU said in addition to student input, one the other things EdR brought to the table was "in-depth, current and national research regarding university student housing needs, desires, trends and usage. It also had a proven model for the concept-to-design phase"


"We're really happy with our construction partners at Walbridge and with the trades," Korpi said. "They have been a great team who communicate well and have a collaborative spirit. The quality we have seen is top notch, and it has been great to see this project evolve."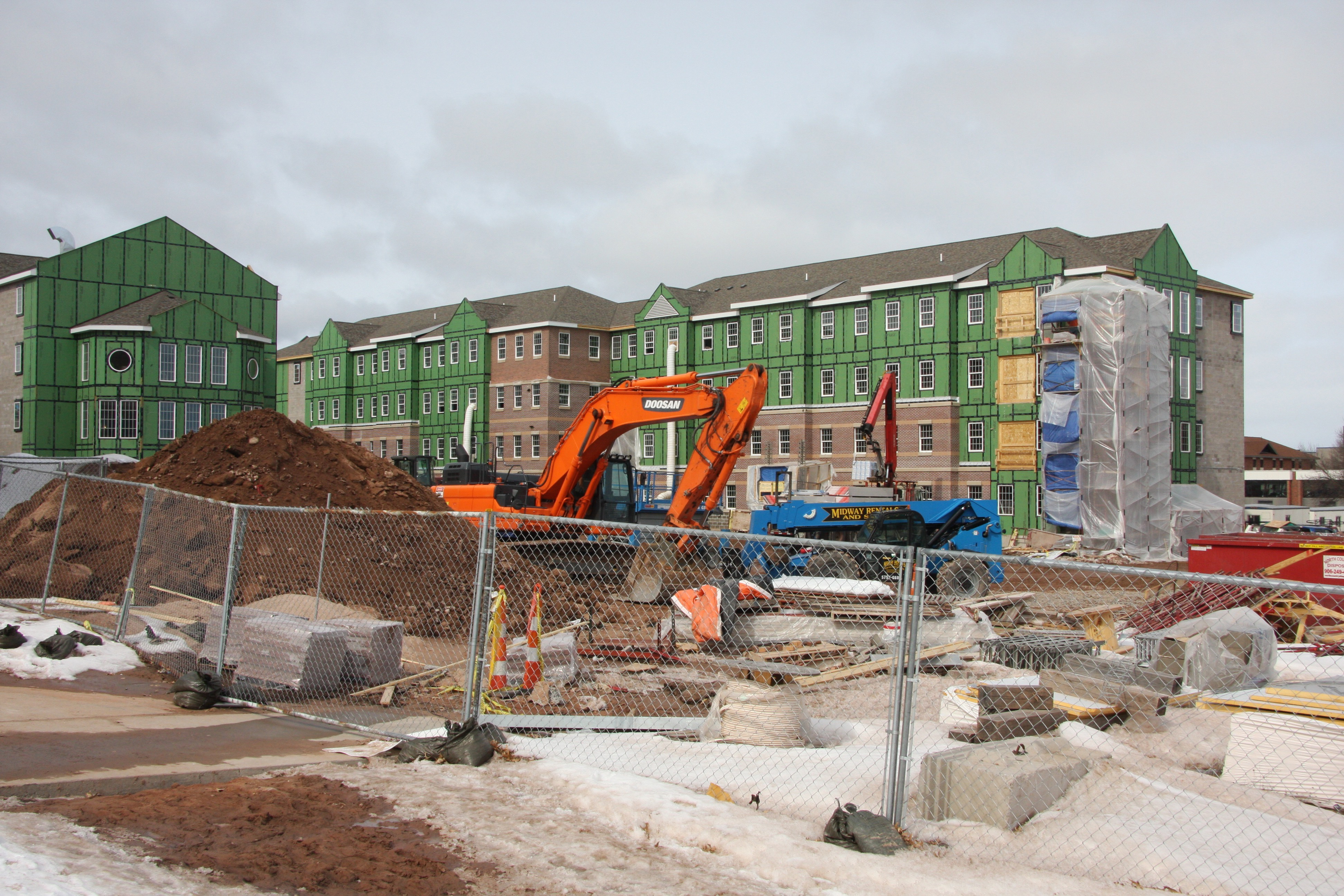 THE FINAL PHASE of The Woods, a new 350,000-square-foot residential complex at Northern Michigan University, is moving toward completion in August.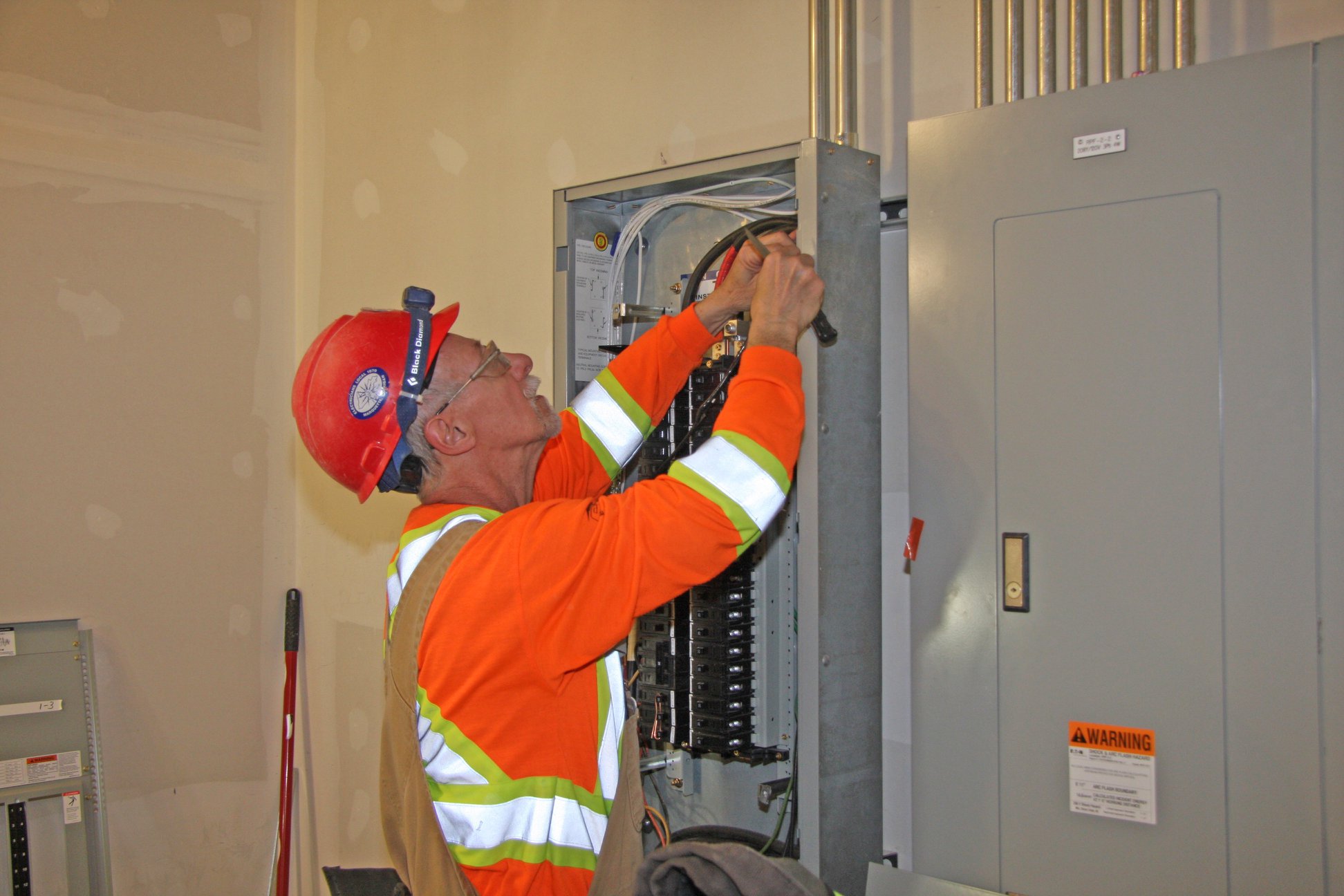 WIRING A PANEL at The Woods is Randy Ruppel of IBEW Local 906. He's employed by S & T Electrical. Photo by Jack Deo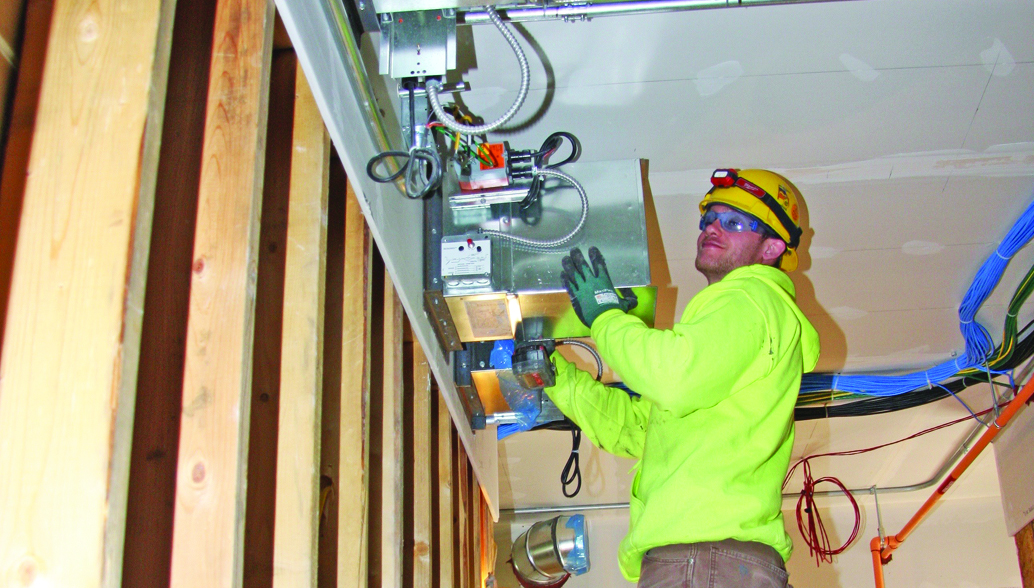 VENTILATION CONTROLS at The Woods residential project at NMU are installed by Jay Hoekwater of Sheetmetal Workers Local 7. He's employed by Dressler Mechanical. Photo by Jack Deo