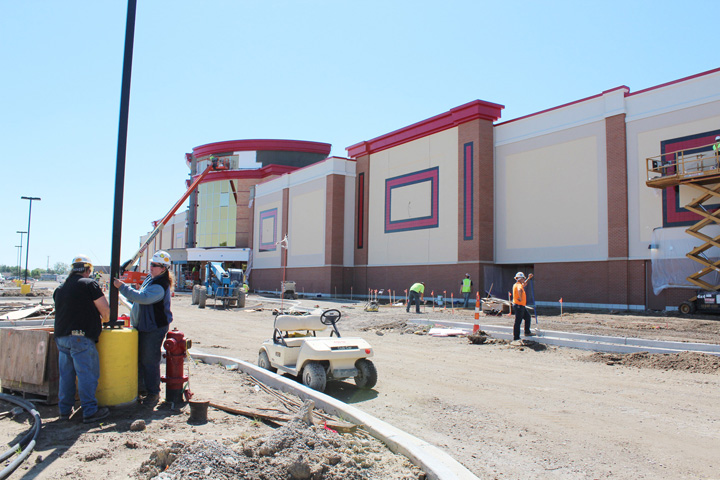 TROY – Metro Detroit's ninth MJR Theatre was abuzz with construction activity two weeks before its scheduled opening to the public, set for June 20.
"There's a lot to be done, but everything is coming together just fine," said Carl Roehl, project manager for Roncelli Inc, the job's construction manager. "This is going to be a real quality establishment, built by union trades. I think the public will be very happy when they come here to see a movie."
Work on the MJR Troy Grand Digital Cinema 16 began last September . Like every other construction project in the state, work was slowed by the worst winter in our lifetime. Roehl said construction activity "basically stopped" for about six weeks during the winter. But when we visited the job on June 5, about 100 construction workers were on site, getting the place ready for some movie magic.
The 3,200-seat, 70,000-square-foot theatre is located at Maple Rd. and Livernois on the site of a demolished Kmart. The theatre will create 70 new jobs, and MJR expects the location to draw more than 800,000 movie-goers per year.
"Roncelli, its subs and the tradespeople have done a tremendous job, especially considering what we went through this winter," said MJR Vice President of Operations Dennis Redmer. "They've done some great work, it's a real achievement."
Movie theatres have their own niche in construction. At this and the other MJR theatres, most of the job is fairly straightforward. A tall, wide-open lobby is erected, with an indoor box office to greet customers and a concession stand just beyond. There are 16 movie auditoriums at the Troy location, and that's where things get a little complicated.
Roehl, a veteran of 14 movie theatre projects, said "sequencing is very important," in the movie auditoriums. Work in each auditorium goes from top-down, he said, with the ceiling-mounted duct work, electrical, speakers and fire protection going in first. And throughout the Troy theatre's auditoriums, each floor has 18-inch concrete slab on structural foam risers to accommodate tiered seating, which adds a level of complexity and coordination when working with lifts.
The wall systems are all-important – many people of a certain age remember going to mall-based cineplexes in the 1970s and 80s and being able to hear through thin walls the loud action-adventure movie playing in the adjoining auditorium. At the Troy MJR, to ensure good soundproofing, two six-inch, insulated stud walls are built in the auditorium walls, with a total of five layers of drywall attached. The walls are carpeted, and their base is sealed with neoprene filler to stop base notes from leaking.
The ventilation system will run silently, too. We talked to brothers Jim and Don Dandurand of Sheet Metal Workers Local 80 and Bumler Mechanical, who had just completed their work and were awaiting a building inspector. "There are 30 units mounted on the rooftop and there are 31 exhaust fans up there, too," Don Dandurand said. "And all the ducts internally have an inch of acoustical duct liner. It will be quiet."
Redmer said theatre construction had been fairly straightforward for a number of decades, but now "there's an ongoing learning curve in the industry. Things change all the time because of new technology. Now we have giant screens, digital sound with speakers in the ceiling. It's a lot more complicated."
The Troy-MJR's auditoriums range in size from 114 seats up to 460. That large auditorium will feature an 80-foot by 48-foot screen, plus over-stuffed, leather-like lounge chairs with 56-inch spacing that are 3 to 4 inches wider than typical movie theatre seating, and the Dolby Atmos sound system. MJR says "this will be the best and most unique movie experience in Michigan."
The Troy MJR will be the company's first location with a bar built into the original design, so patrons can enjoy a cocktail during their show. "We will have one of the biggest screens and the best sound systems in the State of Michigan," Redmer said. "People are going to come from all over the place to see movies here."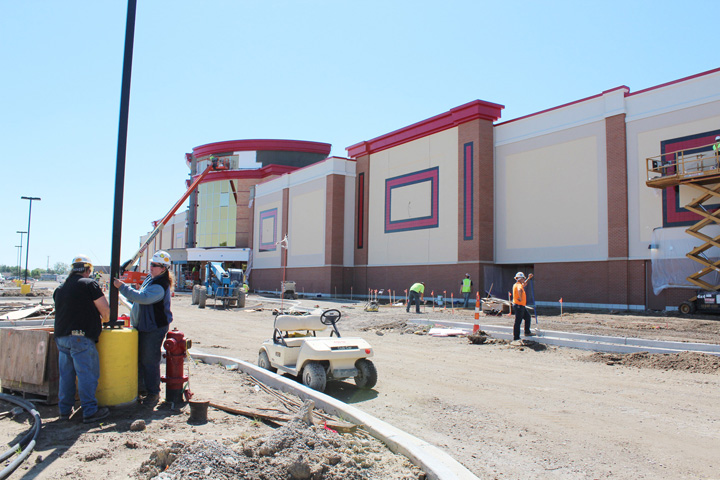 RATCHETING INTO PLACE a parking lot light pole at the MJR-Troy Theatre are Matt and Kathy Goodnow of IBEW Local 58, working for Maryland Electric. You don't see this every day on a jobsite: they're husband and wife . "We met on a job, and we work good together as a team," Kathy said. "It also saves on gas money driving to work."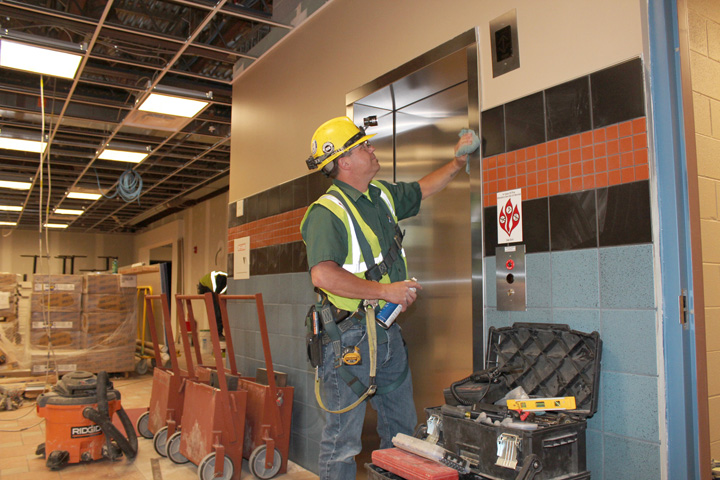 Putting a shine on an elevator at the MJR-Troy Theatre is Vince McCliment of Elevator Constructors Local 36. He's employed by Otis. Vince was making his work look nice while waiting for the elevator inspector's final inspection.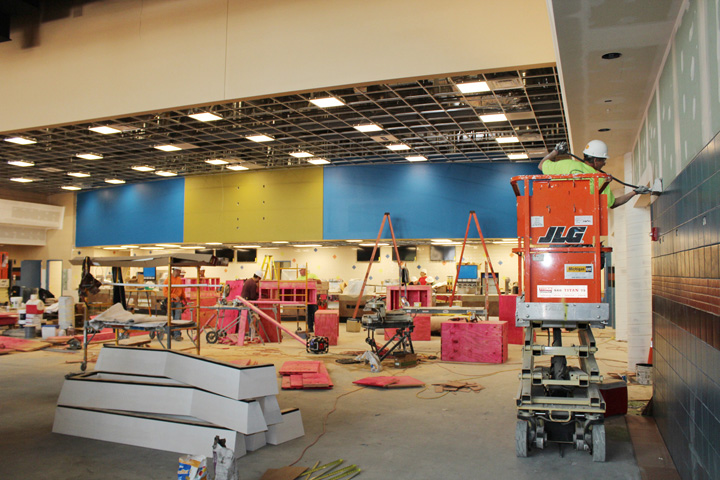 SANDING A DRYWALL seam in the lobby of the MJR-Troy Theatre is Bill Belcher of Painters District Council 1M. He's employed by Pontiac Ceiling and Partition.