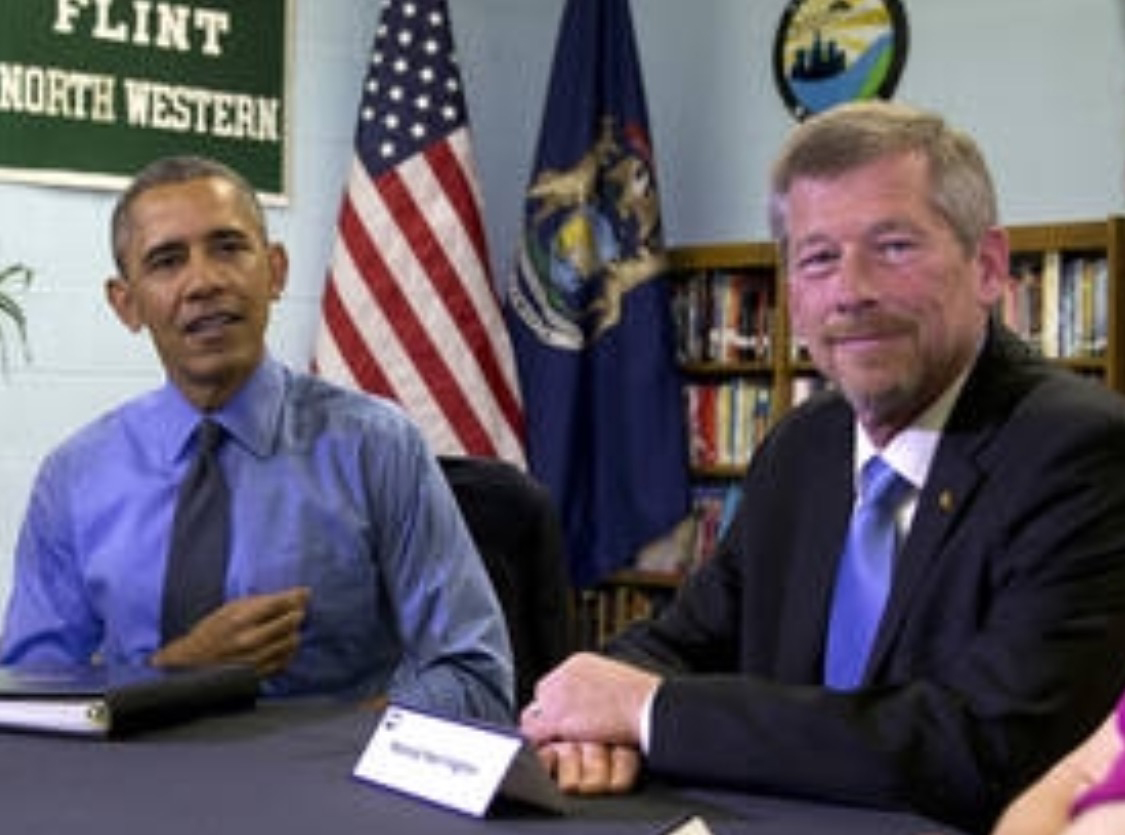 FLINT - The weight of a presidential visit on May 4 emphasized the tragic importance of the city's poisoned water situation.
President Barack Obama's motorcade traveled past the Flint water plant while driving along I-475 to Flint Northwestern High School for a meeting with community members following his visit to the food bank of eastern Michigan. During his visit, which included an hour-long talk with a group that included Plumbers and Pipe Fitters Local 370 Business Manager Harold Harrington, Obama sipped (filtered) city water, urged citizens to continue to check their water for lead, and paid tribute to the men and women of the pipe trades unions for their selfless work on behalf of the stricken city.
Obama said that the city of Flint had suffered from neglect long before the current water crisis and he said he hoped that the focus now would move to improving the city. "We have to take what has been a crisis and turn this into an opportunity to rebuild Flint even better than before," Obama said. "I'm confident that we can do that if we are working together."
He added that his visit to Flint was not for the purpose of sorting "through all the ins and outs of how we got to where we are. There are times for politics and there are times for turf battles. This is not one of those times."
Flint's water system was poisoned beginning in 2014, when a state-apointed financial manager, in a cost-saving decision, authorized a move away from City of Detroit water in favor of tapping into the Flint River. However, at the same time, additives were not put into the water system that prevent corrosion in the water system's pipes, allowing lead to leach into the system. The city has since re-connected with City of Detroit water, and while water testing has shown that lead levels have dropped, filters are still necessary.
Many residents still aren't drinking the water, filtered or not. Bottled water continues to be trucked into Flint for distribution and consumption of residents. City and state officials are now urging Flint residents to flush their toilets and turn on their taps on a regular basis, which will help determine if additional steps need to be taken to get rid of lead in the water system.
Obama lauded the volunteer work of the United Association of Plumbers and Pipe Fitters. On Jan. 30, about 470 union plumbers and pipe fitters from across lower Michigan worked out of the Plumbers and Pipe Fitters Local 370 union hall and spent a good chunk of that Saturday in Flint installing water filters, replacing fixtures and bringing lead testing kits and bottled water to more than 1,500 homes.
"We have members of one union, UA Local 370 Flint, who have donated tens of thousands of dollars and ten thousand hours of their time," Obama said. "They have installed thousands of filters and installed hundreds of faucets by going door to door, night and day. They're not asking for anything in return, they're just doing the right thing.
"So many Americans here in Flint and around the country have proven that you don't have to be a plumber or pipefitter to pitch in, although it's helpful if you're a plumber or a pipefitter."
Local 370's Harrington helped coordinate the Jan. 30 effort as well as numerous other volunteer events in the city, along with Local 370 representatives Bruce Roth, Ben Ranger, Jeff Peake and Kevin Gaby. Harrington said with a chuckle that he had to go shopping for a new tie when he learned that he would be participating in a private roundtable discussion at the library at Flint Northwestern High School with the president and several others from the community. The discussion lasted nearly an hour.
"I was impressed with the president, he's a real down-to-earth guy," Harrington said. "He didn't try to downplay what has happened, he seemed like he was legitimately concerned about the people of Flint, and he seemed especially interested in kids getting the proper testing and the proper care."
Obama urged families to make sure they take the time to have their children checked out by a doctor for lead exposure, and he said that Medicaid expansion in the city will help to provide extra medical resources.
When Obama asked what could be done to restore trust in Flint's water system, Harrington responded that it would take replacement of the city's water pipes, and proper water testing with results that show the water as being safe.
It could take more than two years to replace all of Flint's damaged pipelines that are leaching lead into the city's drinking water system, Obama said, although he made scant reference to federal dollars being used for that purpose. "That may be a long-term process," he said. "It may take a year, it may take two years, it might take more, to get all of the pipes replaced. In the meantime, folks have to be able to use water," he said. "to trust that the tests have been done and the filter system works."
For his part, Harrington, a Flint resident whose home's water was tested and found to have high lead levels, declined to drink the filtered water after the roundtable conference. He has become a defacto go-to guy for local and national media seeking information about the plumbing hardware involved in the Flint water crisis, making appearances on NBC Nightly News, and the Rachel Maddow show on MSNBC. And on May 4, he was invited to have a sit-down with the president.
"A year ago, who would have believed that I would be sitting next to the president of the United States at a roundtable, talking about Flint's water," Harrington said. "It's still hard to believe this has all happened."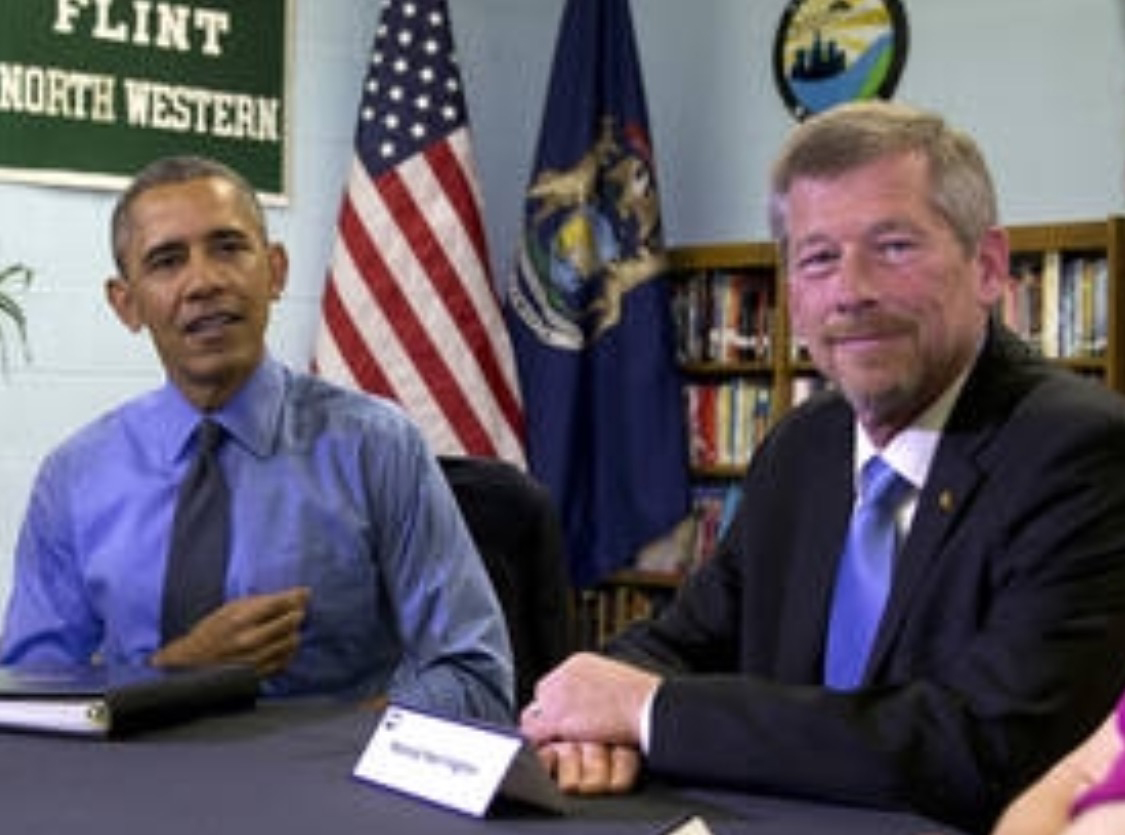 PLUMBERS AND PIPEFITTERS Local 370 Business Manager Harold Harrington met with President Obama to talk about the Flint water situation. Harrington mentioned that they were both born in 1961, but that the president was three months younger. "He told me I looked pretty good for my age," Harrington laughed.