President Barack Obama used the Labor Day stage in Detroit to express his support for unions and working people, and to stoke interest in a major jobs plan that he planned to put before the American people on Sept. 8.
The president spoke to a crowd estimated at about 12,000 that had completed their Labor Day march, and then converged on a lot east of the Renaissance Center. He was short on specifics on his jobs plan, but he did offer a big hint: the nation's long-suffering construction workers would be major beneficiaries if his proposals get past the Republican House.
"We've got roads and bridges across this country that need rebuilding," Obama told the crowd. "We've got private companies with the equipment and the manpower to do the building. We've got more than one million unemployed construction workers ready to get dirty right now. There is work to be done and there are workers ready to do it. Labor is on board. Business is on board. We just need Congress to get on board. Let's put America back to work."
Whatever plan the president puts forth likely won't get past Republicans in Congress, especially with 2012 being an election year. For example, Republican Senate Minority Leader Mitch McConnell has already famously declared that his top priority for the nation isn't creating jobs – it's making sure that President Obama doesn't get a second term.
So whatever plan the president puts forth will likely be more symbol than substance – he's setting the stage for positioning himself as a pro-worker, pro-jobs president, and will no doubt be painting the Republican Party as pro-corporation and anti-worker. Union leaders wonder where that president has been with that kind of talk the past two years, but welcome the support and recognition offered by the president on Labor Day.
"I also want to talk about the work you've been doing for decades: Work to make sure that folks get an honest day's pay for an honest day's work," Obama told the crowd. "Work to make sure that families get a fair shake. The work you've done that helped build the greatest middle class the world has ever known. I'm talking about the work that got us a 40-hour work-week and weekends, and paid leave and pensions, and the minimum wage and health insurance, and Social Security and Medicare – the cornerstones of middle-class security. That's because of your work.
"If you want to know who helped lay these cornerstones of an American middle class you just have to look for the union label."
Labor Secretary Hilda Solis, a former Teamster, preceded Obama at the mike, and told the crowd, "the president could have his choosing of any city in American, but he chose Detroit, the city that gave birth to the middle class. "Some politicians say unions are the problem. I think they are flat wrong. I am proud to be union proud. Unions bring workers a chance to step into the middle class."
Joining Solis on the dais was AFL-CIO President Rich Trumka, who has urged the president to focus on jobs. He said Labor Day "is a time for us to think about men and women in this country who want to work, but haven't found a job for months or years." He called it an "outrage" that "bosses and CEOs" make millions of dollars, but don't create a single job.
"Will you make the pledge to elect leaders who will put our workers back to work?" Trumka asked the crowd. "If we pledge to stand together, we can lift Detroit, we can lift working families, and we will not let Michigan become a right-to-work –for-less state."
Obama pointed out what been done on his watch to help the middle class: the biggest middle class tax cut in history, instituting financial law changes that "ended the days of taxpayer bailouts," public school reforms, health care reforms that don't allow discrimination because of pre-existing conditions and allowing young people to stay on their parents' plans.
And in a theme that's sure please the Michigan audience, Obama pointed out his support of the government financial support of General Motors and Chrysler. "So we stood by the auto industry," the president said. " And we made some tough choices that were necessary to make it succeed. And now, the Big Three are turning a profit and hiring new workers, and building the best cars in the world right here in Detroit, right here in the Midwest, right here in the United States of America."
"So these are tough times for working Americans, Obama said. "They're even tougher for Americans who are looking for work – and a lot of them have been looking for work for a long time. A lot of folks have been looking for work for a long time here in Detroit, and all across Michigan, and all across the Midwest, and all across the country. So we've got a lot more work to do to recover fully from this recession.
"But I'm not satisfied just to get back to where we were before the recession; we've got to fully restore the middle class in America. And America cannot have a strong, growing economy without a strong, growing middle class and without a strong labor movement."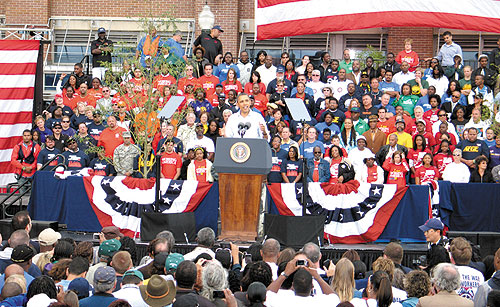 PRESIDENT BARACK OBAMA addresses a Labor Day crowd in Detroit. "Giving everybody a shot, everybody a chance to share in America's prosperity, from the factory floor to the boardroom. That's what unions are all about," he told the audience.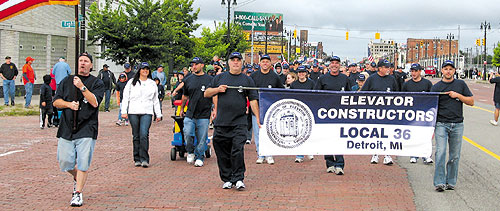 CELEBRATING THE 100th ANNIVERSARY of their local union on Labor Day in Detroit are Elevator Constructors Local 36 members.


A CENTURY OF SERVICE for Heat and Frost Insulators Local 25 was also celebrated. THOUSANDS OF building trades workers in Michigan celebrated Labor Day. Here are members of UA Local 174 about to march in Muskegon. "There's a war on workers in this country," said Teamsters President James Hoffa on Labor Day in Detroit. "You can see it everywhere. The Tea Party. What's going on in Wisconsin. "Now they're thinking about passing right to work in Michigan. It ain't gonna happen in Michigan."