EAST LANSING – They're calling it an addition, but the added space that's being constructed at Wells Hall on the Michigan State University campus needs a better term to describe it. Perhaps a cap? Or a crown?
Whatever you call it, the work being performed by construction manager Barton Malow, its subcontractors and the building trades has completely changed the look of Wells Hall. The project involves adding four new floors and 88,000 square-feet of space above the existing hall's single-story B-Wing, which was constructed in 1969.
"I'd say the biggest challenge is building atop another building," said Barton Malow Project supt. Chad Beldyga. "It isn't easy." And to top things off, so to speak, he said the existing hall wasn't constructed with the necessary structure or underpinnings to support the higher floors. So, a separate foundation system of some 233 grout-encased steel "micropiles" had to be sunk so the upward addition could be self-supporting.
"It is very unusual, it's never been done before on campus," said MSU Project Representative Tony Rhodes. "We want to preserve and maintain the exiting building as much as possible."
One of the main reasons to keep Wells Hall's original structure intact is that it hosts heating, cooling and electrical systems that support the four wings of the hall. "Michigan State has a very good archive of architectural plans, so for the most part we knew where everything is," Rhodes said. "We could see in the planning stages that it wouldn't be difficult to tap into the existing mechanical systems."
To make construction even more challenging, the new, higher floors of Wells Hall were constructed on a 31-degree angle offset above the existing building. This setup maximizes space and effectively squares up the addition with nearby buildings in the complex, blending in quite nicely. A green roof planted with sedum will cover the exposed single story roof.
Work began in September 2010. The new space will allow MSU to demolish the deteriorating 112-year-old Morrill Hall following completion of the Wells Hall addition. The work scope at Morrill currently involves demolition of the structure, and site restoration with lawn, sidewalks, benches and commemorative signage.
The addition to Wells Hall and renovations to the Old Horticulture Building come with a $38 million price tag will provide space for current Morrill Hall occupants. Located just east of Spartan Stadium, the renovated hall will consolidate campus language departments and will consist of mainly of office space and include classrooms, a two-story presentation room, an atrium and a coffee shop.
"This new building will be a visible beacon highlighting MSU's global-international focus, that places major emphasis on language learning and teaching, and that has the strongest Study Abroad Program in the country," said Karin Wurst, dean of MSU's College of Arts and Letters.
The Wells Hall addition is slated to open on Aug. 3 after construction wraps up May. 1. "We have a good workforce here, the trades have been excellent," Rhodes said. "From an owner's standpoint, Barton Malow and the parties involves have exceeded our expectations."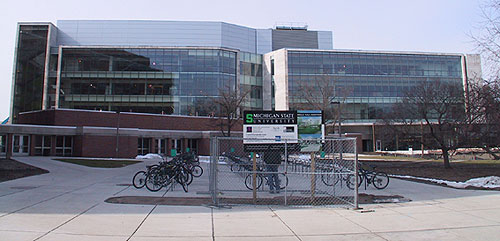 ABOVE THE SINGLE-STORY Wells Hall "B" Wing at Michigan State University is a newly constructed four-level addition that will consolidate the school's language departments.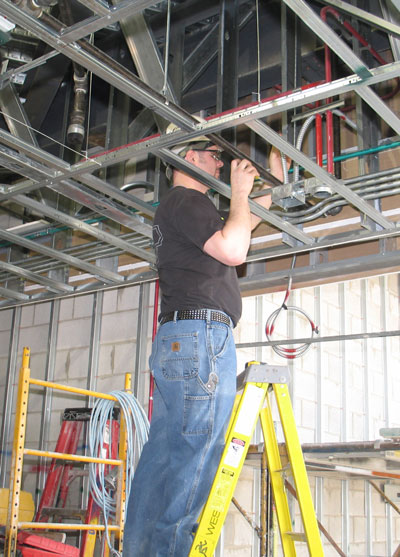 A RADIANT HEAT panel above a second-floor hallway is installed by Brad Durham of Plumbers and Pipefitters Local 333, working for John E. Green.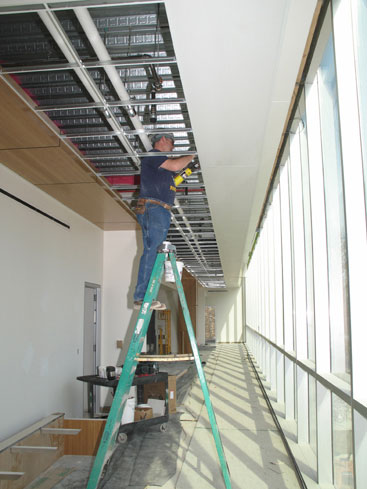 WIRING PART OF THE Wells Hall addition for a fire alarm is Tony Glew of IBEW Local 665, working for Centennial Fire Alarm.