TRAVERSE CITY –A parking deck can have a use other than as a pre-cast concrete and metal shell used to park cars.
Here, the new $7.9 million parking structure at Union and Eighth streets
in the city's Old Town neighborhood has spaces for about 522 cars, but it also has made room for the production of electricity.
Last month, Voltage Electric's crew of IBEW Local 498 members spent a few weeks installing 186 solar photovoltaic panels atop a roof that extends over the top ramp and on the upper level of the four-level parking structure.
IBEW Local 498 member Matt Vajda, who owns and founded Voltage Electric in 2004 was awarded the $245,000 contract to install the panels. He said it's the largest such project in Northern Michigan. Colasanti Construction out of Detroit is managing the construction of the parking structure.
"It's going great," Vajda said while the panel work was taking place last month. "It's definitely a good thing to be doing something involving renewable energy. It is certainly the wave of the future, and I hope to see more of it. Alternative energy and solar-specific training has prepared us for this kind of work."
Vajda said he has undertaken solar power installation training courses at IBEW Local 58's Training Center in Warren, as well as in Miami and Las Vegas. "You need to be ahead of the curve in this industry," he said.
He and his crew of four other Local 498 electricians installed the U.S.A.-made Sharp panels, which measure 30.5 feet by 5 feet, and are rated at 230 watts each. The total array can produce up to 40.2 kilowatts when the sun is shining brightest in Traverse City. The payback cost in electricity produced vs. the cost to purchase and install the panels is 20 years, Vajda said.
City Engineer Tim Lodge said consideration of how ice and snow would affect the ramp going to the roof was a major safety concern during the design phase of the parking deck. So the decision was made to heat the ramp and put a roof over it – and that roof space gave the city even more space to install solar panels, which they had been considering.
"We looked at solar as a cost-effective innovation, so we put the solar option in the bid package," said Lodge. "And what we'll have is basically a decent-sized solar array that will be installed with a monitoring system that will generate useful information about the system. It's a sustainable, responsible design, and we didn't spend a lot of money doing it. Someone has to take this risk and show whether solar is viable for the community, and show what you can do and what you can't do."
Installing photovoltaic panels atop parking structures is not a new concept, but it makes sense. Parking decks offer a big footprint of land, easy access to the sun, and sometimes, spare room on the roof. A relatively sunny area and a willing owner are, of course, necessities. A number of high-tech computer, software and electronic companies in sunny California have been putting up the panels on parking structures for years.
"Solar has to go on parking lots and parking structures," said former architect Robert Noble, who founded Envision Solar, a photovoltaic panel maker, in an interview with VentureWire. "The parking lots and parking structures are where all the space is."
The Traverse City parking deck's photovoltaic system will help power lights and other electric systems – such as car charging stations for electric cars – inside the parking deck. The system will be tied into the city's power grid, so energy can be moved back and forth. The parking deck's completion date is targeted for Aug. 3, but it may open sooner, Lodge said.
"It's been a great project," Lodge said. "It's actually been easy because we've had such a great team working on it. They've worked with the city really well."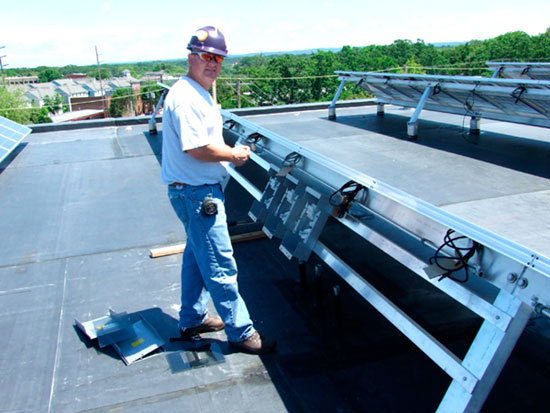 MOUNTING "combiner boxes" for the solar array atop a newly erected parking structure in Traverse City is journeyman Bill Leavey of IBEW Local 498, working for Voltage Electric.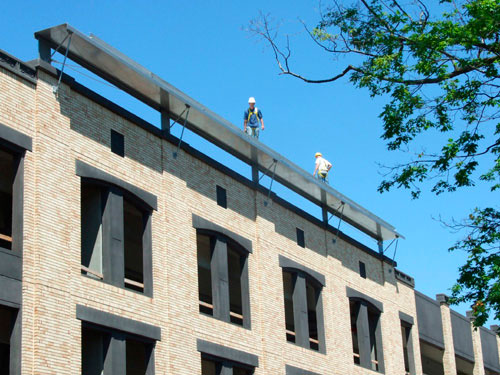 THE PARKING DECK'S rooftop edges made for ideal spots to place solar panels. On the job are IBEW Local 498 members Jeff Lane and Jeff Seabolt, working for Voltage Electric. Photos courtesy Matt Vajda/Voltage Electric