TROY - The top plumbing, pipe fitting and sprinkler fitter apprentices from six states descended on two union training centers during the week of June 3, displaying their knowledge and skills and competing for the right to participate in the United Association International Apprenticeship Contest in August.
Nine states comprising District 2 of the United Association of Plumbers, Pipe Fitters and Sprinkler Fitters sent a total of 35 contestants to the two host apprenticeship schools, affiliated with Pipe Fitters 636 and Plumbers Local 98. Contestants participated at both apprenticeship facilities, which are a short drive away from each other, performing in written and practical exams.
Among Michigan-based apprentices, John Ostlund of Saginaw-based Plumbers and Steam Fitters Local 85 took the top spot in the Plumbing competition. And Brenton House of Sprinkler Fitters Local 669 (Michigan) took top honors in that trade.
"It takes a tremendous amount of effort to host an event like this, and make sure the apprentices can come in and have everything they need to compete," said Pipe Fitters Local 636 Training Director James Wilson. "At the same time it's a great opportunity to meet and talk with all the other training directors. Really, it's a great opportunity for us to learn."
Plumbers Local 98 Training Director Paul Baker said "we get to learn what others know; what works, what doesn't. When it comes to training, there's no sense reinventing the wheel."
In an ever-evolving construction industry, both training directors said some newer contractor requirements sought by affiliated contractors include training for a new GMAW process, and training for greater use of HDP, high-density polyethylene pipe.
This year's contest process started with a competition within each local union, followed by statewide, then district-wide, and then the annual national competition, which is held in August at the UA training facilities at Washtenaw Community College in Ann Arbor. The district contest hosted by locals 636 and 98 included apprentices from Michigan, Ohio, Kentucky, Indiana, Pennsylvania, West Virginia, Virginia, Maryland and the District of Columbia.
Other winners in the contest included Colton Houston Richmond Local 10, Welding; Tyler Mock, Toledo Local 50, Pipe Fitter, and Michael Quinlan Local 449 Pittsburgh (HVAC).
Farmington-based Sprinkler Fitters Local 704 Training Director Kevin Hill said these training contests are a yardstick for apprenticeship schools "to use to adjust and improve their training ever year. I absolutely enjoy this, it's a labor of love to help out in these contests."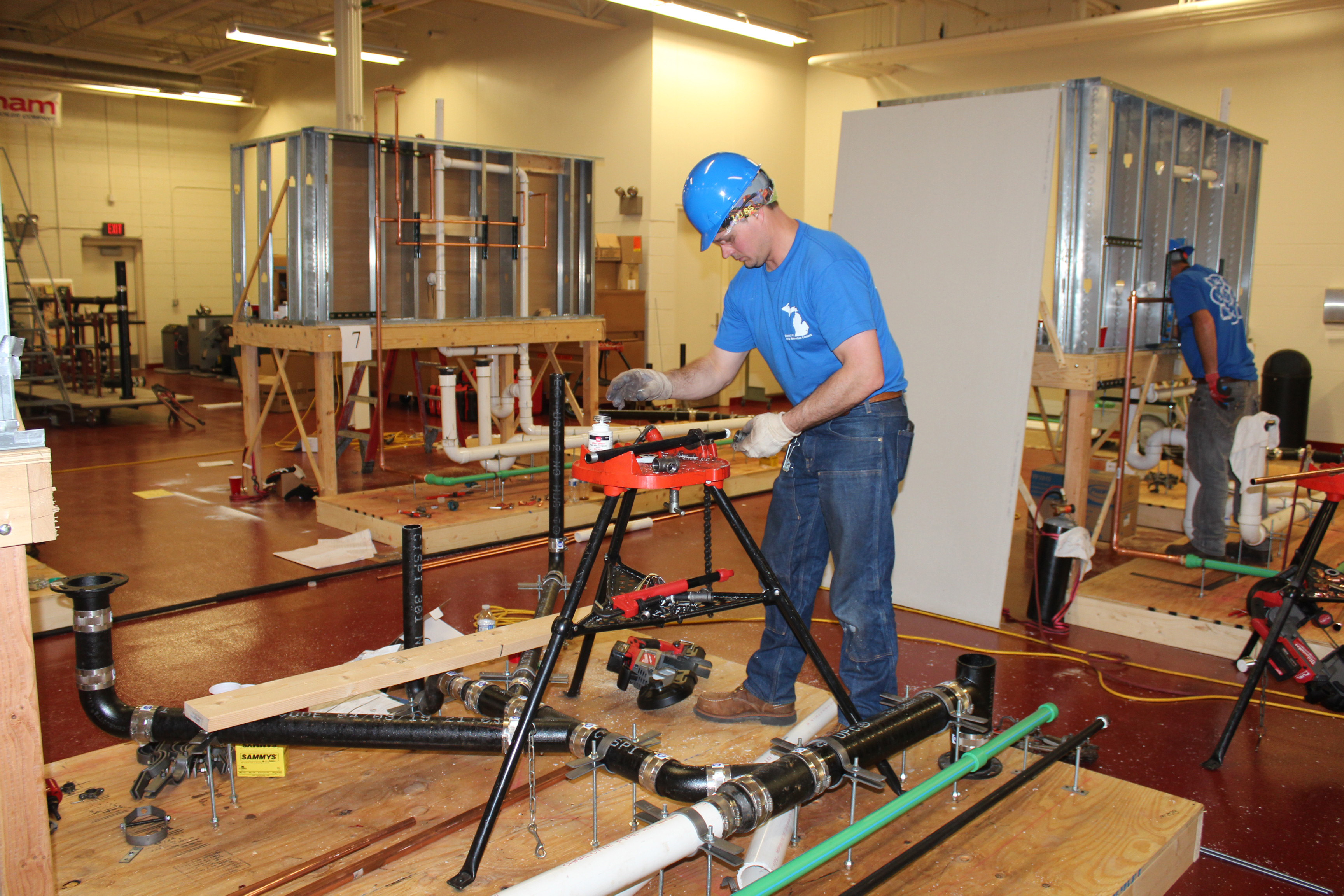 PLUMBERS AND STEAMFITTERS Local 85 (Saginaw) apprentice John Ostlund participates in the plumbing competition in the United Association of Pipe Trades District 2 competition at Plumbers Local 98's Training Center in Troy. John won his competition, and will compete in the UA's national contest in August.