COLDWATER TWP. - Michigan lost its last pork processing facility in 1998. But in 2017, the industry is about to return, big-time.
Pennsylvania-based Clemens Food Group, alongside leading design-build firm Gray Construction, its subcontractors and the building trades, is constructing a 656,000 square-foot fresh pork processing facility in Coldwater on a 465-acre site about 30 miles southeast of Battle Creek. Building the facility has already created hundreds of trade jobs, and is expected to eventually create about 850 permanent jobs in the area.
"Being able to recruit a company with 850 jobs ultimately to this community is a game-changer for us," said Lisa Miller, executive director, Branch County Economic Growth Alliance. "It doesn't happen but a few times in a lifetime. Economic development is very difficult and to be able to land this project is a big win for us. We're considering it a home run."
Shovels started moving ground on the project in August 2015. Pork processing at the plant is expected to start in September, 2017
"We are very pleased with the progress we've made since breaking ground," said Craig Carroll, site manager for Gray Construction. "While the weather has been challenging at times, our site team and craftspeople have done a remarkable job at keeping things on track."
Once operational, the Clemens plant will start by processing 10,000 hogs a day, sourced through several regional family farms, but it has a capacity to double that number with planned expansion in a few areas of the current building configuration. It will process several types of fresh pork products for the marketplace.
Goyette Mechanical is a major contractor on the project, with its personnel handling the pipefitting, plumbing and related processes as well as the sheetmetal and HVAC work. Jason O'Hara, the site superintendent for Goyette, said the nature of the facility requires a wide variety of mechanical processes, and for the most part, uses stainless steel process pipe throughout.
There's high-temperature, Clean-in-Place (CIP) piping systems, detergent lines, high-pressure water jets, CO2 lines, vacuum systems, and foam sanitizer piping, just to name a few of the piping systems. And there is also the traditional copper piping and plastic drains for domestic water and sewer, as well as fire sprinklers.
"There are so many different processes here, and I find it all very interesting," O'Hara said. "It's clean work, so you have to pay attention to every detail. We've had to be extremely mindful of the high standards of safety and hygiene required for this type of food processing project. Ultimately, everything will receive final approval by the USDA (U.S. Department of Agriculture) and FDA (Food and Drug Administration) — but we must be very diligent along the way."
O'Hara, a Plumbers and Pipe Fitters Local 190 (Ann Arbor) member, said Goyette's experience with similar plants translates into "added value engineering" for Clemens. "I've been following Gray Construction for the past five years, so I think we have established a comfort level," he said. "We're able to see where they may be able to pick up some cost savings here and there during the construction process."
Tradespeople are typically on site six days a week, 10 hours a day. O'Hara said the mechanics of the building are "pretty typical for a high-end processing plant," and similar facilities are going up in Iowa and Pennsylvania. "There's always a bit of a learning curve for the workforce, but we have some talent out here, and we're keeping up with the schedule," he said.
The sprawling plant will include fully automated and highly efficient conveyance equipment, as well as patented chilling procedures to assure food safety and high product quality. The site will also have its own wastewater treatment plant and truck/trailer wash in separate outlaying buildings.
O'Hara lauded the safety standards on the project, noting Gray Construction's twice-weekly "all hands on deck" safety meetings. Gray also has contributed to local "Save a Warrior" and Toys for Tots fundraisers. He also noted that the Clemens family has been great to work with, and has expressed their appreciation for the work being done on-site.
The Michigan Department of Agriculture and Rural Development worked with a group of Michigan pork producers for approximately three years as they considered the merits of siting a pork processing plant in Michigan.
"The new project in Coldwater Township is agricultural entrepreneurism at its best with producers, the state of Michigan and local government working together to bring 800 new jobs to our state," said Michigan Governor Rick Snyder, when the project was announced. "The Clemens family is a recognized leader in pork production and its investment here signals to executives of all industries across the country that Michigan is the place to do business."
Founded in 1895, the Pennsylvania-based Clemens Food Group is a sixth-generation, family-owned integrated pork production operation including farming, processing, transportation and logistics.
Doug Clemens, CEO, Clemens Food Group said at the announcement of the plant's construction that it "marks a major milestone in the history of our company and the future of pork production in the state of Michigan. On behalf of our more than 2,000 employees, our family shareholders and our family farm partners who have joined us in this venture, we thank Gov. Rick Snyder and leaders in Michigan and Coldwater and Coldwater Township for having the vision to see the opportunities to position the state to compete in the global pork market."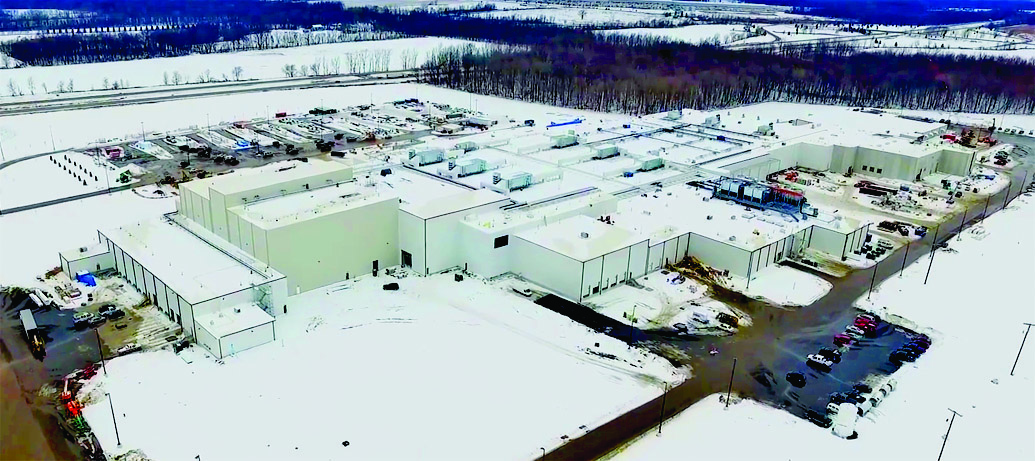 A SPRAWLING 656,000-square-foot new pork processing plant by Clemens Foods rises out of the landscape in Coldwater Township. Gray Construction is managing the project, which is employing hundreds of tradespeople. Photo credit: Gray Construction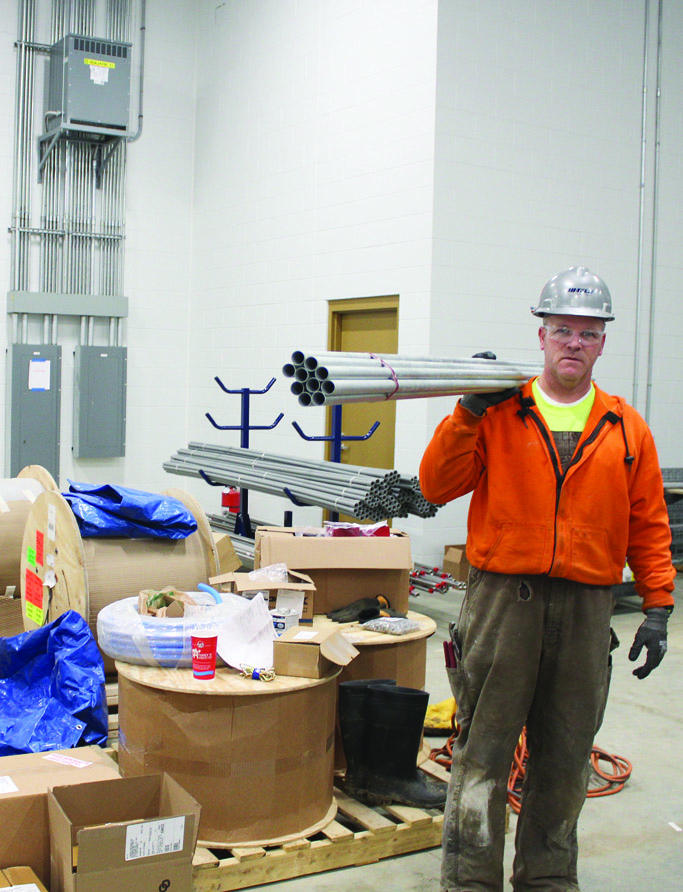 A CONDUIT BUNDLE is hefted by electrician Norm Stadel of IBEW Local 445 in a maintenance room at the Clemens Foods plant. He's employed by Hi Tech Electric.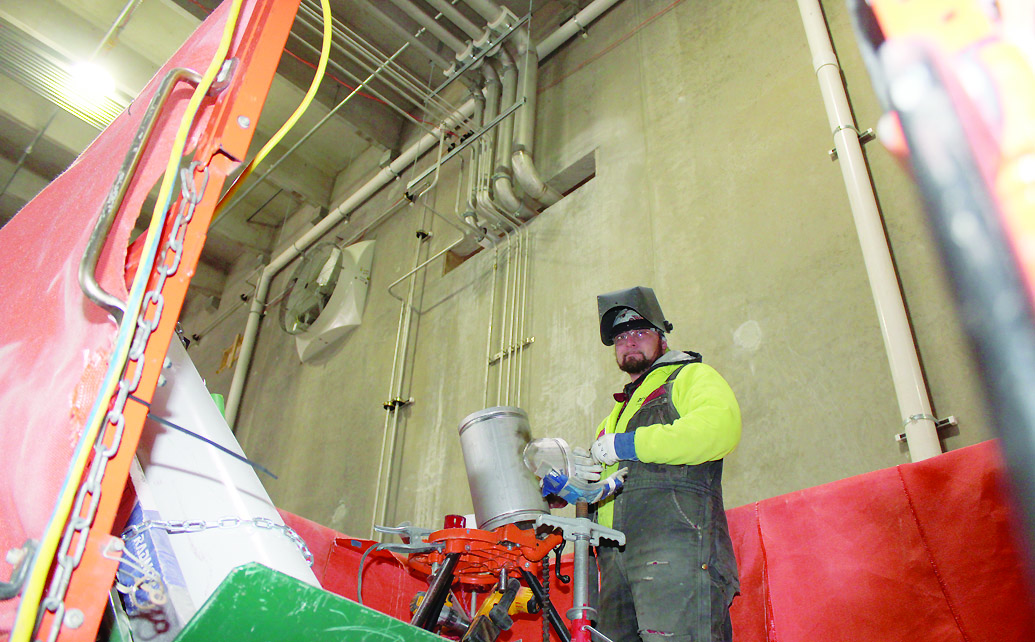 WELDING STAINLESS PIPE on a lift in what will be the rendering room of the Clemens Foods plant is Dickey Robinson of Plumbers and Pipe Fittters Local 333. He's employed by Goyette Mechanical.