COOPERSVILLE – West Michigan Plumbers Fitters and Service Trades led a protest on May 3 at the Continental Dairy Plant. We were joined by area workers and local advocates to protest the fact that our tax dollars are subsidizing a project which is hiring construction workers from across the country, and in some cases, from outside of the country.
This expansion project has received more than $2 million in state incentives and a $127.5 million tax abatement from the City of Coopersville. The contractor, Dahlgren, has decided that a local workforce was too expensive and chose not to hire local.
Dalhgren has even gone as far as saying that they would prefer not to hire locally if at all possible. We believe that local workers should have preference on jobs being subsidized with their tax dollars, therefore ensuring that local communities receive the maximum economic benefit of the project. Many of the Dahlgren employees expressed an interest in forming a union, so far Dahlgren has fired three employees from seeking union representation and one employee for contacting OSHA to report unsafe conditions on the jobsite.
In both cases we believe Dahlgren has violated federal law. Over the last 8 months we have heard a lot from the governor and the current Republican administration about "freedom to work" and them alleging to be pro-worker. When I had the chance to ask the head of the MEDC about hiring out of state construction workers on projects that received an MEDC grant I was told that it was not the MEDC's place to tell a business how to build things. With our new "freedom to work" law we were told that this would allow workers to decide whether or not they want to be in a union, yet when they choose to be represented they are fired.
So if our tax money is going to hire such unscrupulous contractors we must demand that we incorporate some hire-local construction provisions into the grant language, otherwise our new "Pure Michigan" will eventually be devoid of skilled construction labor. Thank you to everyone who came out to support us.
– Ryan Bennett, business agent, Plumbers and Pipe Fitters Local 174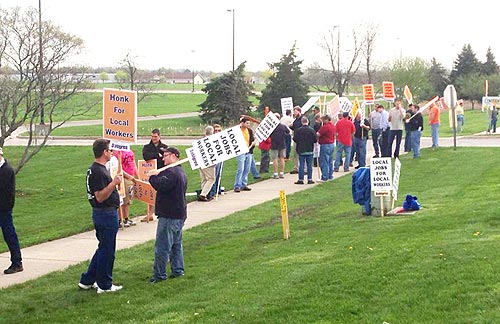 PICKETS SUPPORTING local jobs for local people got the attention of Continental Dairy in Coopersville and its contractor, Dahlgren Industrial. Numerous out-of-state license plates were reported in the parking lot. The construction project is converting a shuttered Delphi parts plant into a facility that will produce "Core Power," a milk-based drink distributed by Coca-Cola.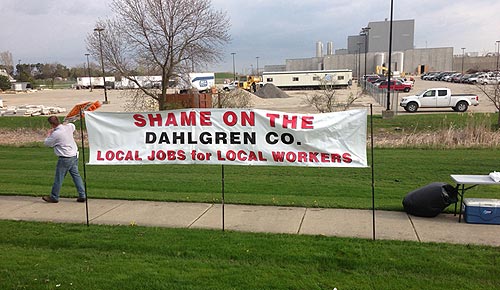 $127 MILLION bottling plant is under construction – under protest – in Coopersville, between Grand Rapids and Muskegon.