PONTIAC – Walbridge, their subcontractors and the building trades have finished their construction roles at the Raleigh Michigan Studios complex. Next on stage: the people who make movies.
Design-builder Walbridge handed over the keys to the owners of the studio's Building One on April 11, and then Building Two on April 23. The structures make up a complex that transformed 427,000 square-feet of the old GM Truck Products Center East into soundstages that offer movie or television producers the most modern production facilities in the world.
We reported on this project last fall, and were invited back to see the finished project. Early in April, a dwindling crew of about 45 Hardhats were on site performing finish work in the nine-month project, including fire alarm installation, sound and duct insulation, emergency lights, and some concrete pours.
"We're hopefully building the future of Michigan, and this was done all-union, proudly," said Maryland Electric Foreman Jason Head of IBEW Local 58.
Pre-production workers from Walt Disney Studios had already been at Raleigh Michigan Studios a few weeks before the complex was complete to prepare for the first project at the site, a movie remake of the "Wizard of Oz," tentatively titled "Oz: The Great and Powerful."
"The trades have been fantastic," said Walbridge Project Supt. Garry McIver. "We've worked 115,000 man-hours without a single recordable or lost-time injury. "We've had producers, directors and representatives from all the major studios see what we've done, and they're amazed at the quality of the facilities. They're second to none."
The studio facilities are hardly typical construction. There are nine soundstages: three are 30,000 square-feet, two are 20,000 square-feet, and two are 12,000 square feet. By moving some walls, it's possible to create a single stage of 90,000 square-feet.
The structures are basically big, over-built shells. The goal of the studios' infrastructure-on-steriods construction is aimed at making motion pictures as easy as possible in three main areas:
*Reducing sound infiltration. Studio walls are comprised of 371 massive pre-cast concrete panels. They're 15 inches thick, with two five-inch concrete panels sandwiching five inches of syrofoam. There are six inches of insulation in the ceiling. McIver said some soundstages around the country can't operate in the rain because of the noise.
*Providing sufficient electrical capacity. Lights, cameras and any other action on soundstages require plenty of power, and electricians set up a power grid with a capacity of 3,200 amps per studio. "That's huge," electrical foreman Jason Head remarked.
*Beefed-up walls and ceilings. Roof trusses weigh more than 70 tons each. Wooden ceiling grids (used because they don't conduct electricity) in the studios can support 5,000 lbs. per single contact point.
As the project was winding down, McIver said they had been conducting tours at a rate of about two a day for people from the movie industry, politicians, construction, and other interested parties.
Some of the wind was taken out of the sails of the studios' owners a few weeks after Michigan Gov. Rick Snyder took office in January, when he said he didn't support full funding of the state tax credit that helped bring about the construction of the Raleigh-Michigan Studios. Supporters of the film industry tax incentives say the jobs – both in and out of the movie industry, such as in construction – that are created counter-balance the cost to the state.
"We're hoping the jury is still out on the tax incentives, "McIver said. "We're building a world-class studio, and the people from Hollywood have said they'd love to come and work here."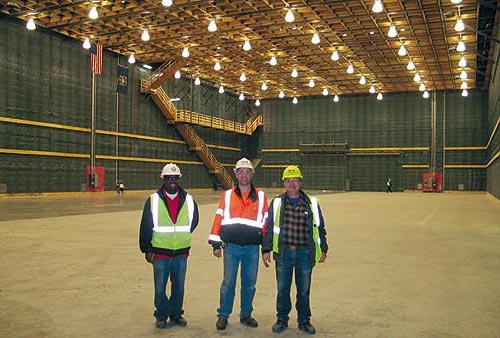 INSIDE THE 30,000-square-foot Studio E at Raleigh-Michigan Studios in Pontiac are IBEW Local 58 electricians (l-r) apprentice Dujuan Ligonis, foreman Jason Head and journeyman Thomas Campbell, working for Maryland Electric. Above them is a wooden grid that allows a non-conductive surface from which to move wires and hang props. Covering the concrete walls are sections of sound-deadening insulation.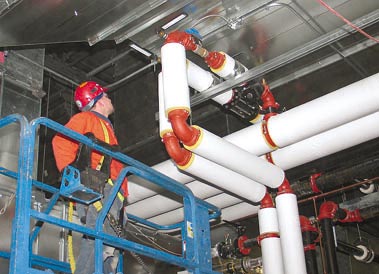 WORKING ON CHILLED water lines at the Raleigh Michigan Studios in Pontiac, above, is Tony Sievert of Pipe Fitters Local 636.


HERE IS THE UTILITARIAN exterior of part of the completed studio complex, consisting of tilted-up concrete panels to form the walls.