Sheet Metal Workers Local 7 member Robert Ollett can bend and shape duct as well as any
tinknocker
. But when it comes to rapping about his craft and his union, Robert probably has no peer.
Ollett, 38, won "best song" in a video contest this year sponsored by Build Buy USA, an organization whose name points to its purpose - it promotes keeping jobs in the USA as well as purchasing domestically made products. The video from the winning song, "6-10s," showcases a day in the life of a Sheet Metal Worker. Ollett is a seven-year member of Local 7 whose pride in his craft and his union are the focus of the lyrics in the song


"To be honest, I got some slack from a few fellow members who scoffed at me being a rapper," Ollett said. "Then I uploaded the video for 6-10s onto YouTube. It got a great reception from coast to coast, reaching 37k views. At that point, someone suggested that I enter my video into the Build Buy USA video contest. So I did, and wound up winning the category for 'Best Original Song'. It was fantastic, to be honest. Now I hear from a lot of people who say that they hate rap, but this 6-10s kicks ass."
Ollett recorded the 6-10s video with Charles Conley of Indispot in January. It begins with the blare of an alarm going off at 4 a.m., and an early-rising sheet metal worker, played by Josh Gingerick, a 17-year member of Local 7, starting a new working day on a cold winter morning.
Typed on the screen is a dedication "to the brave men and women of the skilled trades who continue to build this country." The video shows sheet metal workers Ollett, Kevin Eickholt and Chris Johnson doing metal work at their home shop, Quality Duct Supply. The video also used footage from a rally in Lansing in support of prevailing wage.


Some lyrics from the video:
"I get the L-7, Zone 3 union money, that's money in the bank, not just food in tummy. And later, they're selling six-tens - six 10-hour days - and I hope it never ends."


"Where the job takes me only God knows, I paid my dues to support my bros, but I'm on the road and I'm on my own...."


"Tradesmen might miss a couple of dinners, but America wasn't built by a country of quitters. Read the history, learn the lessons, back then we had to fight and the tools became the weapons. Now it's all gravy, they pay me, there's no stressin'; if I make it to 58 I retire with a full pension."


"To the journeymen before me please tell me the stories of the glory days... sharing wisdom and knowledge, I think it's important, while I'm out here on this road trying to tink up a fortune."


After making the video Ollett was later told of the Build Buy USA video contest, called "Make it in the USA" which the organization said is "to recognize creative takes on how our economy can work for all of us when we put consumers and communities first. Our message is pretty simple: 'build it here and we'll buy it here.' "
Ollett, who performs his music under the moniker "Bobby Chance," entered the video into the nationwide contest, and six weeks later, on June 1, was told that he won the top spot in the Best Song category. The prize: $5,000, and an opportunity to use time in a recording session in Los Angeles. Judges in the contest included some heavy hitters: Rage Against the Machine guitarist Tom Morello, actor Ashton Kutcher, and Diddy. "I never talked to the judges, but it's humbling that people of such acclaim and stature picked my video," he said.


A Bay City resident currently employed by Quality Duct Supply/Dee Cramer, Ollett has been performing rap music since he was 18. Ollett wrote the lyrics for 6-10s, the music was composed by Beats by Mantra, and the vocals were performed by Mike Ricklefs.


Ollett put out a 10-song compilation about 10 years ago and is currently working collaboratively on an album with a local country music artist. "Maybe my experience in music gave me a leg up in the contest," Ollett said. "I was competing with a bunch of other unions members, basically."


The sheet metal worker said as an artist, he is now looking at ways of "steering his music into becoming pro-labor and seek to reintroduce the union concept back into the mainstream consciousness. The labor movement and the skilled trades need to find a cheaper way to get their message out, and you can do that with music. One message is, you work for a union, you can provide for your family."


In the video, Ollett also gave shout-outs to other workers in the trades: laborers, fitters, "sparkies" and "the tinners." "Six-tens is my way of paying homage to my trade through music," Ollett said.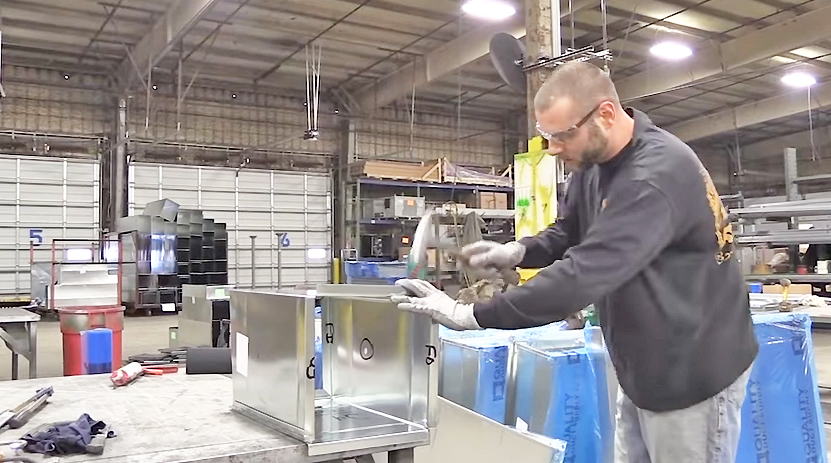 A SCREEN SHOT OF the video of Local 7 member Robert Ollett, that featured his winning song "6-10s." Photo credit: Charles Conley/Indispot