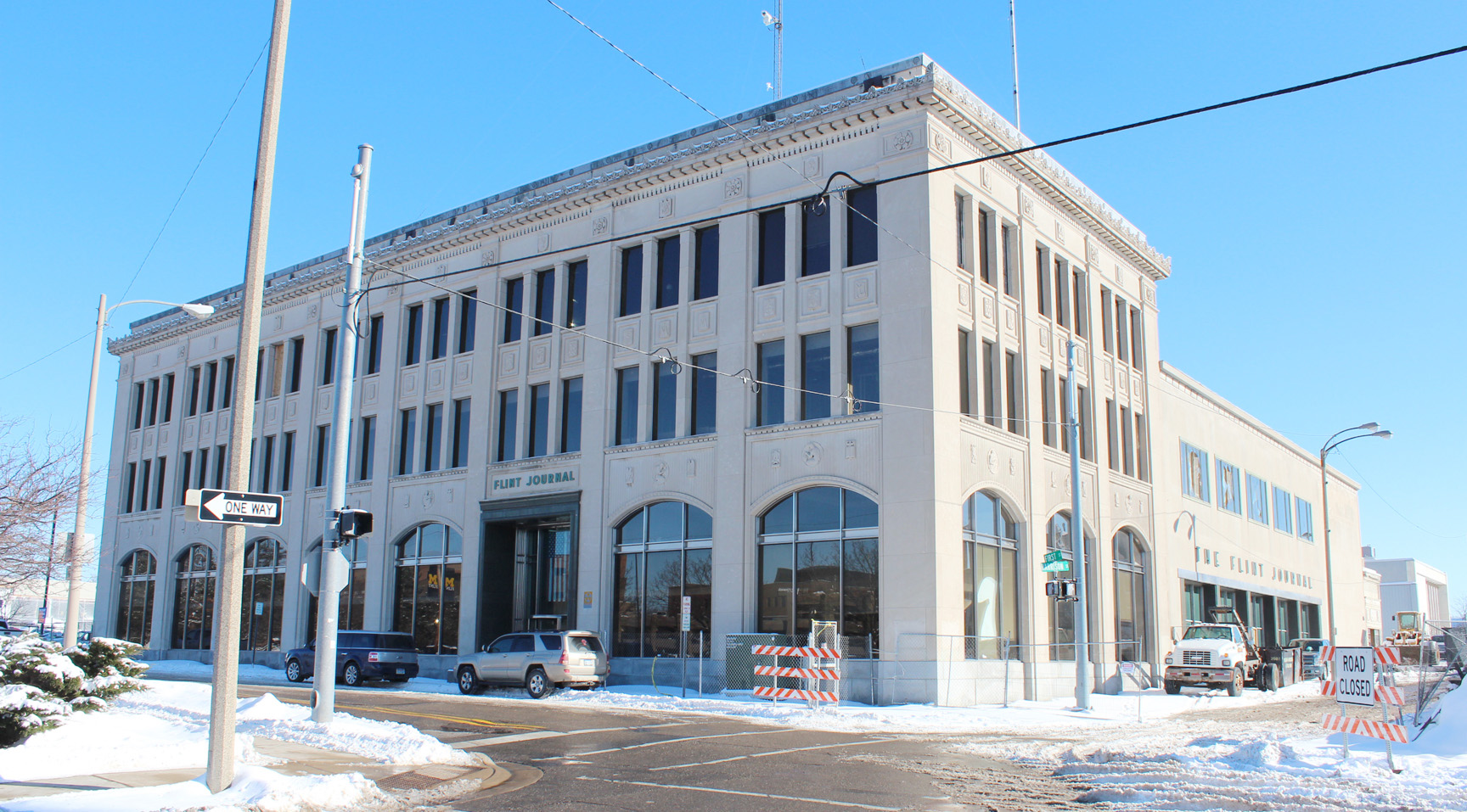 FLINT – Nowadays, with former department stores, warehouses and office buildings being adapted to loft apartments and spaces for small businesses, it shouldn't be too difficult to envision a new use for an historic newspaper office and printing plant. A case in point is the 90-year-old Flint Journal Building, where a little imagination led to the ongoing redevelopment of space for lease by Michigan State University's College of Human Medicine's growing public health program. And some residential lofts are being built inside the building, too.
The project is being managed by Sorensen Gross Construction Services, on the job with its subcontractors and currently a crew of about 40 building trades workers.
"I enjoy working on this building," said Sorensen Gross Project Supt. Bruce Hemingway. "I love seeing the space and all the architectural elements being revamped and re-purposed. There's a lot of character here."
Three years ago, the Flint Journal and its parent, the MLive Media group, moved into new, smaller space at the nearby Rowe Building downtown. That left empty theJournal building which is at First and Harrison Streets. It's a classic Albert Kahn design that housed Journal employees since it was built in 1924.
In stepped Uptown Reinvestment Corp., a local nonprofit that bought the 120,000 square-foot building with the intention of redeveloping it. Then, in stepped its primary tenant, the Michigan State University College of Human Medicine, which will be expanding their medical education and public health programs by taking over parts of the Journal building's first, second and third floors for offices and teaching space. The move will bring 100 third- and fourth-year medical students to Flint per academic year.
And, on the third and fourth floors of the building, 16 loft apartments are being constructed.
Uptown bought the building in 2012 for a reported $1.6 million. The project was helped along by a $2.8 million grant by the Charles Steward Mott Foundation.
Michigan State's College of Human Medicine has been growing fast in recent years, leading to more expansion outside of its East Lansing home. "We have to provide clinical opportunities for our students in their third and fourth year," said the college's Assistant Dean for External Relations Jerry Kooiman to State News. "It's not taking anything away from the East Lansing campus. We are one medical school — we just happen to train students currently in seven different communities across the state."
Last year, Uptown applied for and received a National Register of Historic Place designation for the Journal building. Aside from creating the opportunity for tax credits, the designation requires that the exterior features of the building, mostly limestone fascia, be kept intact. The application called the building "a three-and-a-half-story Neo-Classical style building, with two-and-a-half-story tall International Style additions." It also said the structure "cannot easily be defined by style."
The original portion of the building was built in 1924. It is said to have many similarities to the design of the Detroit News headquarters in Detroit that Kahn designed in 1917. Additions to the Flint building were constructed to the south along Harrison Street in 1952 and 1965.
Hemingway said the renovation work is typical of most transformation projects involving older buildings. Those 1952 and 1965 additions complicate today's renovation work, he said, because opening up walls reveals completely different generations of construction materials, designs and old junctions that need to be dealt with.
In some areas, plumbing fixtures might need to be moved a few inches because pipes can't go through support beams below. Duct work must duck around those same ceiling support beams, creating head-bumping hazards that will be mitigated by placing them in closets, storage or utility areas.
And the new purpose of the building – with mechanical requirements associated with residential space in the upper floors and the completely different needs of MSU's human medicine college elsewhere – make for some design challenges when it comes to placing ducts, wiring and plumbing.
"There's a lot of tweaking we do to make things fit," Hemingway said. "One of the fortunate things about this project is that we have good subs on site, and their people are competent and know the hurdles we face. These people come to the table with ideas on how to make everything work."


BUILT IN 1924, the Flint Journal Building is being renovated into space for Michigan State University's College of Human Medicine, as well as lofts on the upper two floors.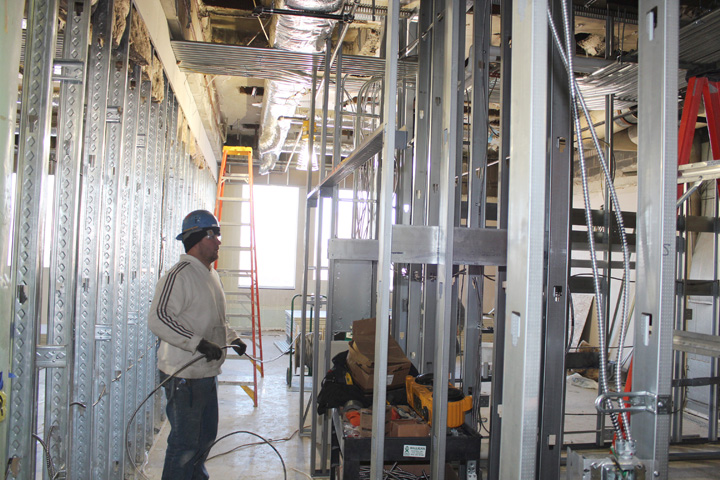 PULLING ELECTRICAL cable at left in what will be a 4th floor apartment at the revamped Flint Journal Building is Joe Dajos of IBEW Local 948. He's employed by Halligan Electric.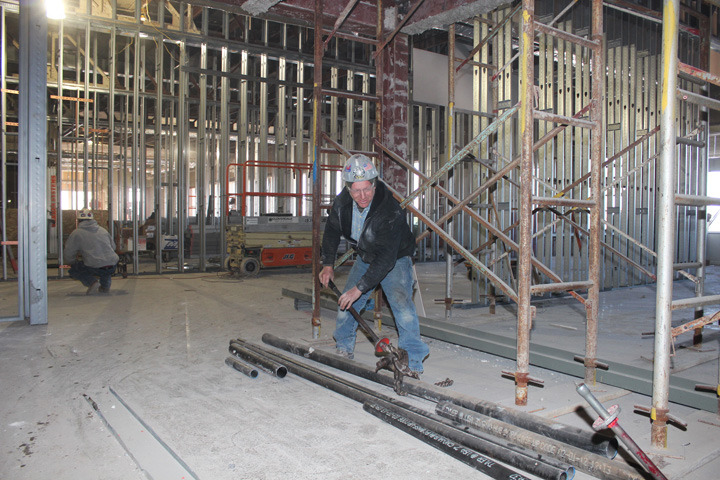 CUTTING A SECTION of three-inch cast iron pipe at the Flint Journal Building is Barry Dawson of Plumbers and Pipe Fitters Local 370. He's employed by Platinum Mechanical.