YPSILANTI – When it was constructed in 1969, Pray-Harrold hall was not only the largest classroom and staff office building on the campus of Eastern Michigan University, it was also one of the largest such buildings on any campus in the nation.
More than 40 years later, the structure is no longer considered super-sized, but it's plenty big enough so that the months leading up to its complete closure for renovations produced a major planning and logistics effort by EMU to find replacement space in other campus buildings. Oh, then the construction work had to be performed, focusing on plumbing, electrical, technology and HVAC upgrades.
After some major pre-construction work, substantial renovation began on the project in May 2010, and is expected to wrap up in time for the renovated building to be put back into use in the fall semester of 2011. About 100 Hardhats will toil on the project at peak employment. The job is being run by program manager AECOM, along with construction manager Walbridge.
"A lot of work was done beforehand, moving about 365 staff and faculty out of Pray-Harrold and into other buildings on campus," said AECOM Project Manager David Efthemiou. "Other classroom space also had to be found for the 10,000 or so students who move through here every day."
One part of the Pray-Harrold building won't be affected: Efthemiou said "the brains" of EMU's campus-wide computer system is located on the structure's first level, and keeping it operating 24 hours is "mission critical."
The entire renovation project will cost about $42 million. John Begley, project manager for Walbridge, said Pray-Harrold would be the recipient of new chillers, upgraded electrical, upgraded audio-visual capabilities in classrooms, new windows, a new roof, a fire alarm system, a fresh coat of paint throughout and a revamped student commons area on the second floor. Construction work is well under way "on a very fast-paced schedule," Begley said.
"When we're finished the university is going to get a better instructional environment and a much more comfortable and efficient building," Begley said. "The building trades are doing very well, we have a good collection of tradespeople here."
Named for a popular head of EMU's Social Science and History Department (Carl Pray) and a professor of English literature (Charles Harrold), the building was erected at a cost of $5.6 million and was designed to match the surrounding campus architecture. Over the years the only significant renovation work at the building took place after a fire in part of the structure about a decade ago.
There was debate on campus about how, or whether, to update the aging Pray Harrold hall. Eventually the university came to the conclusion that the fastest way to get the necessary work done was to completely close the building and move faculty and educational areas into "swing spaces" – temporary spaces such as unused dorm rooms that were converted into faculty offices.
"Given the sort of fear and the scale of the undertaking, we're really happy and impressed with how smoothly the move has worked," Steve Benninghoff, a professor of written communication, told AnnArbor.com.
Renovations to the building are proceeding from the top down, with work on the seventh floor penthouse wrapping up last week. One surprise has been finding more asbestos than anticipated – thousands of square-feet of fireproofing in between floors had to be removed, keeping asbestos abatement workers on the job longer than scheduled.
"You open up walls and you find asbestos, you find pipe runs that are not necessarily how you expect to find them," said Walbridge Project Supt. Jason Arsenault. "Codes have changed over the years, you deal with what you find, and you fix them, which is what we're doing here. That's how it is with older buildings."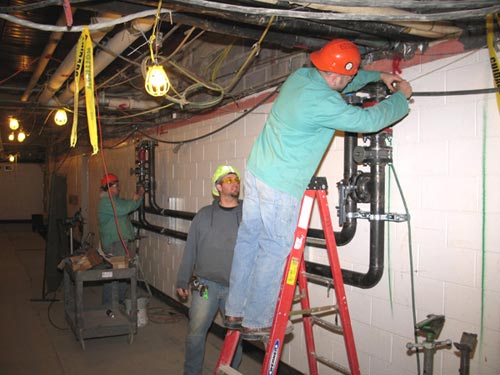 INSTALLING PIPING for a temporary glycol cooling system for the Pray-Harrold Building/EMU computer system are (l-r) Dave Forbes, foreman Keith Dettling and Jim Collinsworth of Plumbers and Pipe Fitters Local 190, working for John E. Green.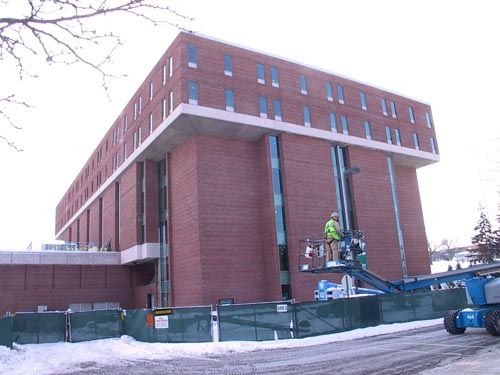 THE SEVEN-STORY, 235,000 square-foot Pray-Harrold Hall at Eastern Michigan University is undergoing a complete renovation.