HOUGHTON – Water quality. Lake levels. Invasive species. Climate change. Water siphoning. Pollutants.
How those factors are studied and addressed will determine the future health and viability of Michigan's greatest natural resource, the Great Lakes. Michigan Technological University has taken a big step toward becoming a leader in the study of the waters around our state, by helping to sponsor the ongoing construction of the $25.3 million Great Lakes Research Center.
Construction manager Granger, its subcontractors and the building trades earlier this month completed the process of enclosing the building for the winter, a season which comes early and stays late on the Keweenaw Peninsula. The new research center is located on the Keweenaw Waterway dividing Houghton and Hancock, adjacent to the Michigan Tech campus.
"For so long we have been known as a mining school and an engineering school, we forgot that we're located on one of the largest freshwater lakes," said Dr. Charles Kerfoot, Professor of Biological Sciences, to the Michigan Tech Lode.
According to Michigan Tech, the 50,000-square-foot building will contain aquatic research laboratories, coastal research instrumentation, a data center, boathouse facilities, offices and meeting rooms for extension/coordination activities. The facility consolidates laboratories and classrooms supporting researchers and students working with Great Lakes biological, chemical and physical studies. The facility will be designed and equipped in support of instruction, experimental laboratories and outreach efforts.
Docking and a boathouse will be erected for both small research vessels and large contract research vessels. The existing deepwater mooring access on campus is adjacent to the Great Lakes Research Center.
"Construction is going very well, we're on schedule," said Gregg Richards, facilities engineer for Michigan Tech, last week. "We have had very good crews and they're working well together." About 50 Hardhats are currently on the job. The project was funded about 25 percent – Michigan Tech; 75 percent – State of Michigan.
Work started with a groundbreaking on Aug. 5, 2010. University researchers are expected to inhabit their new building beginning April 30, 2012.
With the Keweenaw waterway just outside the building's front (back?) door, Richards said the building's footings had to be built atop H-pilings, which were pounded about 40 feet below ground. The building will have four levels plus a penthouse, with what amounts to a walk-out basement leading to the water.
Heat for the building will come from the campus steam plant – but not necessarily the parts that create steam. The main source of heat will come from economizers, which are heat exchangers attached to the steam plant's stacks. Formerly wasted flue gases will heat pipes, which will move looped hot water to the new building. Steam heat will be available as a backup and for use in humidifiers.
As lab space, the new Great Lakes Research Center will have all manner of mechanical systems, starting with chilled water for air conditioning. The building will also have systems for compressed air, de-ionized water, and looped process cooling water for cooling some equipment.
"As Michigan moves toward a blue-water economy, this Great Lakes Research Center will play a vital role in helping the state understand and use its freshwater resources," said Michigan Tech President Glenn Mroz. "It is a strategic investment in the future, for the state and for the University."
It is hoped that the presence of the new research center will attract additional research and contract support to the State of Michigan from federal sources, MTU says. The school also says the building will enhance cooperative work conducted with the Michigan DNR, National Oceanic and Atmospheric Administration, Sea Grant Extension Office, and the EPA/Woods Hole Oceanographic Institute.
Dr. Alex Mayer, director of MTU's Center for Water and Society, told Dave Dempsey of Dome Magazine that Great Lakes Research Center is different from existing Michigan higher-education water labs and centers because of its interdisciplinary emphasis. It's intended, he said, to provide a research home to ecologists, environmental engineers, chemists, hydrologists, microbiologists, economists, sociologists, atmospheric scientists and others studying a broad range of freshwater issues. Those include the impacts of climate change, spread and control of invasive species, restoration of aquatic and terrestrial ecosystems, water withdrawals, and persistent organic pollutants.
"The Center is going to house faculty and students from Michigan Tech, but also scientists from other universities, research institutions, and government agencies," Mayer told Dome Magazine. "We can collaboratively attack problems that are of interest to the scientific community and the public."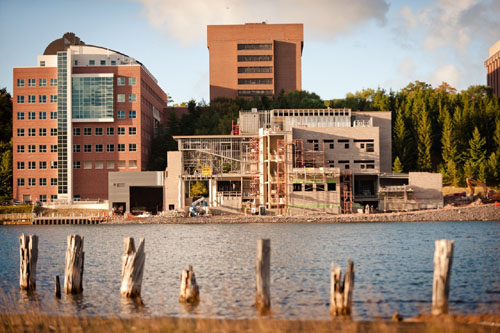 UNDER CONSTRUCTION on the Keweenaw Waterway, the Great Lakes Research Center on the Michigan Tech campus in Houghton will be keeping the building trades busy this winter. Photos by Brockit, Inc.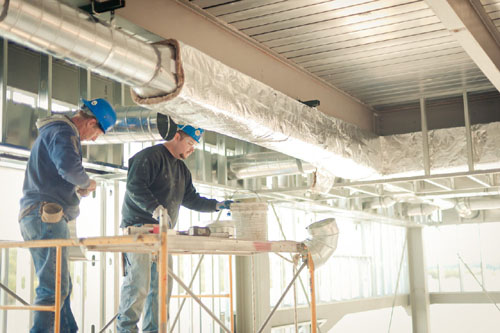 HANGING DUCTWORK at the Great Lakes Research Center are Sheet Metal Workers Local 7 members Jim Koski and Paul DuMoulin, working for Dressler Mechanical.