James Denkins has put down his welding equipment on the job, but his home collection of chainsaws is in great working order.
The Boilermakers Local 169 member retired from the trade in April, but that has given him more time to devote to his artistic hobby, chainsaw carving. He first learned about the art form from a magazine. "It's a God-given talent that's I've refined over the past 25 years," he said.
Denkins' carvings usually take the form of forest creatures, but he also does cut-outs of women, zebras and monkeys. A piece that he worked on steadily over the past winter he calls "Edge of the Forest," and features a gnome along with 15 different animals and insects. "It's definitely my best piece of work," Denkins said. "I'm entering it in Art Prize, and my goal is to win. But my ulterior motive is that I'm looking for votes."
Denkins' Edge of the Forest will be one of 1,517 entries in Grand Rapids' Art Prize, an open art competition spread over the sidewalks in three square miles in the city's downtown. It bills itself as the world's largest art competition, and this year it will be held Sept. 19 through Oct. 7. The first place prize is $200,000. "My goal is to win it," Denkins said.
Only people who visit Art Prize are eligible to register to vote for the winner. If any of our readers visit the show and like Denkins' work, his vote number is 52238. There's more information at www.artprize.org.
In Denkins' possession are no less than nine Jonsered chain saws. His largest bar is 33 inches, "which by most standards is humongous," he said, but which allows him to cut straight through most large logs. On the smaller end are his 12-inch "carving bar," whose chain is impregnated with a hardened metal that allows him to do "all kinds of detail work" with minimal chance of the saw kicking back. He can makes pieces as small as a butterfly with a chainsaw.
As for technique, Denkins said all those years of welding in cramped spaces as a boilermaker have taken their toll on his back, so he prefers to keep his chainsaws close to his body for better control.
His preferred wood is cedar, because it is lightweight and low in moisture content, but he also uses red pine and white pine logs for bigger pieces. The wood comes to him from around his Cooks home in the Upper Peninsula, brought by friends and associates who have business in nearby forests. He pays for the wood – "top dollar," he says, "that's how you get the good pieces. And they know what I like."
When his chainsaw work is complete on a piece, he often uses a grinder and an array of disks to do the finish work. He rarely uses a knife. He applies a light burn with a torch to help make the pieces less breakable and easier to paint. Pieces are usually finished with a coating of exterior latex stain in earth tone colors. "I don't like gloss or slick finishes, they don't show the detail," he said.
Denkins began his chainsaw art by making pieces for family members, and then friends and others. He sells a handful of pieces every year, but gives away just about everything he makes for fundraisers and charities. "Always has been a hobby, always will," he said.
Edge of the Forest will be located near the Courtyard by Marriott in downtown Grand Rapids during Art Prize.
"On my boilermaker tests I always wanted my welds to be the prettiest ones out there," he said. "And now every piece I do I want to do better than the one before."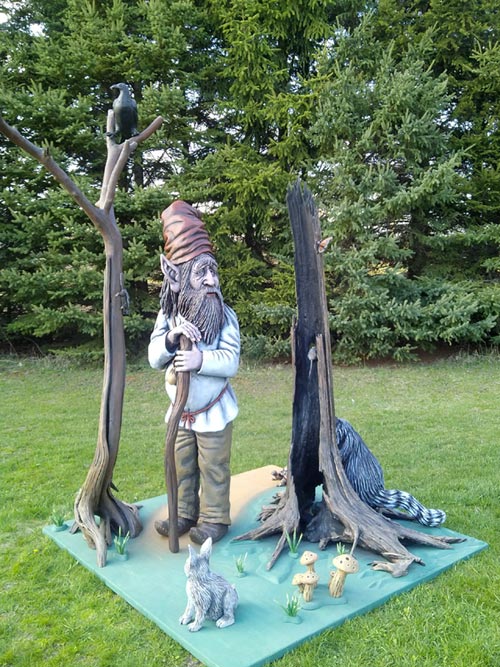 RETIRED BOILERMAKER James Denkins is entering his finest work, "Edge of the Forest," into the Art Prize contest in Grand Rapids starting Sept.19. The figures were carved from a chainsaw.