LANSING – The state's Senate Republicans maintained their majority status following last November 's elections, and they chose moderate Randy Richardville to lead their caucus.
It's not a stretch to say that having Senate Majority Leader Richardville in that position is the one, unlikely saving grace that could prevent some or all of the anti-union bills from reaching the desk of Gov. Rick Snyder. Richardville, from Monroe, was invited to speak to the Michigan Building and Construction Trades Council Legislative Conference on March 2. Building trades leadership had heard signals in media reports that Richardville wasn't a kindred spirit with many of the anti-union proposals coming out of the Republican caucus in Lansing, and he (very briefly) affirmed as much during his speech.
"We have economic difficulties in Michigan that transcend these bickering things that some are trying to do," Richardville said. Then he said what was basically music to delegates' ears, and he received a standing ovation: "It's a basic right of citizens in Michigan to bargain collectively."
Richardville said the state should be focusing on other problems, like tax structures, over-regulation, and dealing with school districts and cities that are going broke. "But we don't throw the baby out with the bath water when it comes to basic rights," he said.
As majority leader, Richardville is given wide discretion by his party to decide what bills go to Senate committees, if and when they come out of committee, and if and when they are placed on the Senate floor for a vote. The state's unions have no such Republican friend in a leadership position in the state House, where the anti-union bills have mostly sailed through passage along party-line votes.
"Most of these bills are going to pass the House," said Michigan Building and Constuction Trades Council President Zane Walker. "Where we have to try to stop it is in the Senate and at the governor's desk."
While he has recently signaled support for the union side in matters concerning prevailing wage repeal, and implementation right-to-work zones, Richardville has offered no specific pledges to the building trades concerning what he will do legislatively. In fact, in the Senate, the sheer volume of anti-union bills may mean that he will have to compromise with members of his caucus to allow some bills to go up for a vote, while he and other moderate Republicans quell others.
"Not all the Republicans have endorsed these anti-union bills, and I know you (the building trades) endorsed some of those lawmakers," Michigan AFL-CIO President Mark Gaffney told building trades delegates. "And for that I say, 'thank goodness.' " The building trades are widely seen within the state's labor movement as a bloc more willing than others to strategically reach out to Republicans.
To help the state's building trades, Richardville said he supports erecting the Detroit River International Crossing, another nuclear power plant, as well as construction of coal plants so that Michigan can be an exporter of energy rather than an importer. "We can't build them fast enough," he said.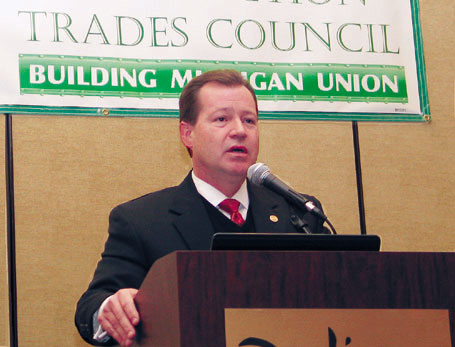 Gov. Rick Snyder addresses Michigan Building and Construction Trades Council delegates.