LANSING – Michigan…a right-to-work state?
As unbelievable as that sounds – in a state that more than any other is the cradle of the modern labor movement – it's true.
The beginning of the end of Michigan's union-friendly, "closed shop" status came Dec. 6, during a news conference hosted by Gov. Rick Snyder, state Senate Majority Leader Randy Richardville and state House Majority Leader Jase Bolger, in which all three Republican leaders expressed support for right-to-work.
Later that day, with no public hearings, separate right-to-work bills were moved and quickly adopted by the House and Senate. No Democrats in either chamber supported the bills. All but four Republican senators and all but six Republican House members voted in favor of the right-to-work bills. Procedural rules required a five-day waiting period before RTW's final passage, which took place with Gov. Snyder signing the bill on Dec. 11.
"We took an oath that we would do our best and what's right for the future of Michigan and not let politics get in our way," said Senate Minority Leader Gretchen Whitmer (D-East Lansing) in a speech on the floor of the Senate on Dec. 6. "If you honestly believe you are doing any of that here today, then you are more out of touch with the people of Michigan than they already thought. Let's be clear. This legislation is petty and vindictive politics at its most disgusting."
Added U.S. Sen. Carl Levin: "This is as serious issue as has ever been seen in this state."
The right-to-work measure adopted during the Legislature's lame duck session between the election and the end of the year, zoomed through the legislative process. Snyder and other Republicans now call it "Freedom to Work." Police and firefighters were exempted from the law. For most of his two years in office, Snyder said right-to-work wasn't on his agenda. But it quickly moved to the top of his agenda and that of his fellow Republicans, after the Nov. 6 election, when Proposal 2 was defeated. That proposal, would have enshrined collective bargaining rights into the state Constitution and prevented passage of a right-to-work law.
At his news conference, Snyder said his decision was driven in part by neighboring Indiana's passage earlier this year of its own right-to-work law, and the desire to keep Michigan competitive. He said he "supports the unions in many regards" but "this is about fairness in the workplace and equality in the workplace."
Many in organized labor saw Monroe County Republican Richardville as a moderate who could use his leadership position to bottle up right-to-work. They thought the same about Snyder, hoping he would stay the moderate he campaigned as and veto any RTW legislation. Wrong on both counts. "We have come together and decided this is time to bring this up and doing something about it," Richardville said at the new conference.
The reaction by organized labor leaders to the introduction of RTW in Michigan was fast and furious.
"The ugly battle to force right-to-work-for-less legislation on Michiganders is being waged by multimillionaires and their outsider consultants who are increasingly taking hold of our government," said Teamsters President James Hoffa, a Michigan resident. "It's outrageous that the ultra rich behind this scheme are strong-arming state politicians with dirty tactics, including threatening to run candidates against them, if they do not vote for the ploy. Michigan residents know better than to support the ruse of 'right to work.' They know it doesn't create jobs. It lowers our standard of living and hurts the middle class. Those aren't Michigan's values."
Said Michigan AFL-CIO President Karla Swift: "The Michigan labor movement remains committed to working with anyone who prioritizes creation of family-sustaining jobs rather than partisan politics. This legislation is about silencing the voices of working families in our democracy at a time when what we need is for people to have a stronger voice in building our future."
One labor leader said "all options" are on the table when it comes to fighting the legislation. At a rally Dec. 6 on the closed street in front of the state Capitol Building, Rev. Jesse Jackson called for a one-day general strike by organized labor, to get the state's attention.
As an initial bargaining chip, Democratic lawmakers in Lansing have vowed not to support any Republican legislation – and the GOP may need their votes on some controversial proposals. One legal way the law could be overturned is because police and fire unions were granted a "carve-out" exemption and are not affected by the RTW legislation. That could conflict with "fair and equal" treatment for everyone under the law. On the other side of the argument, police and fire workers have been given separate contractual status for decades.
The GOP attached a $1 million outlay to fund the right-to-work law. Attaching the money was a legal move by Republicans to prevent a referendum by voters to overturn the law. But that's not a foolproof strategy, Gongwer News Service reported. And, there's always an option of another attempted change in the state Constitution to outlaw right-to-work via a voter referendum, a la the failed Proposal 2 effort.
The only winning strategy might be for Democrats to find a candidate to beat Snyder in 2014, win back majorities in the House and Senate, and overturn the law.
"I'm as ashamed of the people in this building as I am proud of you" said Lansing Mayor Virg Bernero, to the crowd of union members at the anti-RTW rally. Bernero was the Democratic nominee who lost to Snyder in the election for Michigan governor two years ago. "You have reminded us all who is in charge in Lansing. They're telling us this isn't an attack on unions. Give me a break!
Senate Minority Leader Whitmer told the crowd: "I'm here with my Democratic colleagues and we stand with you! At the 11th hour is a lame duck session he (Snyder) announced an about-face on right-to-work. Then, no hearings. Closed doors, because they're afraid of the people. What my Republican colleagues don't talk about are the people. This isn't about some scary union – this is what happens when people fight for good wages and benefits. They form a union!"

AN ESTIMATED 10,500 union members and supporters rallied in Lansing on Dec. 6 to protest the Republican-sponsored legislation that made Michigan the nation's 24th right-to-work state. Gov. Rick Snyder-R, with protestors below his office window urging him to issue a veto, signed RTW into law that day.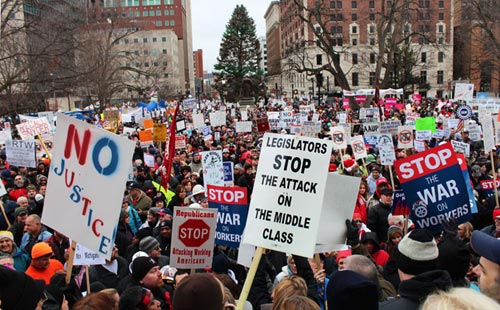 Right-to-work protestors in Lansing on Dec. 11.