ROYAL OAK - Over much of the past year, the city's Civic Center has never looked so good - at least to building trades workers and their contractor-employers.
Scores of Hardhats have been putting their skills to work in the vicinity of South Troy and East Third streets, the location of the city's co-joined - and hopelessly outmoded - City Hall and Police Department buildings. Nearby, the trades and their contractors have been erecting much-needed replacements for those buildings, as part of a $100 million effort that will not only result in providing new, modern workspace for city workers and the citizenry to conduct business, but a transformation of the entire area that will bring in hundreds of new workers downtown, while adding significant park space and walkable areas.
"Our city hall is wholly outdated and an inefficient place - we think the architect actually used the same design of a school building to design city hall," said Royal Oak Economic Development Manager Todd Fenton. "And the police department has its own issues with lack of space, efficiency and safety. So these projects allow us to design modern floor plans for the city's workers and our citizens to do business."
A major catalyst for the transformation of the Civic Center site is the ongoing construction of a new $70 million Henry Ford Medical Center, which is also slated to be complete later this year. Developed by the Boji Group, the project is just a short walk from the new City Hall and Police Department and will employ some 400 workers - a tremendous shot in the arm for any downtown. We will feature that project in our next edition.
Construction of Royal Oak's new city hall and police departments are moving along similar schedules under input by Plant Moran CRESA, real estate consultants. The contracts to build the new city hall, police station, a downtown park at the site and connectivity among them was awarded to Colasanti-O'Brien, joint venture.
Construction started on the new $12.2 million, 33,000-square-foot City Hall in December 2018, and occupation is slated to take place in June. The current building, completed in 1955, "is falling apart," Felton said, with parts of the building occasionally closed due to leaks or other issues. The building has two elevators, but only one is operable, with the other given over as space to run wire and mechanical fixtures among the floors.
Renovation of the existing building was looked at, but rejected because of the extensive work and costs, according to a study commissioned from Plante Moran CRESA. The new two-story City Hall will be located between Third and Troy Streets, behind the Royal Oak Farmers Market, and will be laid out to offer a logical flow for citizens to do their business - to easily go from department to department, for example, to obtain a building permit. Elected city officials and staff will finally have more dedicated meeting space, with greater seating capacity in the city commission chambers as well as overflow space. Circulation in the building will be easier for seniors and those using wheelchairs or strollers.
When the old City Hall is emptied, the building will be demolished and the land will be made into a two-acre downtown park. A new parking structure has also been built on the site.
A new Royal Oak Police Department is also much anticipated. Royal Oak police are currently working out of an inadequate, inefficient 38,500-square-foot building that opened in 1964. The new two-story building will be 43,000 square feet, and include a safer, more efficient enclosed connection to the city's 44th District Court building.
Input on the design of the new $19 million building was solicited from the city's cops, who work out of cramped quarters with a small lobby and a narrow building entrance. The new facility, set to open in July, will improve visitor circulation, offer centrally located service counters on the first floor, flexible conference space, and eight detention cells. Royal Oak Police Chief Corrigan O'Donohue said the new building has a limited footprint, and most of its key features are necessarily placed on the first floor.
"Our building is undersized, it is way too cost prohibitive to rehab it," said O'Donahue, citing a Plante Moran CRESA study during a public presentation. "Our building is literally falling apart. The new station, I'm proud of it, I know my team is proud of it, the officers are proud of it. This building is going to have to serve Royal Oak for 50 to 75 years, and we want to make sure that we do it right." The existing police station will be demolished when the new station opens.
Craig Waelens, project superintendent for Colasanti/O'Brien Construction Co., said last month that 30-35 trades workers were working on the new police station. "The trades are doing very well, they're keeping up with the flow of the job and they're getting it done," he said.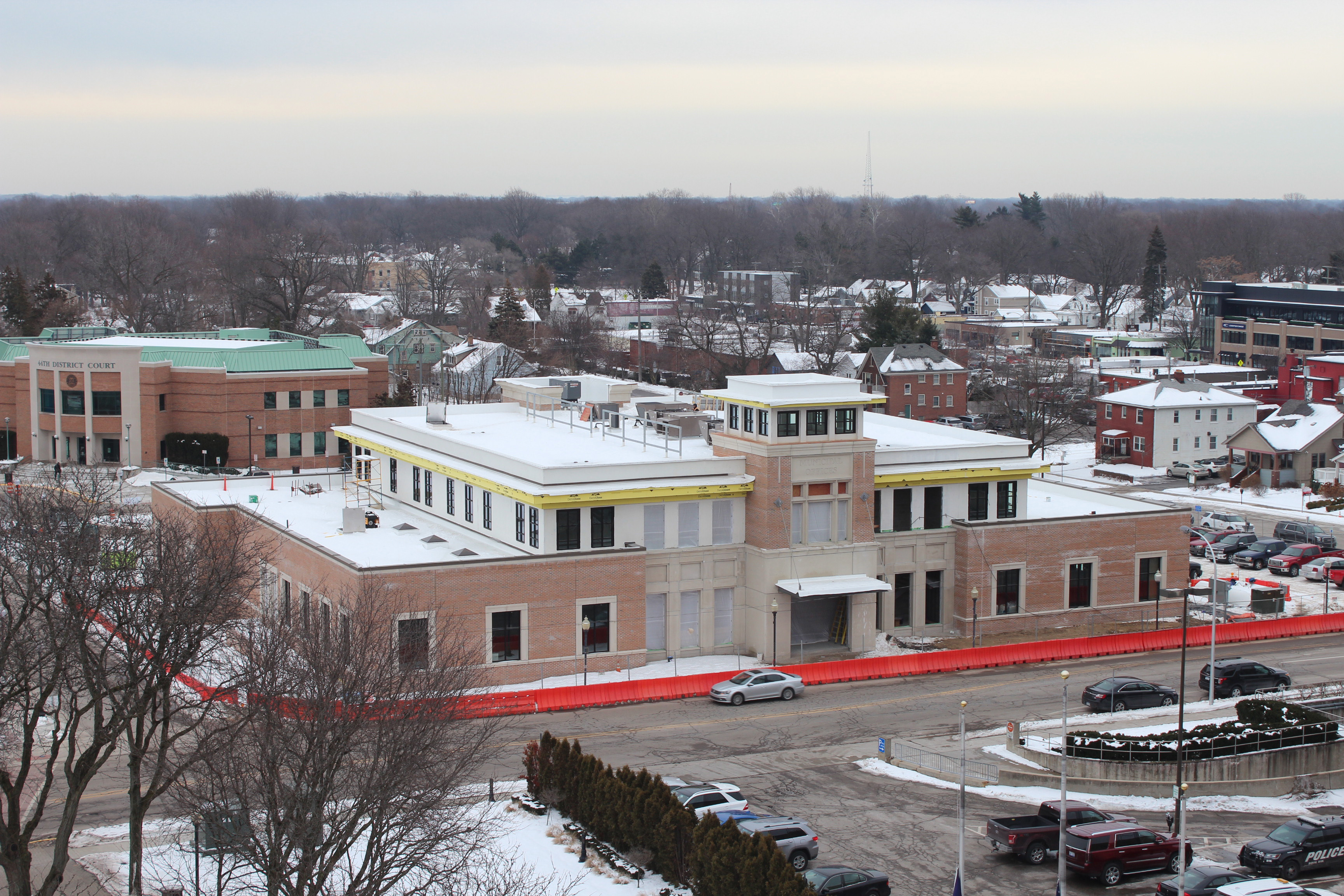 ROYAL OAK'S NEW $12.2 million City Hall along South Troy Street will be slightly larger than the nearby 65-year-old building it is replacing, but it's designed for the needs of a modern municipal workforce and the community today.
PLUMBER Paul Wisniewski of Local 98 and Guideline Mechanical sets up a gas pipe weld at Royal Oak City Hall. "Thirty years in the trade, and this will be my first time in the paper," Paul said. And he made the front page, too.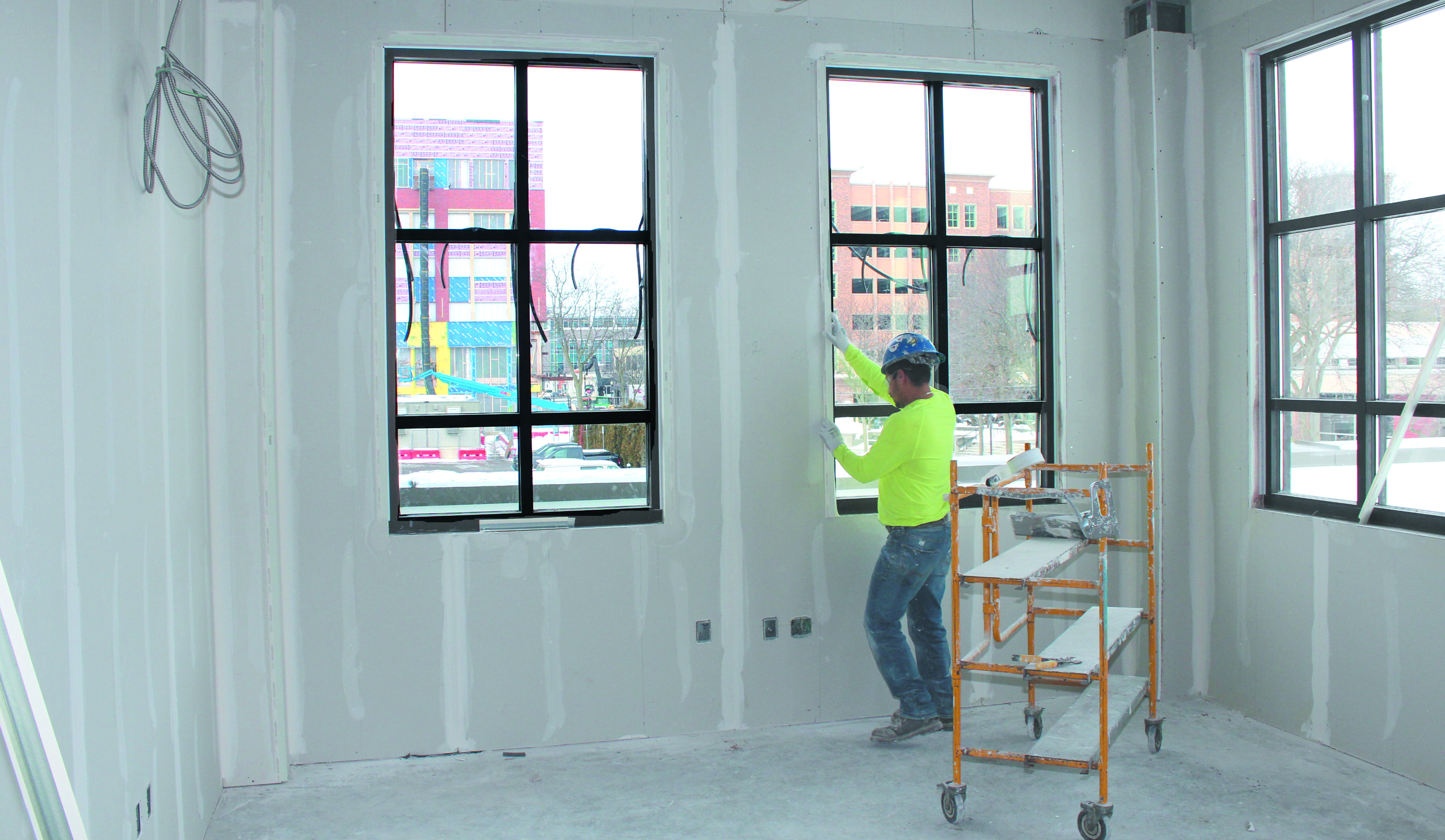 MUDDING THE EDGE of the city manager's corner office window on the second floor of the new Royal Oak City Hall is drywall-taper Roberto Rodriguez of Painters District Council 1-M. He's employed by Stenco.