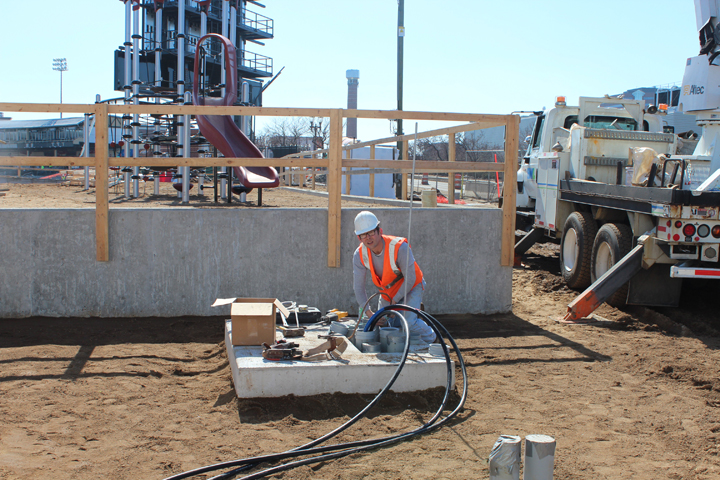 LANSING - Across the nation, the first part of April is all about spring, warmer weather and getting a start on the baseball season. But for the building trades renovating and modernizing Cooley Law School Stadium - home of the minor league Lansing Lugnuts baseball team - just about all the action on and off the field has taken place over the winter months. "Lots of jobs shut down over the winter, but this one kept going, and it was a tough winter," said Jeff White, general superintendent for Christman Construction. "It was cold and snowy, but these workers know they're playing ball here on April 9, and everyone has had a project-first attitude. A fantastic group of people."
Christman Construction is managing the $13.5 million project, which is the first significant renovation of the 19-year-old ballpark. The trades have been building a 360-degree concourse, replacing benches with seats, upgrading picnic and service areas, improving locker rooms, restrooms and suite areas, and setting up the facility for high-definition scoreboards.
"I'm incredibly proud of the development team that has worked so hard to bring this project to fruition," said Lansing Mayor Virg Bernero, "and I'm grateful to the construction workers who are doing an amazing job building it. After nearly two decades, our baseball stadium is getting a new lease on life...."
The project, which has employed more than 100 Hardhats, proceeded through the off-season, with much of the most difficult work taking place outdoors in brutal temperatures. The toughest job: placing some 6,000 yards of concrete. Last month the trades were setting rebar, continuing to pour cement, placing seats, pulling wire, painting, and laying brick, among numerous other tasks.
Opened in 1996 as "Oldsmobile Park," today's Cooley Law School Stadium has a seating capacity of 7,527. It is a Single A minor league team affiliated with the Toronto Blue Jays in the Midwest League. The Lugnuts have shared the field with the Michigan State Spartans baseball team.
A separate project adjacent to the stadium is The Outfield, an $11 million, four-story residential development that will overlook the ballpark's outfield and is set to gear up later this year.
"I know that Lugnuts fans are going to be as thrilled with the ballpark improvements as I am, and I couldn't be more pleased with our partnership with the city in making it happen," said Lansing Lugnuts owner Tom Dickson. The project is being led by Lansing developer Pat Gillespie. "Combined with The Outfield, our ballpark will set a new standard for professional minor league baseball facilities across the country. We're proud to say Lansing is our home and will be for twenty more years."
The stadium originally cost $12.8 million. Attendance averaged about 5,200 at 64 home games last year, and officials hope to attract other types of events to the facility, which is located off Michigan Avenue east of Cedar Street. Construction will continue into this season, but the park will be ready for baseball. "Our motto is 'it can be done,' White said. "And we're doing it."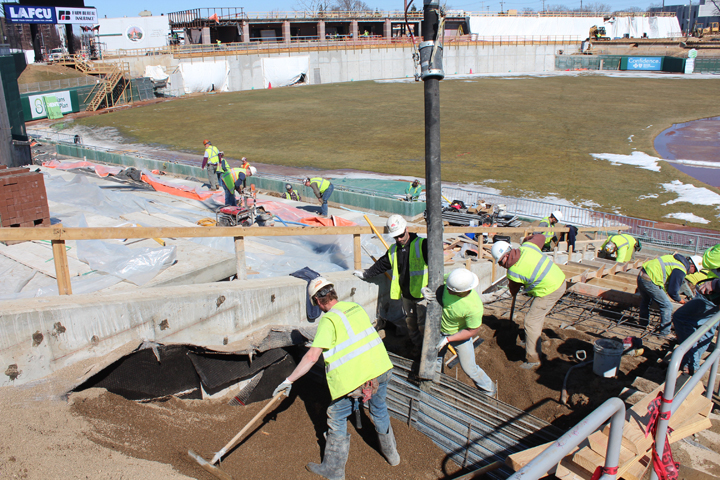 PLACING CONCRETE for what will be a newly created Bullpen Bar/outdoor grill area at the Cooley Law School Stadium renovation project are a gang employed by Christman Constructors. Supt. Mike Cornell of Cement Masons Local 514, at center in black, keeps an eye on the pour.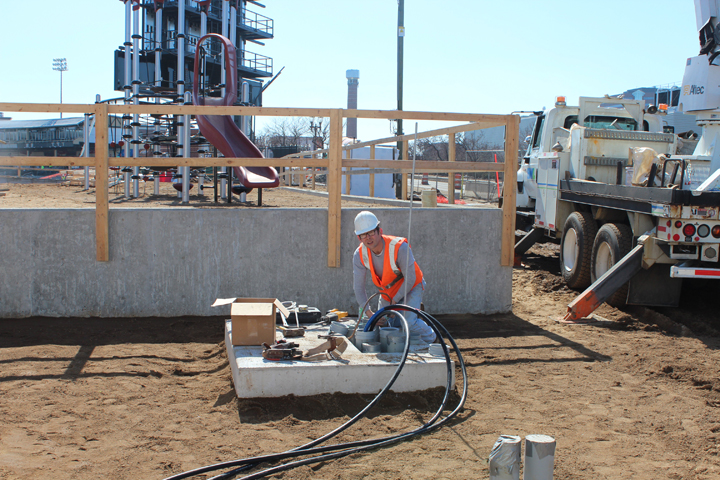 WORKING ON THE 13,200-volt service feed for the Lugnuts' ballpark is Greg Whittaker of IBEW Local 665. He's working for Centennial Electric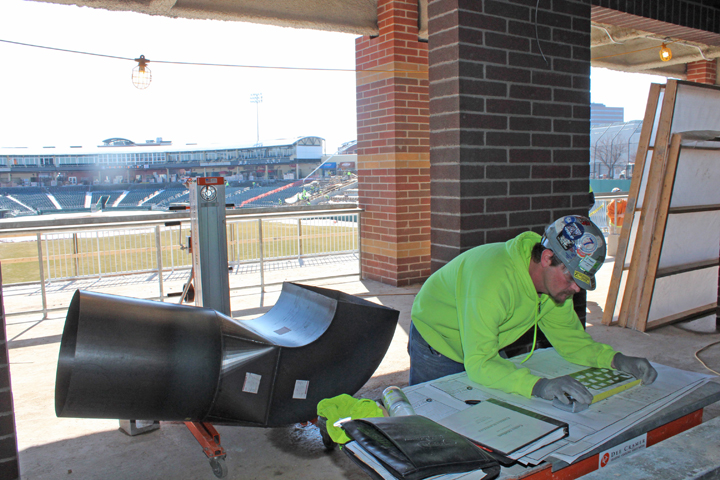 LOOKING OVER PLANS for a section of the ballpark's ventilation system in an outfield concourse is Adam Nethaway of Sheet Metal Workers Local 7. He's employed by Dee Cramer.