(Schauer has been endorsed for governor by the Michigan Building and Construction Trades Council)
Here in Michigan, we once had our own unique version of the American Dream. This Michigan Dream was built on a set of shared values: the belief that a quality education and economic opportunity were available to anyone willing to work for it, pride in making our communities a great place to raise our families, and the opportunity for each of us to escape to and enjoy our beautiful lakes, rivers, forests and parks.
Unfortunately, after nearly four years on the job, Republican Gov. Rick Snyder has put our Michigan Dream at risk, dismantling our public education system, making college unaffordable for many, cutting money for vital services like police and fire departments, and removing key protections for our Great Lakes and other natural resources. He has shown time and again that he puts big corporations and the wealthy ahead of regular people.
This week I unveiled my economic plan, "Blueprint: A Michigan That Works for Everyone." To move Michigan forward, we need to build an economy that works for everyone, not just the wealthy. That's what my plan is all about — creating good jobs, helping our kids compete for high-wage, high-skill jobs, helping Michigan businesses compete and building ladders to the middle class.
As governor, I will:
■ Invest in education and reverse Snyder's $1 billion in cuts to our schools, colleges and universities.
■ Grow the economy from the middle out by promoting economic fairness and creating ladders to the middle class.
■ Create a Michigan In-Sourcing Initiative to provide a one-stop shop for businesses seeking to bring jobs to Michigan from other states and countries, and expand lending programs for small businesses so entrepreneurs have access to start-up capital to grow their businesses and create jobs.
■ Build vibrant, healthy communities to attract and retain young people and talented workers.
■ Fix Michigan's infrastructure by developing a long-term funding structure that requires businesses to pay their fair share.
■ Protect our environment, the essence of Pure Michigan, by getting tough on polluters and protecting our Great Lakes shoreline and dunes from invasive species and over-development.
■ Raise Michigan's Renewable Energy Standard to 30 percent clean energy by 2035, which will make Michigan a leader in advanced energy and create thousands of good-paying manufacturing and construction jobs.
■ Focus on the right budget priorities to fuel economic growth: jobs, K-12 education, preschool, higher education and job training, while making government more efficient by banning special deals for elected officials' friends and family, capping pay raises, and ending contracts with incompetent firms that deliver substandard services to prisons and veterans homes.
■ Improve government transparency and accountability by cracking down on conflicts of interest, requiring greater financial disclosure for those who give and receive political donations, banning lobbyist gifts to public officials, closing the revolving door between the legislature and the lobby corps, and improving representation in Lansing by creating a nonpartisan redistricting commission to end gerrymandering.
■ Making Michigan's economy work for women and families by restoring the child tax credit, strengthening equal pay laws, creating stiffer penalties for wage discrimination based on gender, expanding paid sick leave, establishing job protections for pregnancy-related disability, and protecting women's access to health care and reproductive rights.
Under Snyder's watch, Michigan is ranked 49th in projected job growth over the next decade and ranked among the five worst state economies in the nation. Job growth and personal income growth are well below the national averages. We are better than that here in Michigan. It's clear that Snyder's policies work for the wealthy, but they're not working for the rest of us.
It's time to get our priorities straight. I'm ready to roll up my sleeves, set this blueprint into action on Day 1 in office and get to work rebuilding the Michigan Dream as Michigan's next governor.
(Originally published in the Detroit News, Aug. 1, 2014)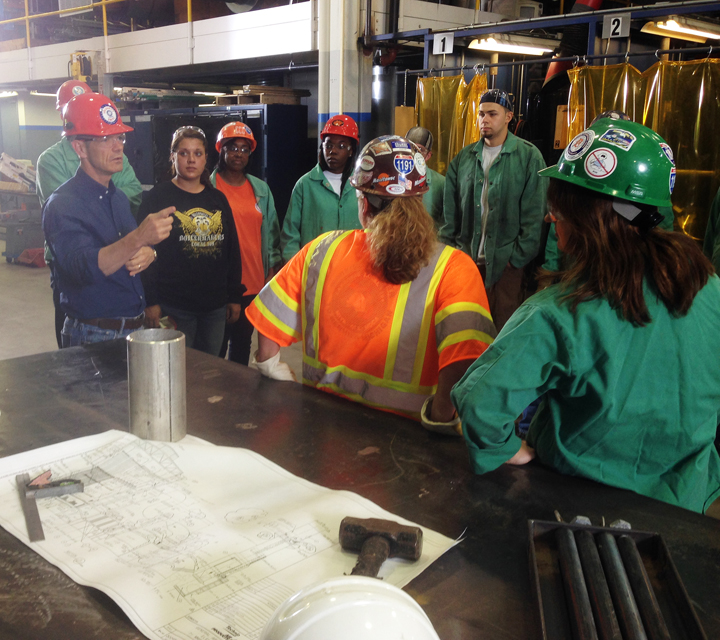 DEMOCRATIC candidate for governor Mark Schauer talks to apprentices on July 30 at Boilermakers Local 169's Training Center about the importance of voting. Photo by Kathy McComb