MARQUETTE, Mich.— The shiny shovels were broken out May 3 on the campus of Northern Michigan University.
That's usually good news for the building trades, and indeed, the university's dignitaries used those shovels and held a groundbreaking ceremony to celebrate construction of a $16.4 million renewable energy facility.
Developed with project manger Johnson Controls, the facility will burn wood chips and wood byproducts from the Upper Peninsula's forests. The project's goals are to reduce operating costs, provide greater fuel flexibility and protection from volatile gas pricing, use a renewable resource and create local jobs.
"This is not just a historical moment for Northern, but for me as the university's president," said Les Wong, who announced a week later that he was leaving NMU for a job as president of a university in California. "One of the first project ideas I heard about when I came to NMU was of a renewable energy facility. So for as long as I've been here, which is now eight years, this has been a strategic goal of the university and we appreciate the partnership we have with Johnson Controls to make it a reality.
"NMU is committed to being a campus that works hard at its sustainability measures and this facility will help us within that area."
The renewable energy facility will produce up to 87 percent of the campus steam consumption currently supplied by burning fossil fuel at the adjacent Ripley Heating Plant. It will also produce up to 16 percent of the university's electricity needs, reducing the amount that must be purchased from the Marquette Board of Light and Power.
"By being able to burn multiple types of fuel, the university has a critical ability to fiscally react to significant changes in the fuel source marketplace," said Brian Cloyd, chair of the NMU Board of Trustees. "The new plant will also incorporate the best available control technology and meet federal EPA and Michigan Department of Natural Resources and Environment standards."
The project is funded by internal or bond proceeds paid back through operational cost savings guaranteed by Johnson Controls. Work at the site started in March.
According to Gisele Duehring, NMU's associate director facilities/heating plant, the new plant will encompass about 13,700 square feet, including the covered fuel storage area, a corridor, work rooms, and major equipment areas. Fuel will be trucked in by local logging companies. The boiler is designed for
optimum operation using three-inch by three-inch chips.
She said fuel cost savings vs. the exclusive use of Ripley's gas-fired boilers will depend on natural gas prices, as well as electricity rates since the new plant will include a turbine/generator set.
NMU officials anticipate doing the first test burn in the new facility in January.
The Ripley Plant came on line in 1966, providing steam and housing the switchgear for electrical distribution to the campus. The plant has three boilers that are powered by natural gas, with fuel oil backup. Growth of the NMU campus resulted in the upgrade of two of the original three boilers and replacement of all the switchgear in 2006.
In addition to the new construction, work will address $800,000 in long-term maintenance at the Ripley Plant, which relies primarily on natural gas with fuel oil as a backup. The plant will continue to be used to meet peak steam demand.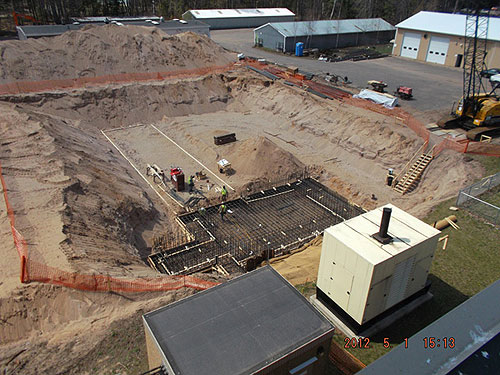 FOUNDATION WORK for the new renewable energy plant at Northern Michigan University began this month. Photo by Dan Hochendoner and Jesse Harvala