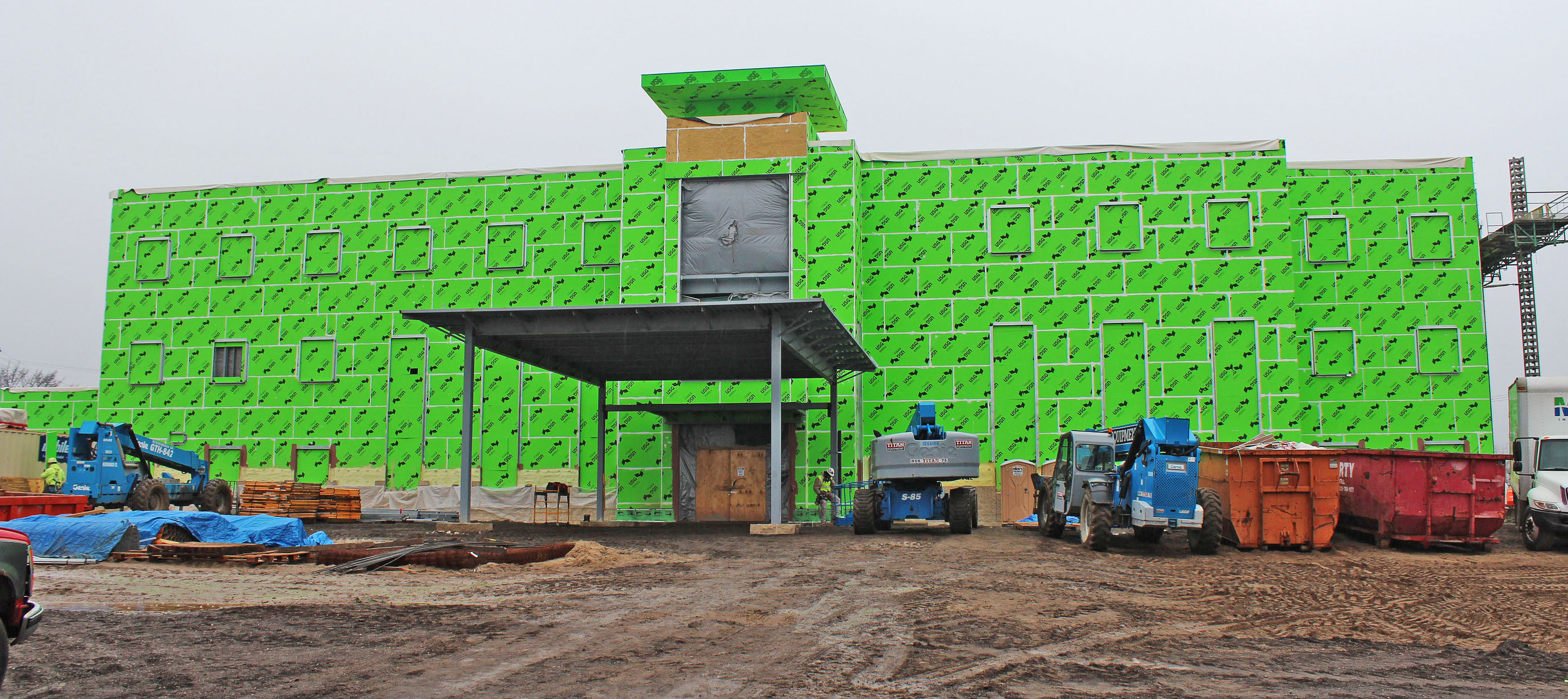 LANSING TWP. - Sparrow Hospital's main campus, located along Michigan Avenue east of downtown Lansing, is the health care headquarters for tens of thousands of people in mid-Michigan.
Next year, those health care consumers will have an alternative location to meet their needs: Sparrow Health Center Lansing, located about one mile northeast of their main campus. Clark Construction is managing the work on the new 70,000 square-foot, three-story building, which is currently employing about 50-60 Hardhats.
"This building is all about offering better services to our patients, with all the services they will need when they go to see their doctor," said William Laurain, executive director, facility development for Sparrow. "This will help decompress the main hospital, and patients will have access to a building that's close to home, with easy parking, and with medical records linked electronically to the main hospital."
The new Sparrow Health Center Lansing, at 2909 E. Grand River Avenue, just west of US-127, will house a drive-thru pharmacy, laboratory, endoscopy, diagnostic imaging including CT, ultrasound, mammography, MRI and other services, in addition to three Sparrow Medical Group practices. The building is being erected on the site of the demolished Lansing Medical-Dental Building,
Sparrow broke ground on the $20 million project in August, and Ryan Baar, senior project manager for Clark Construction, said getting the facility enclosed for the winter was a major factor in keeping the project's timeline on track. He said the site didn't give the team of subcontractors any difficulties, and the construction of the building itself is "fairly straightforward."
"The trades have done well for us," Baar said. "We have a great team on site, and they worked hard getting us through the winter. We're right on target with the schedule, things are tracking right along."
Sparrow Director of Marketing and Communication John Foren pointed out that over the past several years, Sparrow has undertaken a significant investment in the community, investing in $285 million in construction and information technology projects.
Notably, a new Sparrow cancer center is going up across the street from the main hospital. Also currently under construction is the Gathering Place Project, which will allow space on the hospital's main campus for modern and upscale dining.
Outside of state government and Michigan State University, Sparrow is the region's largest employer. "There aren't too many other organizations that have the ability to invest these types of resources in the region," Foren said.
Laurian said "keeping things close to home" has been a priority for Sparrow, when it comes to building new projects and construction hiring. "In another year and a half," he added, "the cancer center, the Gathering Place and this project will be complete. We have done what we can to serve the local community by not only being the largest private employer in the area, but by hiring local construction workers, and building in areas that are convenient for our patients. We take out commitment to the community very seriously."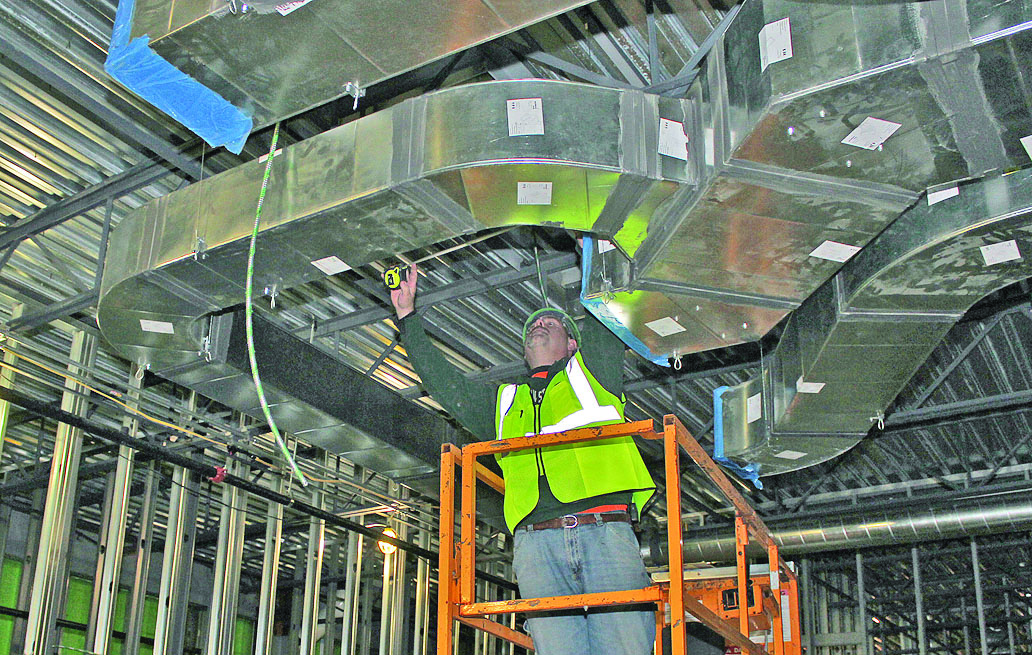 TAKING THE MEASURE of ductwork at the Sparrow Health Center Lansing project is Mike Zimmerman of Sheet Metal Workers Local 7. He's working for Applegate.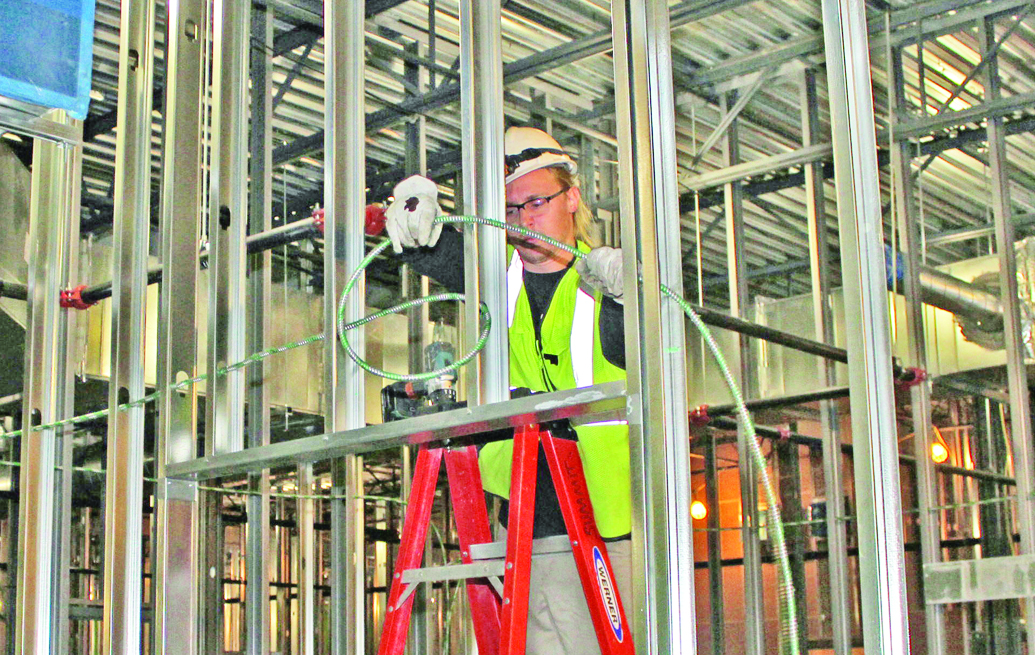 ROUTING ELECTRICAL cable at the Sparrow Health Center Lansing project is Kody Sayen of IBEW Local 665. He's employed by Summit Electrical Systems.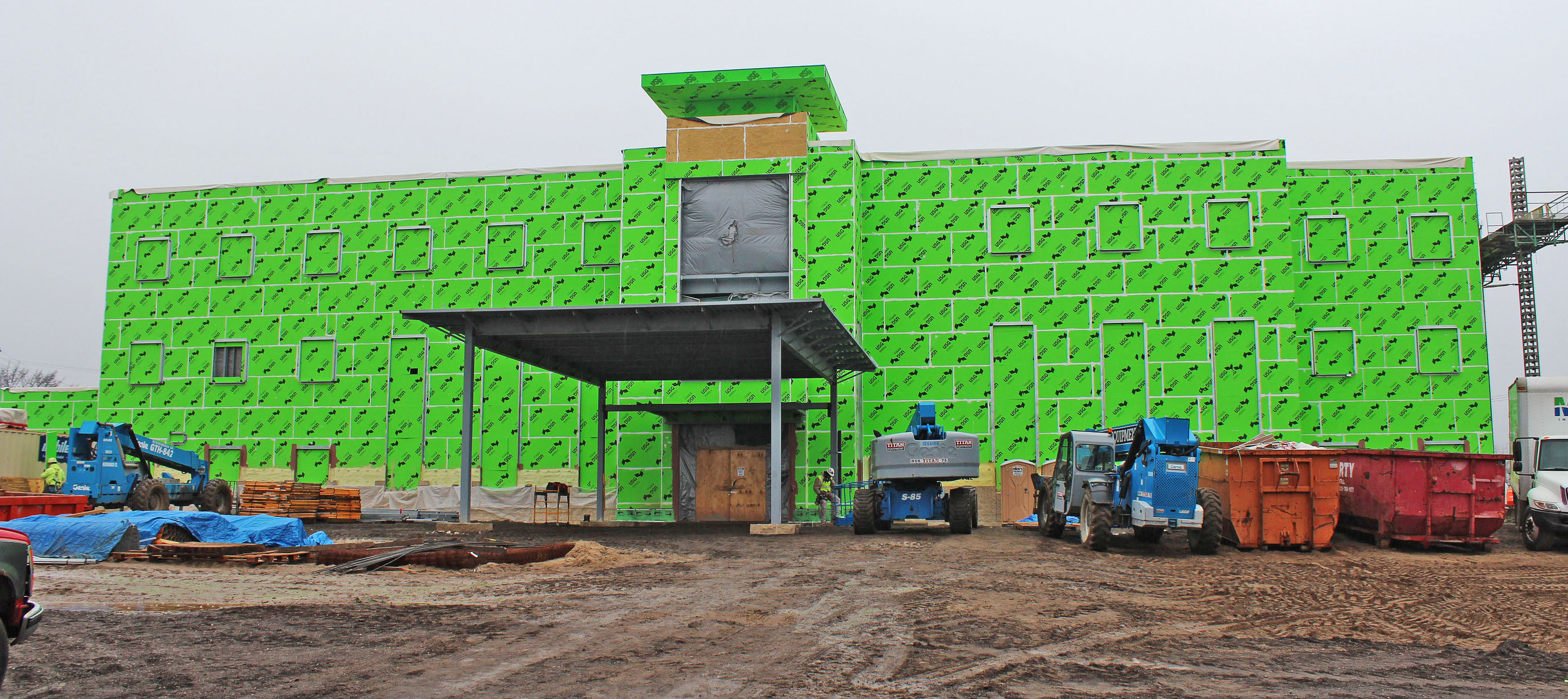 THE 70,000 square-foot Sparrow Health Center Lansing, going up at a site on East Grand River just west of U.S. 127, is shown currently much more colorful with its lime green sheathing than it will be when it is completed - with a traditional masonry exterior.