FREMONT – Later this year, a virtual "Made in Michigan" label can be applied to up to three megawatts of renewable energy, as well as tons of liquid plant nutrients and compost, produced by a plant under construction in this town about 20 miles northeast of Muskegon.
That energy and the farm-friendly byproducts will come via Michigan's first large-scale commercial anaerobic digester, which is slated to be substantially complete at the end of July. The building trades and DeMaria Building Co., acting as the project's engineering, procurement and construction contractor, began the project in December 2010.
"This has really been an exciting project," said DeMaria Group Vice President Darren Murray, who is leading the project along with Senior Project Manager Mike Draper and Senior Supt. Nick Annoni. "Our tradespeople and contractors have done very well for us, we have really had no issues during construction." Peak manpower at the site has been about 50 Hardhats.
So… what is an anaerobic digester? The plants have been used in Europe for more than two decades, but are just catching on in the U.S. This is the first plant of its kind in Michigan. Digesters accept organic waste from food manufacturers as well as agricultural waste – material that likely would have been buried in landfills.
This $22 million Fremont Community Digester, developed by Novi Energy, will be able to process about 100,000 tons per year of waste material, turning it into biogas (methane), which will be burned to generate electricity on site. Power produced by the plant will be sold to Consumers Energy under a 20-year contract. The plant's other byproducts, diluted liquid fertilizer and compost, will be made available for purchase by local agricultural businesses.
To help assure a steady stream of organic waste, feedstock supply contracts have been signed with Fremont-based Gerber Products Co. and several other major regional food processors and agricultural operations.
The plant is capable of processing a wide range of waste products including food industry processing wastes, sugary syrups, dairy products, farm residues, pre- and post-consumer food residuals, ethanol production byproducts, and industrial glycerin and alcohols. The digester can also accept materials like cow manure and rotting apples from orchards.
"This is not a typical project, and as we've gone along, we have really had to plan properly and stop every now and then and look at what we're doing to make sure that we've identified everything we have needed to do," Murray said. He said three major considerations took a considerable amount of planning. One was setting up the system to receive power from Consumers Energy – and send it back to them when the plant is up and running. Another was the practical aspect of building the plant's receiving area to accept feedstock from a variety of sources.
The other was addressing a major community concern: controlling odors. The plant is being constructed in an industrial park, and a Walmart and other shopping is only a half mile away. Murray said the plant's designers are confident that odors will be properly contained through the use of a non-mechanical, wood-chip-based biofilter.
The Fremont plant sits on about 10 acres of land, but only uses about four acres for the plant. When it's up and running, feedstock material will be collected utilizing trucks, offloaded inside a closed facility, placed in storage tanks and then be transferred to four digester tanks, which can hold a total of 3.75 million gallons of material. The digestion process creates the biogas, which will be combusted in a pair of reciprocating internal combustion engines that will put electricity back on the grid and sold to Consumers Energy. Other byproducts are liquid plant nutrients and compost.
When the plant's construction is mechanically complete in July, Murray said DeMaria's work isn't done. Feed stock will be collected and put into the digesters during August and September. With the right mix of waste materials, plus a little help from microbes, the plant is expected to start creating methane and power when it goes into commercial operation at the beginning of October.
"It's a very interesting job," said Andy Dielman, a journeyman from Plumbers and Pipe Fitters Local 174, working on the project for Andy Egan. "This isn't like your local school or hospital job, we're seeing all kinds of new materials and new technologies. It's nice to be able to learn something new."
Michigan has been pushing green technology in power production for the last few years, as evidenced by the multitude of windmill farms going up around the state, and the occasional set of solar panels popping up on rooftops and parking decks. Anaerobic digesters are another tool in the green energy toolbox: they have the potential to become micro power plants, digesting former waste as a power source instead of coal or natural gas. Their use would follow the path of many European communities which use the digesters to support district heating systems and local power generation.
"The process itself for creating the electricity with this green energy technology is something new to me," said electrical workers foreman Matt McClellan, working for Dynalectric on the Fremont project. "But the electrical process itself is pretty typical, nothing I haven't seen. I just hope that this kind of plant is going to be commercially viable here and in other places; so we can get more work in the future."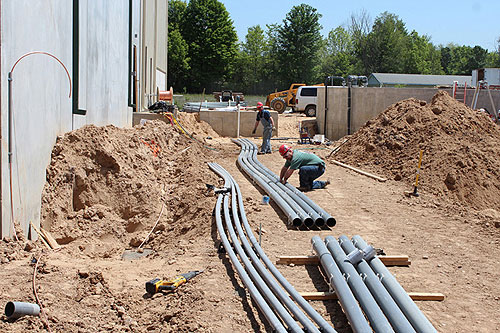 THE FREMONT COMMUNITY DIGESTER has four conical-topped digester tanks, capable of handling 3.75 million gallons of organic waste, or "feedstock" to make the digester operate. The plant will produce liquid fertilizer, compost – and electricity.