FRANKFORT - Steam power is alive and (sort of) well on the Great Lakes.
No, not in the form of a locomotive train engine or paddle-wheel boat at one of Michigan's tourist stops. As unlikely as it may seem, a commercial dredging and breakwater repair company employing union operating engineers continues to use a steam-powered crane that was built in 1939.
"We run it in kind of a slow duty cycle, but it's as steady as a rock," said Kurt Luedtke, who owns Luedtke Engineering Co. along with his brother Paul. They are third-generation owners of a business that their grandfather started in 1930, and today they have about 70 employees, including operating engineers and seafarers.
The Orton-Whirley crane sits atop a barge - what the company calls Derrick Boat No. 12. Originally, the crane's boiler got its steam up through the burning of coal, but sometime during the 1950s the system was converted to burn fuel oil. A Detroit diesel generator on the bow provides electrical service to the crane and barge.
Luedtke owns two other barge-mounted cranes, a Manitowac 3900 that was mounted in the 1970s and another model that was built in 1969. Both of those "newer" cranes can accommodate 12- to 15-yard clamshell dredging buckets, but they limit the steam-powered crane to a 4-yard bucket. They are floated from job to job all over the Great Lakes. The company currently has projects going on in Bay City on the Saginaw River and in Michigan City, Ind.
"It's been a good crane over the years," Luedkte said. "There aren't a lot of major mechanical components on it. We maintain it well, and when something does break down, we've been able to weld it back together or make the spare parts. Plus we have good operators who run it."
A 500-gallon water tank feeds the boiler. The tank needs to be replenished after a two-hour duty cycle, and conveniently, the lake provides a ready source of water via a vacuum intake. There are actually two steam engines on the crane - one powers the cables and the barge's winches, the other powers the turning movement of the entire crane.
Dennis Steffens has operated and maintained the crane for most of his 28 years as an operating engineer. "I like it. I was born on it, almost," he said. "I run it; I fix it."
Steffens said the experience of operating the old crane is akin to driving an old farm tractor. "There's a lot of power there, but it goes slower," he said. "There's some maintenance, you might have a connecting rod or a bearing come loose, but it's usually pretty simple to fix. It's a good, common-sense design."
He added, "in one respect, it's a much faster way to operate. Instead of the crane going through gears, like you'd see on a modern machine, this uses a free-falling live boom and a brake. Gears tend to slow you down a little."
Don Laitinan, a three-year member of Local 324, alternates with Steffens in operating the old crane. "I am really fascinated with steam power," he said. "When I first saw the crane, I was wondering how you would ever do any delicate work with it. But you can open up the bleeder and make the engine turn easily. You can ease her up a bit."
Observing the crane work from the shore this summer at an Army Corps of Engineers pier-rebuilding project on Portage Lake, the only signs that the crane is steam-powered were the steady puffs of vapor emanating from the stack. Inside the cab, the squeaks, rattles and hisses are constant reminders that the crane is using some old hardware
And that outdated hardware will soon bring about the forced retirement for what is probably the Great Lakes' last steam crane, floating or land-based. At one time the company had two of the steam-powered cranes, but one was cut up a number of years ago for parts. The Leudtke brothers said the end is getting near for this crane, but they would prefer that it not end up on a scrap heap.
"It's had a good run, and it's probably time," said Paul Luedtke. "But it has some historical value, and we'd rather not cut it up. He said they have contacted Greenfield Village, but they didn't show any interest in acquiring it, and the owners are now looking for another home for the crane.
"I'd be sad to see it go" Steffens said. "I wouldn't be able to blow the whistle any more."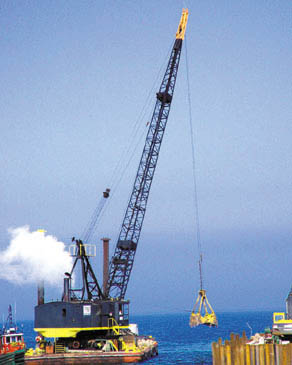 THE WHITE PLUME you see isn't diesel exhaust: it's vapor coming from a steam-powered, barge-mounted crane that was originally built in 1939. It's probably the only steam-powered crane still operating in the state. The rig is used regularly on Army Corps of Engineers' projects and always passes their inspections.