KOCHVILLE TWP. – Saginaw Valley State University is Michigan's youngest university, but it's growing up fast.
Several construction projects have dotted the campus landscape over the past few years, and more are going on this summer. On the to-do list for the trades: remodeling portions of Curtiss and Doan Halls, and the construction of a new, two-level, 25,000-square-foot addition to the school's fitness center.
The most visible project is the added space south of the existing fitness center that takes the form of a new student recreation facility. The $6 million project will house up to four indoor courts for basketball, and space for volleyball, indoor soccer and other activities, including an elevated walking track.
SVSU reports that campus fitness programs, using the existing multi-purpose Ryder Center, have expanded from 111 student participants in 2007-2008, to 902 in 2009-2010.
"We want our students to have access to programs and facilities that allow the opportunity for a well-rounded student life, including fitness activities, and Ryder Center simply can no longer accommodate our students' growing demand for campus recreation," said Merry Jo Brandimore, SVSU's dean of student affairs.
Current construction work on the campus results from the May 8, 2010 approval of $13.5 million in capital projects.
A renovation of the Doan Student Center is wrapping up, and the plan calls for the existing bookstore to be remodeled into student programming and meeting space. The bookstore will be relocated to the first floor of Curtiss Hall, to give it a more prominent location for visitors to campus. "We feel that is the best location for the bookstore, because it serves as a prime entry point to campus," said James Muladore, executive vice president of administration and business affairs.
SVSU reports that since the Student Center opened in 2003, the number of registered student organizations on campus has increased from 95 to 120, and the annual number of student events has risen from 512 to 1,121.
The "Real Food on Campus" cafeteria will be converted to a new food court called "Fresh Food on Campus" format where all food preparation takes place in the open. Both projects are scheduled to be completed by fall 2011.
Plans also call for expansion of the banquet rooms on the second floor, which host a variety of university and public events throughout the year.
SVSU was founded in 1963 as a private liberal arts college. The school achieved university status in 1987, and its collection of campus buildings has grown ever since. In recent years, SVSU has sponsored a number of construction projects, including the $28 million, 86,000-square-foot Health and Human Services Building and it's related aqua-thermal pond, the $16 million expansion of Pioneer Hall, ongoing improvements at Wickes Stadium and a number of smaller retrofits and equipment upgrades.
Plumbers and Steamfitters Local 85 Business Manager Robert Anderson said union trades and contractors have been very successful winning work at SVSU.
"I think it's a simple formula," Anderson said. "We're part of the community, our members have kids who go here, so we support each other. But our relationship wouldn't work if we didn't provide the quality work that the customer demands. They want value and quality, and our workforce provides it."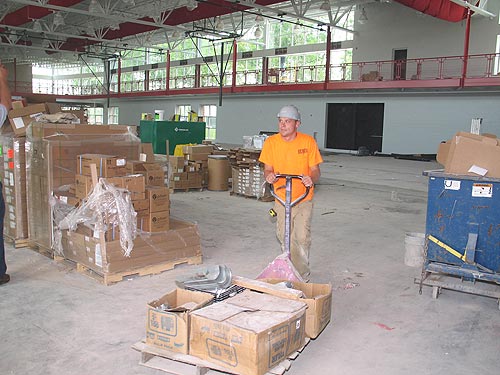 BOXES OF MATERIAL are given a push by Ryan Katz of Plumbers and Steamfitters Local 85 and Remer Plumbing, working at the gymnasium addition to the SVSU Ryder Center.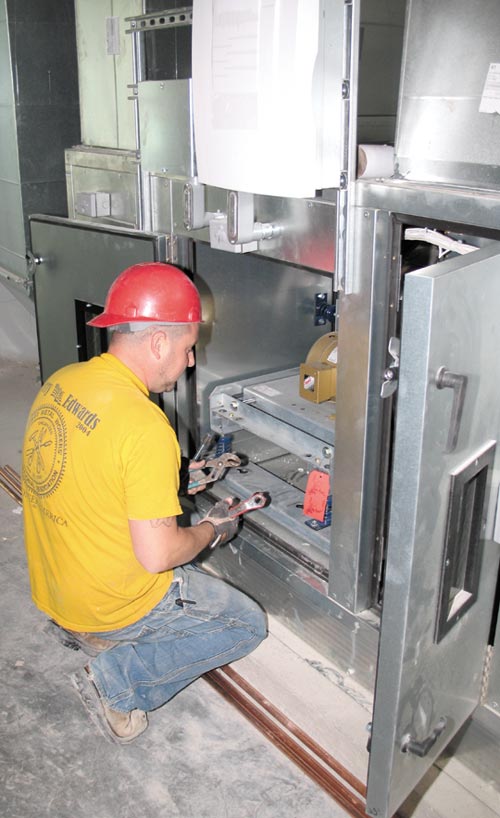 WORKING ON AN AIR HANDLER at Saginaw Valley State University is Jimmy Williams of Sheet Metal Workers Local 7, working for Wendling Sheet Metal.


MORE ROOM FOR RECREATION is being made at Saginaw Valley State University with this addition to the Ryder Center.