LANSING – Michigan Gov. Rick Snyder accepted an invitation to talk to delegates to the 52nd annual Michigan Building and Construction Trades Council Legislative Conference on March 1.
Snyder's speech, of course, was done in the context of what might be a defining era for organized labor in Michigan history, with no less than 37 anti-union bills put in the legislative hopper so far this year by state Republican lawmakers.
What the 115 building trades delegates who were in attendance during Snyder's speech wanted to hear was that he would veto any anti-labor legislation that would cross his desk, including bills that would introduce right-to-work zones in Michigan, kill the state prevailing wage act as well as project labor agreements, and end MIOSHA. What delegates heard was, well, a less-than-specific governing pledge "that our focus is not on finding areas to fight" referring to Wisconsin, where the new Republican governor has dug in his heels in an effort to take collective bargaining rights away from public sector workers.
"We're charting our own course, and it's the right course. It's about working together. It's about having open dialogue. And it's about solving problems, not creating problems," Snyder said. "Because you hired me to reinvent Michigan. To be a leader in that process. It's not just about me, it's about we. And that's where as Michiganders, we need to look beyond the problems of other places in the country and say we're in this together."
Snyder avoided any direct references to the tidal wave of anti-union legislation that has surfaced so far this year among Republicans in the state Legislature. Instead, he pointed out ways in which he would help the building trades, saying "you've suffered probably as much as any group has in our state," referring to Hardhats' work prospects during this Great Recession.
Michigan Building and Construction Trades Council Secretary-Treasurer Patrick Devlin said Snyder's comments "were a carryover of constructive discussions we've had. I would like to hear more specifics from him, on project labor agreements, right-to-work and prevailing wage, but we understand the position he's in. All along he has said that labor's voice would be heard."
Unlike his predecessor Jennifer Granholm, Snyder said he will support permits for the construction of coal-powered power plants in Michigan. He also said "we're going to get mining again" in the Upper Peninsula, referring to the Kennecott nickel mine near Marquette that will advance this year and employ hundreds of trades workers. In addition, Snyder reiterated what he said in his State of the State address, that it's time to construct a new Detroit River International Crossing – a new span down river from the Ambassador Bridge in Detroit "It is time to focus on international trade," he said. And he gave a "shout out" to Michigan State University, which will start its massive Facility for Rare Isotope Beams (FRIB) project in a couple of years.
The new governor also asked for the building trades' support of his budget and tax package, which is awaiting legislative action and will require "tough choices" to get beyond "the broken system of the past." He pointed out that under his plan there would be no new tax revenues, but there would be reform of the Michigan Business Tax, which he called a "job killer." Much of Snyder's plan involves instituting a tax on pensions, which has raised the hackles of the Democratic Party – and senior citizens with pensions. He said it was part of a "shared sacrifice" with a focus on job creation and making Michigan competitive.
Snyder said at a recent governor's meeting in Washington, numerous other governors came up to him and said "I wouldn't have your job for anything in the world." Snyder said he responded, "well you're a governor too." And he said he got the response, "but you're the governor of Michigan."
Snyder told governors that despite the rankings showing Michigan at or near the bottom in nearly every economic category, "we have been at the bottom. We have been for 10 years. But I don't want a governor here feeling sorry for us. Because we're on the comeback, we're on the path to success, and we don't need sympathy. We're going to get our act together and be a successful state."
He told building trades delegates that "we do that by positive action. By being positive, by looking forward, by being inclusive, by stepping back to say this is not Wisconsin. There's models out there both on the national level and other states, there are ones where there is fighting and conflicts. One thing that became clear that I campaigned on was positive, forward-looking and inclusive, the need to re-do a culture in a constructive way and I was hired to reinvent Michigan in terms of leading that charge.
"And that means to me that our focus is not on finding areas to fight, but finding that common ground where we can win together and solve problems together."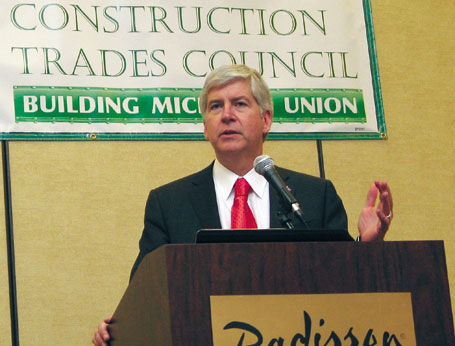 Gov. Rick Snyder addresses Michigan Building and Construction Trades Council delegates.