DEARBORN – Blaine Coulter let his skills and knowledge do most of his talking after the Boilermakers Local 169 member won the 25th Annual Boilermakers National Outstanding Apprenticeship Award on Sept. 27.
"It's a great trade and a great honor to be a part of this," Coulter said when he was handed the winning trophy. "I'd like to thank everybody at the hall who helped me out." Coulter's win was announced at a banquet at the Hyatt Regency hotel.
The contest moves from region to region every other year, and was held this year at Local 169's apprenticeship school in Allen Park. This year's competition brought together eight contestants from various regions of the U.S., who were chosen as top apprentices in their own local union and then went on to win their regional competitions.
The national competition took place over four 10-hour days before awards night. Contestants were tested on their four-year accumulated book knowledge, as well as 10 hours of written testing and 21 on-the-job related tasks. Included were applications involving rigging, welding, fabricating, drafting, ropes/knots/splicing, CPR and others.
"The contestants seem to get better and better every year," said Martin Spencer, the Boilermakers National Apprenticeship Program's National Coordinator. "The whole basis of apprenticeship is to build and assure a quality workforce for the future, which is a stabilizer for the organization."
Coulter's win was on his home field, but he didn't necessarily have home-field advantage. A team of labor and contractor judges evaluate the contestants' work, and "we change things every year to keep the testing unique," said Spencer. "That means on a local level, they can't teach the same things and gear their teaching to win the tests."
He added: "These guys have to know what they're doing. Productivity on the job is through the roof, and our testing stresses the need for them not to spend excessive time on their task."
Citing that need to work for and with the owners, Boilermakers National Joint Apprenticeship Board Chairman Ken Wasilewski said "the owners in this industry are here because they have the work, they have the jobs. We exist because they are here. The young people taking part in this contest are here because they are the future of our industry."
The Boilermakers National Apprenticeship Award began a national competition in 1988. Each area's award winner is eligible to compete in the national competition. The concept behind the competition, says an explanation of the contest by the Boilermakers, "is to motivate the competitors who want to establish or prove their worth. The competition or motivation applies to the Boilermaker apprentices, the apprenticeship training programs and our entire union of which we are members and the companies we are employed by."
The winner receives a bronze trophy-size sculpture of a boilermaker, a check for $1,000, and a framed photo of the national award. A National Team Award was added in 2000, to recognize the highest performing team of apprentices from the areas submitting candidates to the competition. In this area, Coulter became a two-time winner: he took the top honors along with teammate Timothy Keck of Toledo Boilermakers Local 85.
"It's nice to finally have the contest here, and it's great that Blaine finished in the top spot," said host Local 169 Business Manager Bob Hutsell. "Blaine worked really hard to get where he is and he did a great job. We're very proud of him. Hutsell added that "we've had a lot of compliments on our facilities and our program, which along with Local 169's instructors "give our guys a chance to compete in this thing, and be the best of the best."
The national contest stays in the same city every two years, and returns to Local 169 in 2013.
"The facilities here are outstanding," Spencer said. "It's very progressive, and for example you can see they have the rigging structure set up indoors, which is very helpful. They do an excellent job here."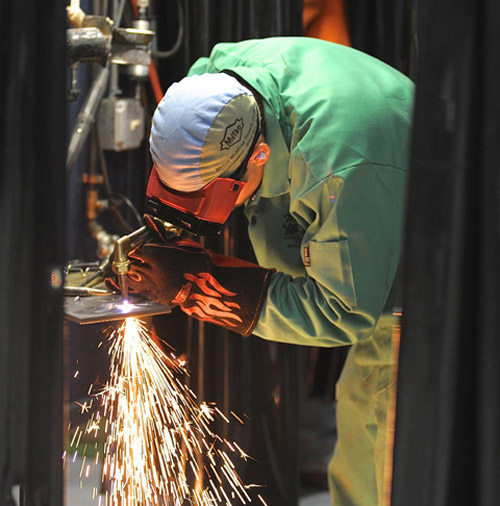 CUTTING A FRENCH CURVE from a steel plate is Blaine Coulter of Boilermakers Local 169, performing a in a skills test during their National Apprenticeship Competition. Blaine won the top award. Photo by Mike Linderer/Boilermakers
BOILERMAKERS LOCAL 169 hosted the 25th Annual Boilermakers National Apprenticeship Contest last month, and produced a home-grown winner. Shown here at the Sept. 27 banquet at the Hyatt in Dearborn are (l-r) Local 169 President/Business Agent Mike Card, Business Manager-Secretary Treasurer Bob Hutsell, Boilermakers Apprentice of the Year Blaine Coulter, Boilermakers International VP of the Great Lakes Area Larry McManamon Sr., Local 169 Apprentice Coordinator/Business Agent Mark Wertz, and Michigan Building and ConstructionTrades Council Secretary-Treas. Patrick Devlin.