DETROIT –Another big step in the five-year renovation of Cobo Center took place Oct. 4, with the placement of a 50-foot-long section of white iron that will help form the atrium in the new design.
Midwest Steel and Iron Workers Local 25 members worked and watched as the 25,000-pound section was lifted 90 feet into place, topping out the structure.
"It's been a great job, no lost-time injuries, nothing out of the ordinary," said general foreman John Runyan. "I guess the toughest part is working in such tight quarters."
The topped-out iron structure will support the signature architectural feature of the renovated Cobo Center: an atrium that will open up the southern wall of the convention and conference center to the Detroit River. Cobo Center is being renovated and expanded in part by using space in the now-shelled-out Cobo Arena to create added banquet meeting and public areas. A good portion of the western wall of Cobo Arena will be removed, supported and tied into the existing Cobo Convention center space.
Midwest Steel is using about 3,000 tons of new iron during the course of the project. Tim Kelly, senior project manager for Midwest Steel, said it has been a "huge engineering feat" to connect new bolted steel with the existing steel columns, which were both bolted and riveted.
Midwest personnel said the original plans were very accurate, as was the original fit and fabrication of the steel. "We haven't found any gross errors, which would be anything an inch or two off," Kelly said.
The entire $279 million Cobo renovation project is expected to be complete in time for the 2015 auto show.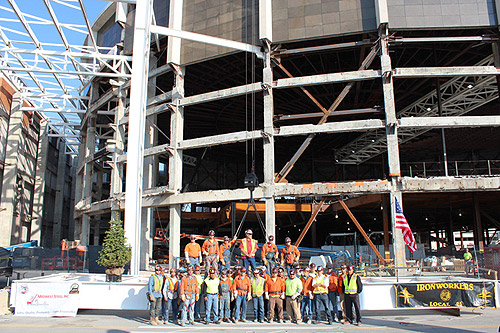 A WHITE, 25,000 lb. section of steel marked the final big structural piece to be placed during the expansion and renovation project at Cobo Center in Detroit. Midwest Steel and Iron Workers Local 25 members marked the occasion with a topping-out ceremony. The remaining crew is pictured above. Behind them is shelled-out Cobo Arena, and to the immediate left, the white steel will form an atrium connecting the arena and Cobo Convention Center on the far left