A first step to building a new 45,000-square-foot downtown Muskegon Convention Center was taken on May 8, with the familiar scene of city and county officials turning a little dirt with shovels during a ceremonial groundbreaking.
But literally breathing down their backs were about 60 union-backed sign-holders bearing a simple message: "Local jobs for local workers." The union rally was prompted by a 5-3 vote of the Muskegon County Board of Commissioners on April 30 to remove any mention of prevailing wage in the development agreement for $19 million project, which opens the door to the hiring of a lower-paid, out-of-area construction workforce.
"The West Michigan Building Trades and union supporters held a rally at the groundbreaking of the new Muskegon Convention Center, and it was designed to show the decision makers at the city and county that there is strong community support for hiring local workers," said Plumbers, Pipe Fitters and Service Trades Local 174 Business Manager Ryan Bennett. "The Muskegon County Board of Commissioners held a surprise vote last week to repeal the county's prevailing wage policy. The vote was never on a public agenda. The commissioner pushing the repeal has a vested interest in the project, but refused to abstain.
"This repeal will open the door to out-of-town contractors paying substandard wages and offering little or no benefits. We hope the city will work with the building trades to provide local labor for this pivotal Muskegon project."
The convention center is planned to be built on Fourth Street between West Western Avenue and Shoreline Drive, and will link the existing L.C. Walker Arena and the downtown Holiday Inn.
Clark Construction Co. has been hired to manage the pre-construction work on the project, but has not yet been awarded the contract to become its general contractor.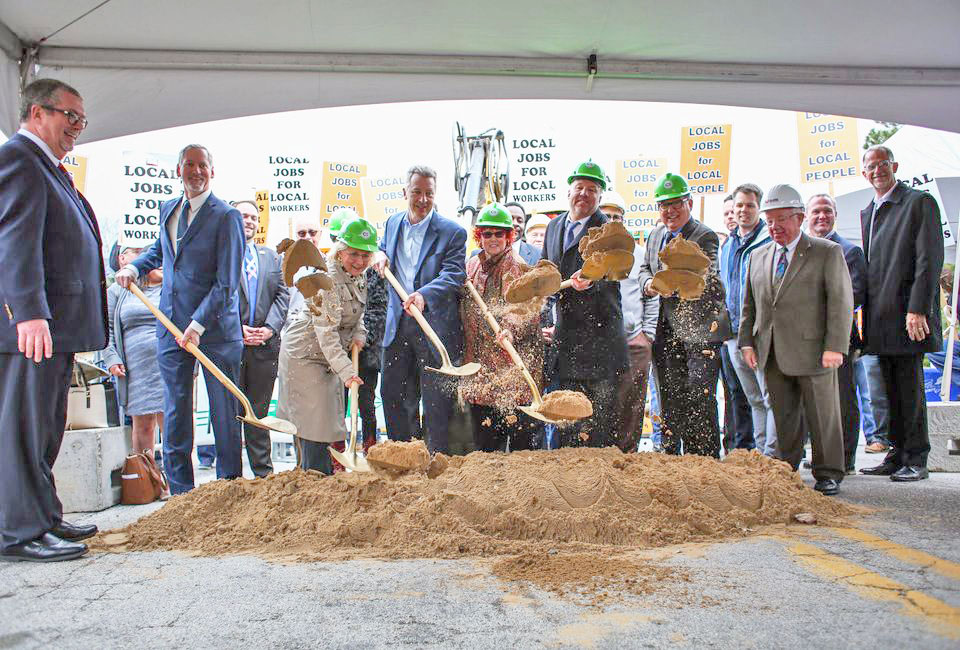 MUSKEGON-area officials break ground on a new convention center. Behind them, the building trades let them know they were watching.