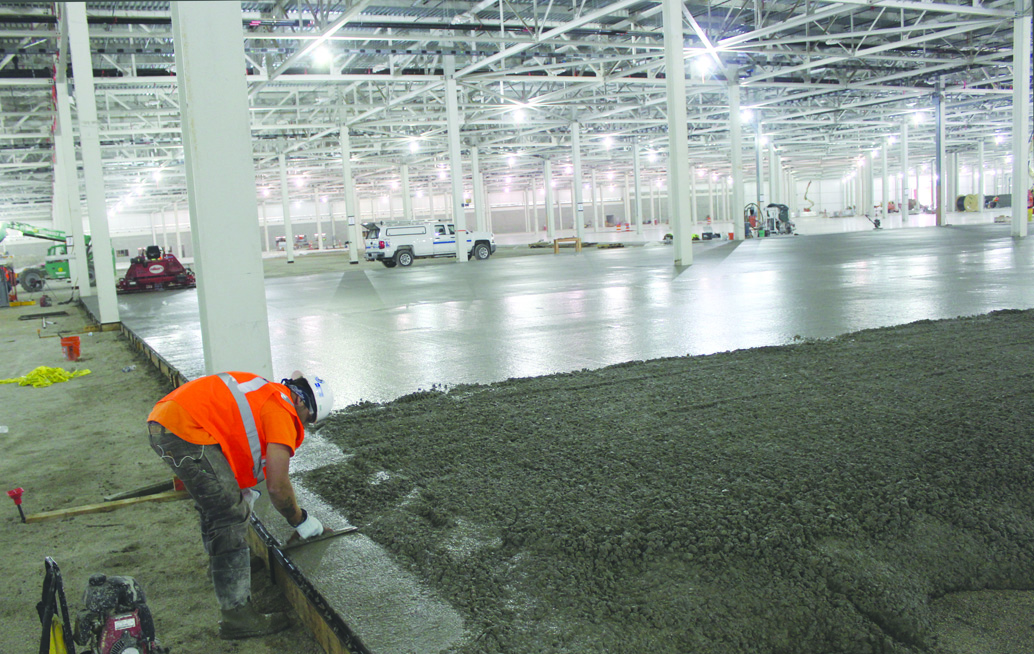 FLINT - There is much left to do, but the end is in sight for the years-long, extreme makeover of General Motors' massive Flint Assembly Plant campus.
General contractor Barton Malow, its subcontractors and a building trades union workforce are creating a nearly one million square-foot home for the assembly plant's new body shop. The project started about a year ago and is moving along ahead of schedule, headed for a hand-off to the owner in early 2018.


Since 2011, GM has announced investments topping $1.8 billion for Flint Assembly. Included are $600 million for plant upgrades, a new standalone paint shop that was completed in 2016, and now the $877 million, 911,000 square-foot body shop.


The new body shop is employing about 260 Hardhats per day. General Motors Project Manager Bryan Becker said with many of the tradespeople on site for years during all the construction, "our trades and our contractors are becoming more efficient, and we're getting great interface engagement with them. The quality of their work is excellent. The entire process has gone very well."


The investment in Flint Assembly upgrades one of GM's oldest properties. Opened in 1947 as part of a post-World War II building boom, the plant at I-75 and Bristol Road has produced more than 13 million vehicles. It currently employs more than 2,800 workers. The plant's "View Builds," as they are called, allow customers to see their heavy-duty Silverado or heavy-duty Sierra truck being assembled and roll off the line after a series of quality checks by members of UAW Local 598.


Work was progressing late last month mostly on tasks inside the big white sheet metal shell that will contain the plant's assembly operations, with tradespeople pouring the expansive concrete floor, and installing the piping, lighting, service and operations power. Built on formerly unused land at the site, when the project is complete all the operations at the plant will be on an efficient, single level.


The original plant has three levels. "In the end, the beauty of this project will be the overall productivity improvements of getting operations off the second floor, and onto a single level," said Becker. "It will help reduce the complexity of moving material throughout the plant." The new body shop is being strategically erected north of the plant's Metal Shop, which supplies vehicle sheet metal and other parts to the operation. The new setup will result in cutting down on time it takes to move and handle parts. Assembled vehicles will be conveyed to the new paint shop via an overhead tunnel.


Becker said the new body shop is similar to GM's Lansing Grand River plant, with a wide open, versatile space inside - "the fewer the number of posts, the fewer opportunities you have to run into them," he said, half-joking.


"I think the challenge out here has been to coordinate a large team size, with multiple parties interacting with each other," said Tyler Smith, project manager for Barton Malow. "And with a working plant right here, we're regularly adapting what we're doing to meet the owner's needs. We have a working goal that our presence should not stop the production of a single vehicle."


GM North America Manufacturing and Labor Relations Vice President Cathy Clegg said the body shop investment "will allow us to use a more innovative approach to deliver material between two critical facilities, reducing handling and the time it takes to ship parts. While the plant has received numerous awards for initial quality and long-term durability and reliability, our latest investments in the plant will raise the bar in vehicle quality and customer satisfaction."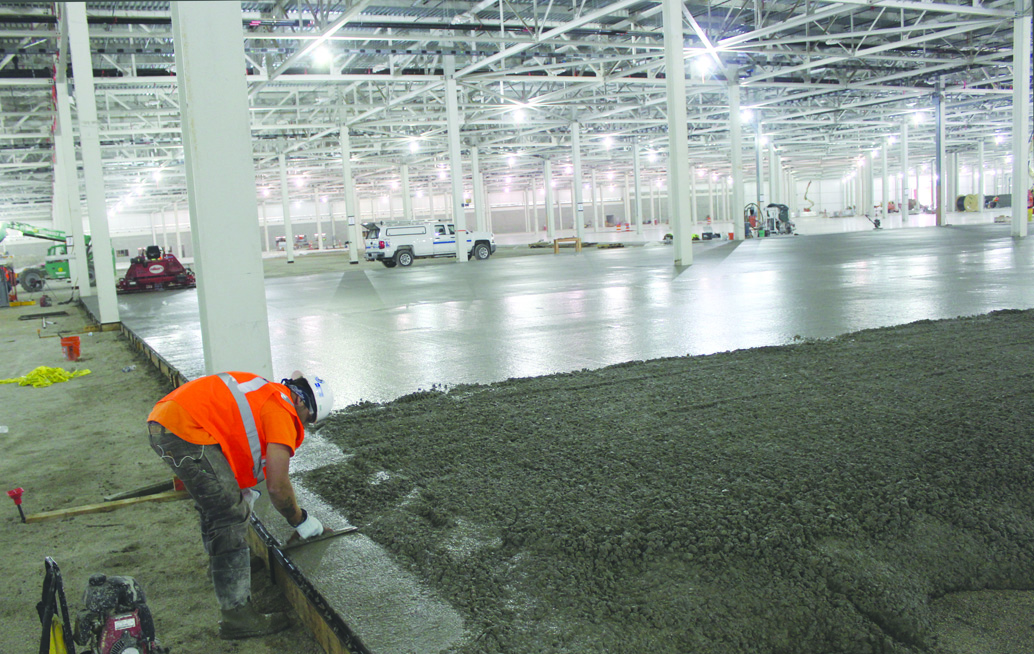 TROWELING A CURB at the GM-Flint Assembly's new body shop is Jordan Stover of Cement Masons Local 514. He's employed by Barton Malow.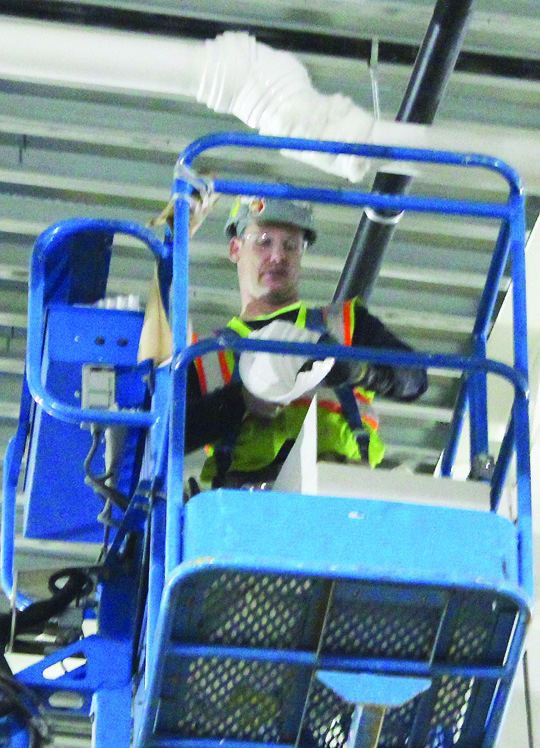 INSULATING A PIPE in the upper reaches of the new GM-Flint body shop is Dennis Heller of Heat and Frost Insulators Local 47. He's employed by R.L. Bondy.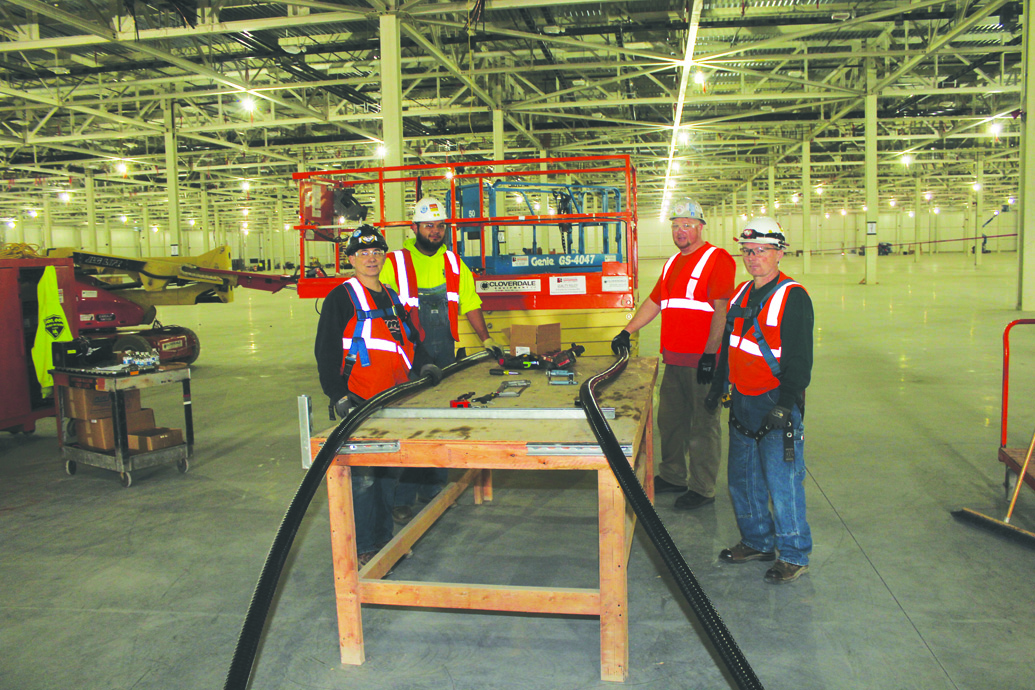 WE ASKED ELECTRICIANS Jim Kosal, Dale Drouin, Steve Dunman and Tim Peterson to pause for a photo after they wrestled with a 500 MCM armor cable, while working at GM-Flint Assembly's new body shop. The IBEW Local 948 members are employed by Superior Electric.