ANN ARBOR – "We wouldn't mind another one of these," said Plumbers and Pipe Fitters Local 190 Business Manager Kevin Groeb. Who wouldn't?
We refer to the completion this month of the largest construction project in the state over the past several years, the University of Michigan C.S. Mott Children's Hospital and Von Voigtlander Women's Hospital.
The $754 million, 1.2 million-square-foot dual facility represents one of the largest construction projects ever undertaken in Michigan, and it will be open in early December , well before the originally announced opening date in early 2012. Ground was broken Oct. 6, 2006.
The project includes a 12-story inpatient wing and a nine-story outpatient wing. The university said the project will "provide seamless integration" of the children's and women's hospitals, placing in one facility care for high-risk perinatal, labor and delivery, and maternal and neonatal care.
"As one of the leading pediatric health care centers in the United States, this new state-of-the-art facility," the university says, "will enable us to fulfill our continued commitment to providing newborns, children and pregnant women with the best health care possible."
Barton Malow led the construction project team, which was estimated to employ some 550 Hardhats at peak, but that number was likely much higher. Many of them worked for subcontractor John E. Green, whose plumbers and fitters placed pipe and mechanical systems of every description. Last week only four plumbers remained on the job, wrapping up last-minute change order work.
"What impressed me the most about the project was the sheer mass of everything – the pipe, the systems, the people," said Terry Stalker, onsite site superintendent for John E. Green and a Local 190 member. I guess the big challenge looking back was coordinating everything and keeping track of everybody."
Plumbers and fitters installed the gamut of medical plumbing – from the smaller vacuum, nitrous oxide, nitrogen, carbon dioxide, oxygen piping up to the 30-inch chilled water and condenser water lines. Stalker said they started construction on the seventh level, and the learning curve improved from floor to floor. "By the time we were done, we really had it down," he said. "We wanted to do another 12 floors. There were a lot of people who worked here and did a great job to get this done. It was a huge accomplishment."
The facility will include 348 beds, including 50 private maternity rooms and 46 private NICU rooms. It will also have 16 operating rooms and two interventional radiology rooms.
The hospital will also include three all-private-room intensive care units: a newborn intensive care unit, a child and adolescent intensive care unit, and a dedicated cardiac intensive care unit.
Additional features include a state-of-the-art operating room suite featuring intra-operative MRI capabilities, a blood and marrow transplant suite with on-site infusion pharmacy, and an entire floor for the Michigan Congenital Heart Center.
Shaw Electric had the largest electrical contract on the project. Helping lead the effort for that company is 30-year IBEW Local 252 member and Project Supt. Craig Theros. Last week, he was only of only five electricians remaining on the project, also performing last-minute change-order work.
"This is a 1.2 million-square-foot project, but it's actually a relatively small job site, with really no lay-down area," Theros said. "The job was difficult in the sense that there were so many people in the trades doing their jobs in some confined areas. On the other hand, like I told my guys, this was the best crew that I've ever had. It was a very rewarding project."
With a built-in complexity unlike any other project – except another hospital – the construction planning process was made much easier with the use of 3-D computer-aided design, which helped route the various pipes, conduit and duct work before construction started. "I can't tell you how many times we thought it would be impossible to get anything else in overhead, and really, with good cooperation we found a way," Theros said.
The project employed seven different electrical contractors, powering everything from lighting, mechanical equipment, fire alarms, communications and receptacles. The headboards on many patient beds, Theros said, had as many as 30 receptacles, for things like power, cable, phone, medical gas, nurse calls, and lighting. One neat feature at the hospital, he said, is "trail lighting" – if a patient calls for a nurse, a light trail leads the nurse to the patient's location.
"I am sad to see it end, it was a great project," Theros said. "There were all these people and contractors out here, and they really came together to make this happen. I'll always remember that our ultimate goal was to build a great hospital for kids, and we did that. I'm proud to see it come to fruition."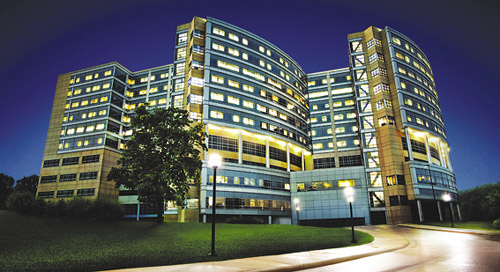 THE BUILDING TRADES have skeleton crews remaining this month as they wrap up work at the University of Michigan's C.S. Mott Children's Hospital and Von Voigtlander Women's Hospital in Ann Arbor. U-M has consistently refused us access to take photos of workers on the project. (U-M photos)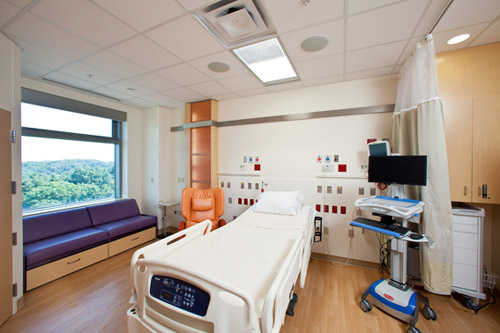 A PRIVATE patient room. The multitude of wall plates indicates the huge amount of unseen mechanical work.