DETROIT - The Michigan Humane Society's Detroit shelter has been housed in a former piston ring factory since the late 1920s. It's safe to say that the building is inadequate for its modern mission.
That will change early next year, with the scheduled opening of a modern new shelter along I-75 in Detroit, a few blocks from the current facility. The new 34,000 square-foot structure will include a long wish list of features that the Humane Society has in order to arrange for better care of the cats, dogs and other animals that find their way into the organization's care.
The $15.5 million shelter will house the MHS Cruelty Investigation and Rescue Department, and include dedicated canine and feline rehabilitation areas, animal housing, secure and spacious shelter dog play yards, modern medical and surgical care as part of an expanded veterinary area, and a community dog park.
"This is much more than a building – it is about a commitment. This campus will become the physical embodiment of our mission, which began in the city of Detroit in 1877," said Matt Pepper, MHS President and CEO. "While our dedicated staff has done a tremendous job in the current facility, the new MHS Detroit campus will ensure that the animals in our community receive the highest quality care for generations to come."
Currently, MHS shelters and cares for approximately 15,000 animals each year at its Detroit center at 7401 Chrysler Drive. The future MHS Detroit Animal Care Campus, just a few blocks north, "will be an epicenter for humane work, mission delivery and improving the quality of life and social fabric in Detroit," the group says.
Making that new campus a reality are construction manager Sachse Construction, its subcontractors and the building trades. Sachse Project Supt. Bill Verbeek said last month there were about 30 Hardhats on the job, which began Oct. 31, 2014 and progressed, unsheltered, through a miserable 2014-2015 winter season. "The worst possible time to start," Verbeek said.
Built on the site of a long-demolished school, Verbeek said the building, with all of its block partitions to separate the pooches and felines, has about one mile of lineal feet of wall space, built by BAC Local 2 masons working for Leidal and Hart. The building also has 17 air handling units, medical gas, plumbing and electrical infrastructure that befits a hospital, radiant heat floors, numerous overhead hose fixtures and sloped drains for washing animals and easy-clean surfaces.
The building was designed by Neumann/Smith Architecture and Blue Sky Architecture, based in West Vancouver, British Columbia, which specializes in animal shelters.
"There are a lot of details in this building, and a lot of coordination has been required," said Verbeek. "Things have gone well, the trades have been really good to work with, and have done a really nice job."
"For Detroit," Verbeek added, "it's a big step up from what they have. In terms of services and care that they're going to be able to provide, this place will be such a great improvement. There will be a lot more space, and it will be a lot more user-friendly."

OFFLOADING fencing in the parking lot of the new Michigan Humane Society-Detroit facility are Austin Phillips, Phillip Carr and Andy Juszczyk of Iron Workers Local 25. They're working for Future Fence.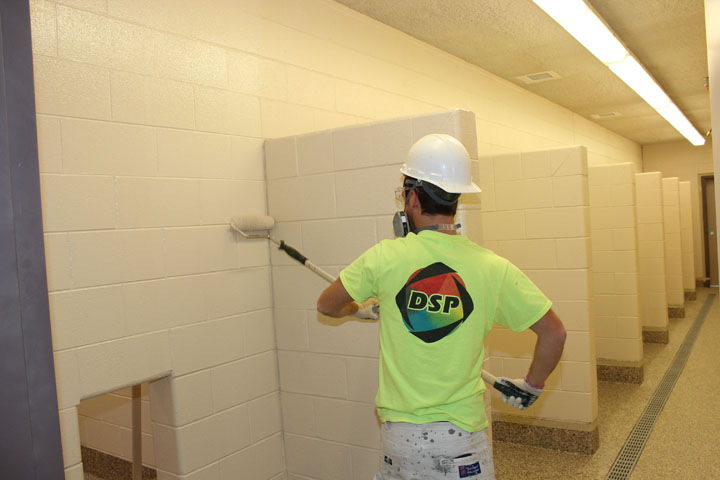 ROLLING ON A COAT of off-white paint in a kennel area of the new Michigan Humane Society-Detroit building is Jacob Stachowski of Painters District Council 1-M. He's employed by Detroit Spectrum Painting. Evident here with the multitude of partitions is why there is about a mile of lineal feet of block wall in the building.