A relatively small but important portion of the state's billion-dollars-plus in highway expenditures this year will fund the replacement of an historic bridge near Hale in Iosco County.
The building trades are supplementing an old steel truss bridge built in 1931 along M-65 that spans the Au Sable River with a new pre-stressed concrete span that's being constructed about 200 feet to the east.
Because of the old bridge's historic significance, it will remain in place, for "recreational traffic," according to the state Department of Transportation. Neither the old nor new bridges have names.
Earlier this month, four of the five piers for the new bridge had been sunk before installation of the road surface, said state DOT engineer Tom Hilburg. He said the project is scheduled for completed for completion in June 2005, "but at the pace their working, they'll be done this year."
M-65 will be realigned to meet the new 760-foot-long bridge, which will have much less character than the old span, but should result in lower maintenance costs. The new span will be 46-feet wide – double the width of the older steel structure. The general contractor on the project is Cordes Excavating, and Posen is the subcontractor building the $7.2 million bridge.
"Once completed, the new and improved realignment of M-65 will offer motorists a very comfortable and safe ride over the river," said North Region Engineer Brian Ness. "This project also brings us closer to reaching our statewide goal of having 90 percent of roads and bridges in good condition by 2007."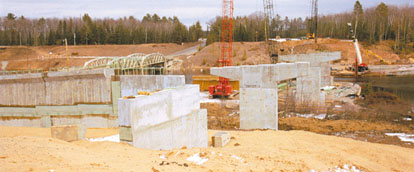 A PRE-STRESSED concrete bridge is being constructed over the Au Sable River near Hale to replace the 73-year-old steel truss bridge, shown at left. MDOT Photo/Jim LeMay