DETROIT – Forty years after it opened, the Detroit Medical Center's Children's Hospital of Michigan is undergoing its first major expansion
With new construction space at a premium in the DMC, the new $43.5 million Children's Hospital Specialty Center is being erected on the grounds of a demolished nursing home across Beaubien Street from the existing hospital.Work on the new five-level, 105,550 square-foot facility began late last year and is expected to be complete in March 2012. Construction management is being handled by the joint venture team of Brinker and Barton Malow.
"We had no capacity for expansion or to add floors at our existing site, so building across the street was our best option," said Children's Hospital President Dr. Herman Gray. "In the process, we were able to eliminate an eyesore (the old nursing home) and create a powerful aesthetic with the new building that will unify the entire area."
The new Specialty Center will offer expanded care for general pediatrics, pediatric specialties and rehabilitation services at the hospital, which treated 246,000 outpatient and emergency department visitors in 2009. Having the new building in place will help relieve congestion in the existing building. Both structures will be connected. When this project is complete, Children's will be able to reconfigure its existing space to enhance the patient experience, improve infrastructure and make work flow easier for hospital personnel.
"When the Specialty Center is complete, out kids are going to be seen in a more comfortable, friendly and inviting atmosphere," Gray said. "And our doctors and staff are going to have better space to work in – we're going to be able to serve them a lot more efficiently. A lot of people here have never seen any significant construction while they have been here, and some became a little cynical that this project would ever take place."
Groundbreaking on the project took place Nov. 1. The project was populated by about 55 Hardhats earlier this month, and that's a number expected to double at peak employment. The work is proceeding under a project labor agreement with the Michigan Building and Construction Trades Council.
"Aside from all the rain in June and the hottest July on record, things are going well," said DMC Corporate Vice President Facility Engineering and Construction James Wright. "We have a really good construction management team on the site, with a lot of partnerships going on and a lot of local inclusion with the workforce. The tradespeople are doing an excellent job, and they're excited about working for the DMC. We're on schedule and we're on budget. Today, life is good."
The new specialty center's structural iron was topped out June 24 by Douglas Steel iron workers. Within the next few months, there will be more concrete poured, plus the installation of plumbing, duct work, electrical and partition walls. The curtain walls will be constructed of glass, aluminum and brick masonry. A number of Leadership in Energy and Environmental Design elements will be incorporated into the new building.
Completed in 1971, the only major physical change to Children's Hospital was a main lobby and ambulatory area renovation in 1991. The hospital is also in the "late planning stages" to erect a new patient tower on the east side of the building on the grounds of an existing parking lot.
Vanguard Health Systems, which operates the DMC, announced a year ago the planned expenditure of $500 million in new construction and expansion at its facilities. The plan includes 15 different construction projects, and the Specialty Center at Children's Hospital is the first.
The 125-year-old Children's Hospital of Michigan is a leader internationally in pediatric neurology and neurosurgery, cardiology, oncology, and diagnostic services, it is ranked one of America's best hospitals for children.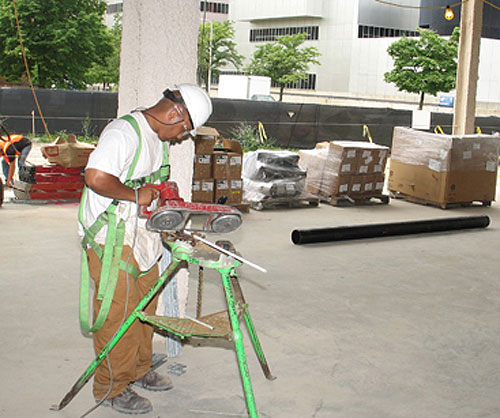 CUTTING A PIPE HANGER at the new Children's Hospital Specialty Center is Leon Carter of Plumbers Local 98, working for Guideline.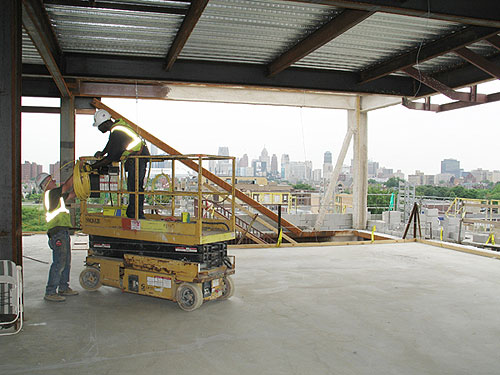 IBEW LOCAL 58 journeyman Mark Kasprzyk hands a power cord to apprentice Eric Benton. They're working for Detroit Electrical Services/Ferndale Electric.