LANSING - Together with a number of their contractor associations, representatives from the states building trades unions put their best foot forward on May 9 at the Lansing Center, with booths set up with information about their craft, hands-on demonstrations of what they do, informative handouts, lunch and a reception later, as well as a few speeches.

The public was welcome to the day-long event, but the set-up was aimed at invited state lawmakers and educators, exposing them to the employment opportunities in building trades apprenticeships, the advantages of labor-management partnerships, and to help them understand the benefits of maintaining a fair wage and benefit level for workers in the construction industry
Michigan Gov. Rick Snyder, who has been a surprisingly strong advocate for building trades apprenticeship programs, was invited to talk to attendees during the lunch program. He said the construction industry has created 34,000 jobs in Michigan from 2010 to 2016, and even more will be hired this year.


"The opportunities are there. So how do we take advantage of that opportunity? How do we enjoy the benefits of that opportunity?" Snyder asked. "We need to grow. And I hope that's the theme to what this is all about. How do we get more people to join you? How can you train more people for that next generation?


"What you're doing here today is one of those illustrations of actions that needs to happen. We need to have opportunities for young people, for people in the industry, for people outside the industry, for parents to come learn about the exciting opportunities in your field."


Snyder will forever be branded with an X by the state's labor unions as the Michigan governor who signed the state's right-to-work law. But for the state's organized construction industry, Snyder's consistent refusal to sign repeal legislation of the Michigan Prevailing Wage Act, despite strong pressure from the Republican caucus to do so, earns him a measure of respect from the building trades. He has acknowledged that repeal of the law would bring low wages, chase workers out of state or into other lines of work, and cause general chaos in the construction industry.


He told the audience that he has visited both the Detroit IBEW Local 58 Training Center, and the Operating Engineers Local 324 training facility in Howell.


"You know best how many of you are approaching the point of retirement, and you want to pass your skills on to the next generation. and we need to fill that pipeline of talent," Snyder said. "The question in Michigan no longer, is there a job, the question is how do you obtain the skills to have that great career?" He said there are "far too many people who don't understand what great and honorable careers" there are in the construction industry.


Mike Haller, president of one of the state's largest construction contractors, Walbridge Group, told
the audience that "a college degree is not what defines a professional who contributes to society and the community, but rather an individual having great skill and experience does."


He said through 2020, three out of four vacancies in Michigan's skilled construction trades will be due to retirements, and those demographics are being watched by contractors.


"It is truly an asset that we enjoy but sadly sometimes take for granted," Haller said. "Craft professionals in the state are a resource that must be nurtured and replenished. It is a value-add that has contributed to the recovery of our state. A vibrant dynamic training system with consistent, successful results is necessary to deliver value add."


Walbridge has been increasingly venturing out of its Detroit and Michigan base over the past several years, contracting work in other states. "If I have learned anything from performing projects in so many geographical locations, I learned that we should drop to our knees and thank the Lord for the craft professionals we have in the State of Michigan," Haller said.


Bob Richard, senior vice president of major enterprise projects for DTE Energy, told the crowd that "we have an aspiration to be the best operated energy company in North American and be a force for growth and prosperity in the communities where we live and serve. And I think this function today really captures both of those. Getting talent into our trades is critical to the ongoing success our operations, in our communities and in our state."


Consumers Energy's Craig Degenfelder, executive director of their Project Management Renewables sector (and a former Local 58 apprentice), also lauded the building trades training programs. He said at any given time Consumers Energy is employing some 3,000 contractor employees. "We salute the work of all these training programs that help keep our talent pipelines full," he said. "Hiring skilled trades helps us keep our costs down. They do the job right the first time while keeping safety and quality at the forefront every time."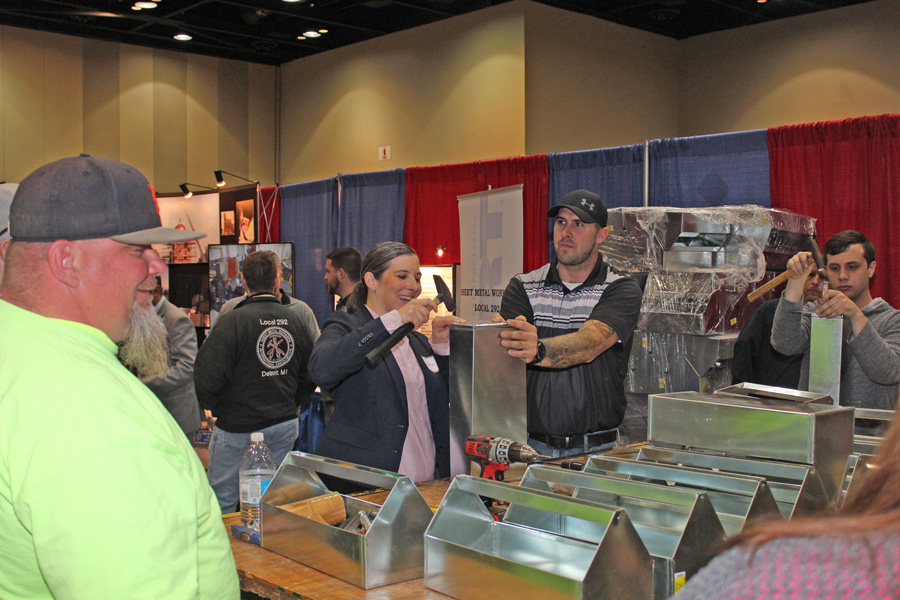 HELPING A VISITOR assemble a toolbox at the Sheet Metal Workers booth at the May 9 Building Trades Conference in Lansing is first-year apprentice Scott Wilson of Local 80. With him in the booth (l-r) are fourth-year apprentice Dirk Kosloski of Local 7 and apprentice Steven Young.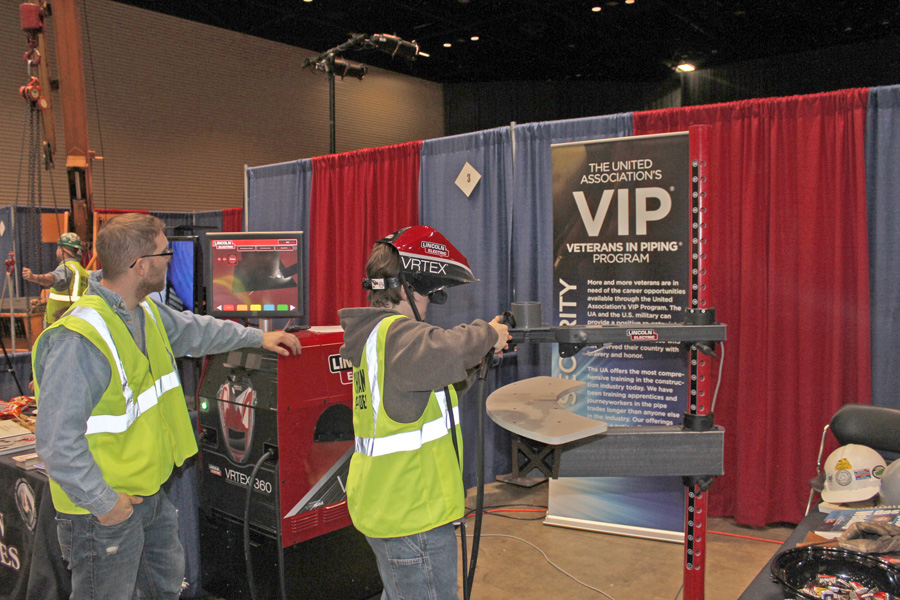 DEMONSTRATING A VIRTUAL welder at the Building Trades Conference in Lansing are two union apprentice pipe fitters. They are (l-r) Troy Johnson, a second-year apprentice from Lansing Local 333, and Tess Schmidt, a sixth-period apprentice from Local 636. The helmet Tess is wearing puts her in a virtual reality welding shop, and the digital "weld" she is making appears on the video screen at left, and its quality can be seen and evaluated without all the smoke and heat of real welding.