After being buried for decades, exposed to heat and frost cycles, and acting as a conduit for a constant 90 pounds of steam, Michigan State University has gotten its money's worth out of its West Circle Steam Loop system.
But the system is showing its age. So most of this year, the building trades, along with construction manager Granger Construction and a handful of other contractors, have been repairing and replacing steam lines and fittings and tunnel enclosures associated with the system in various areas south of Grand River Avenue on Michigan State's historic north campus.
The project, according to the MSU's Physical Plant Division's construction website, is the first of a four-segment program to replace the deteriorating north campus arch steam tunnels, and will include installation of a new steam distribution loop around the campus' West Circle.
The project involves repair and replacement of steam piping, supports and equipment within some existing steam tunnels. The work is intended to increase the reliability of the steam system, which includes arch-style tunnels that are 87 to 102 years old that have "significantly deteriorated," according to the site.
"We've done plenty of these projects in other parts of campus, but none of this size," said Construction Representative Andy Linebaugh of the MSU Physical Plant's Engineering and Architectural Services Department. "We have some leaking at valves and failing pipe, but generally the idea here is to make the repairs or replacement before they get to that point. And in the summer, with the demand for steam down, it's the best time to do the major work so the campus isn't as impacted."
In late August, just before student move-ins for the fall semester, Granger and the building trades completed a major phase of work that had closed West Circle and East Circle drives. Work will continue on this phase through the rest of this year.
The tunnels act as a conduit for steam lines, which originate from the university-owned T.B. Simon Power Plant. The steam, pushed through pipes that range in diameter from 12 inches to 30 inches, is used primarily to heat buildings on campus, but some buildings also use it for cooling as part of a steam absorption chiller process.
Deteriorated cast-iron water main is also being replaced to increase fireflow capacity and reliability. And, all of the buildings influenced by this zone of construction will be converted to high-pressure steam and pressure-condensate return lines, improving energy efficiency.
The tunnels are made of concrete and vary in size, but generally, Linebaugh said, there are "walk tunnels" which a person can walk through upright, and lower crawl tunnels.
The project has been carried on in various areas within a few blocks served by the loop. Work began last February, and some roads were closed as part of the process. The area was completely reopened to traffic on the weekend of Aug. 18. About 80-100 Hardhats were employed at the project's peak stage. Much of the work involves removing old steel pipe and replacing it with mostly 20-foot to 40-foot lengths of new steel or ductile iron pipe.
Granger Project Manager Tim VanAntwerp said they have no way of knowing how old the existing steam pipe is – some has been replaced over the years and some may be a century old and original to the system. "We do know that large sections of it were in bad shape," he said, "although some if it is in good shape. We're changing all of it out to new welded pipe, and that will prevent leaks in the system and make it reliable for years to come."
As for the concrete tunnel enclosures, many of which are buried 10 feet deep, Van Antwerp said there has been some deterioration and demolition in the arch tunnels, and where necessary, patches and repairs. New replacement tunnels have been constructed of precast concrete or poured-in-place concrete structures.
About 26 buildings are tied into the steam system and are affected by this project.
"Logistically, it's a very complicated job, it has affected a large part of the campus," VanAntwerp said. "So much of it is underground and on the plans, you never really know what is shown vs. what isn't shown, and all the unknowns. But the project has gone really well, we have a great team and they've done a great job. And Michigan State has been a great owner to work for."
More phases to replace pipe and the tunnel enclosures will take place over the next few years, but they won't be as extensive as the West Circle Steam Loop project. "It has been a big project, and it has challenged the contractors, but they have handled it very well," Linebaugh said.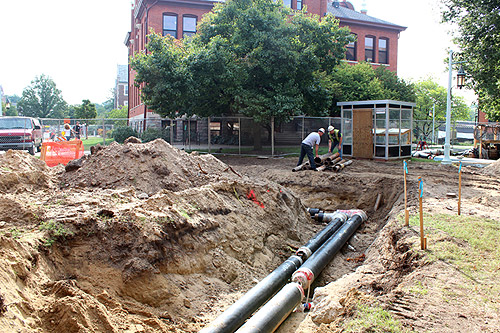 PILING UP OLD STEEL PIPE that was removed from a section headed into Eustace-Cole Hall on the Michigan State University campus are Nick Rogers and Josh Bursley. The Plumbers and Pipe Fitters Local 333 members are working for Gunthorpe Plumbing & Heating.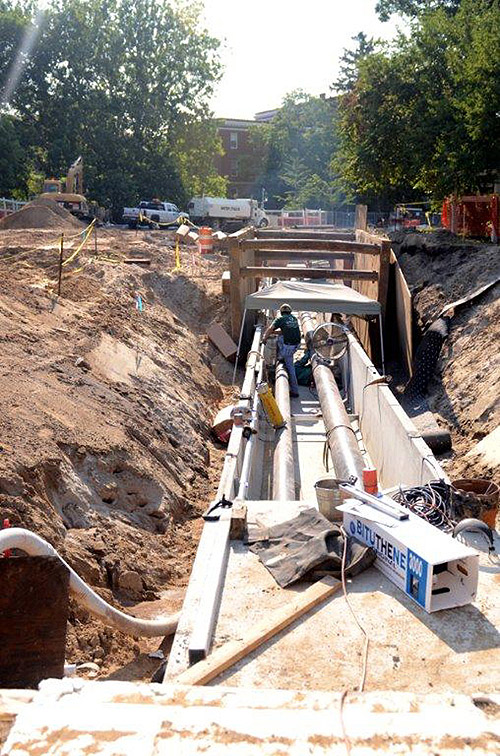 A WEST CIRCLE section of the steam loop, complete with new pipes and a concrete enclosure, is shown during summertime. It likely won't see the light of day again for decades. Photo credit: Michigan State University Physical Plant