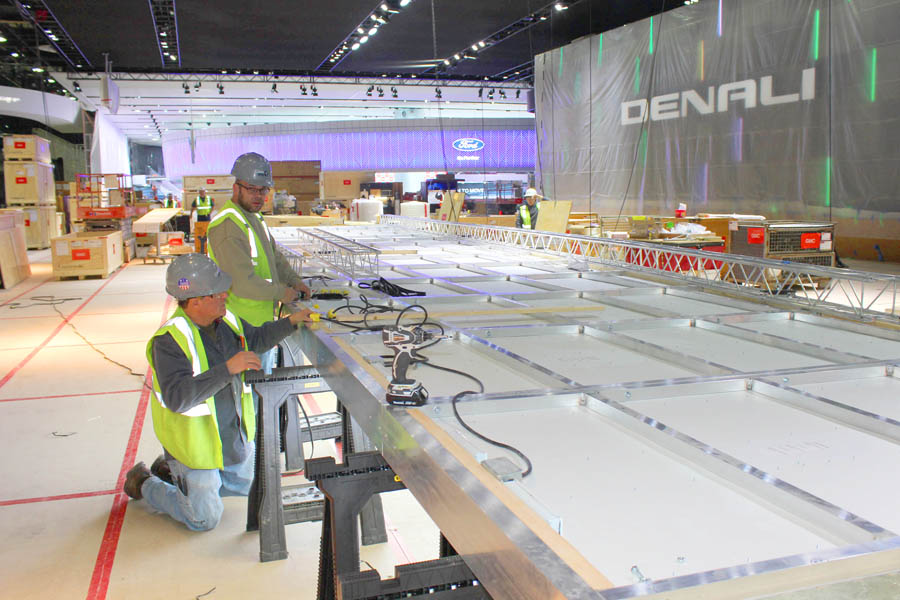 By Marty Mulcahy
Editor
DETROIT - Every year in early January, the North American International Auto Show (NAIAS) gives the world a look at the latest in automotive design and technology.
The show's public viewing days will take place Jan. 14-22, following five days of media and supplier access to the show. "This year is going to be bigger and better in every way," said auto show 2017 Chairman Sam Slaughter.
But the show is about more than vehicles: it provides months of employment to about 1,500 union tradesworkers, giving them income and a warm place to work during some cold months.
"We peak out at about 200 electricians working the show," said IBEW Local 58 steward Andy Dunbar. "This year I'd say we have as much manpower as in the past, but the overall hours are down a bit. That's typical for when the same booths have been here for a few years, and we get accustomed to setting them up. There are only a few completely new booths this year; the automakers like to change things up every three or four years to keep things fresh."
The building trades are transforming Cobo Center's more than 700,000 square-feet of space into a showcase for 750 vehicles and countless interactive displays, in an event the NAIAS calls "North America's largest and most prestigious automotive showcase." Some 5,000 journalists from 60 different countries annually attend the event which last year featured 61 new vehicle introductions.
"The setup is going along very well," said Billy Middleditch on Dec. 21. He's the job steward for about 50 Iron Workers Local 25 members. "I'd say the pace for the setup seems a little bit slower than last year, but it's going to pick up very soon."
The Detroit auto show is in its 29th year as an international event. The NAIAS says it "is among the most prestigious auto shows in the world, providing unparalleled access to the automotive products, technologies, people and ideas that matter most – up close and in one place."
Dunbar, who has worked most of the auto show setups since 1999, said the automakers' displays have changed dramatically in recent years to reflect the changing electronics that are in our homes. Flat-screen televisions have been standard for a decade or so, and set designers at Cobo have been using ever-larger screens. The price of LED lights has dropped significantly, and a lot of light can come from small bulbs. "They're finding ways to put them into just about everything," Dunbar said.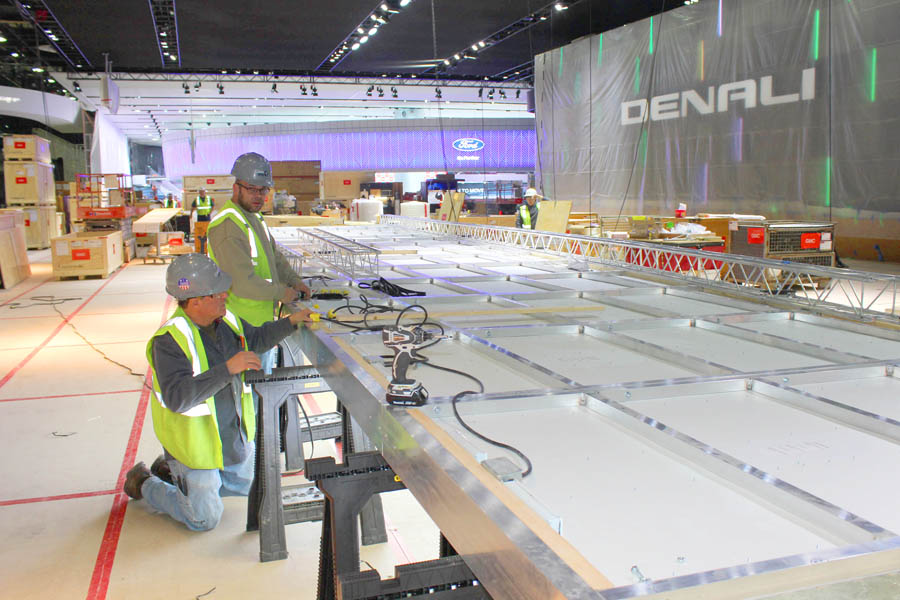 BUILDING A NEW canopy arch for the GMC Denali display at the North American International Auto Show at Cobo Center in Detroit are Chuck Fontana and Dave Hickman of IBEW Local 58. They're employed by Conti HTE.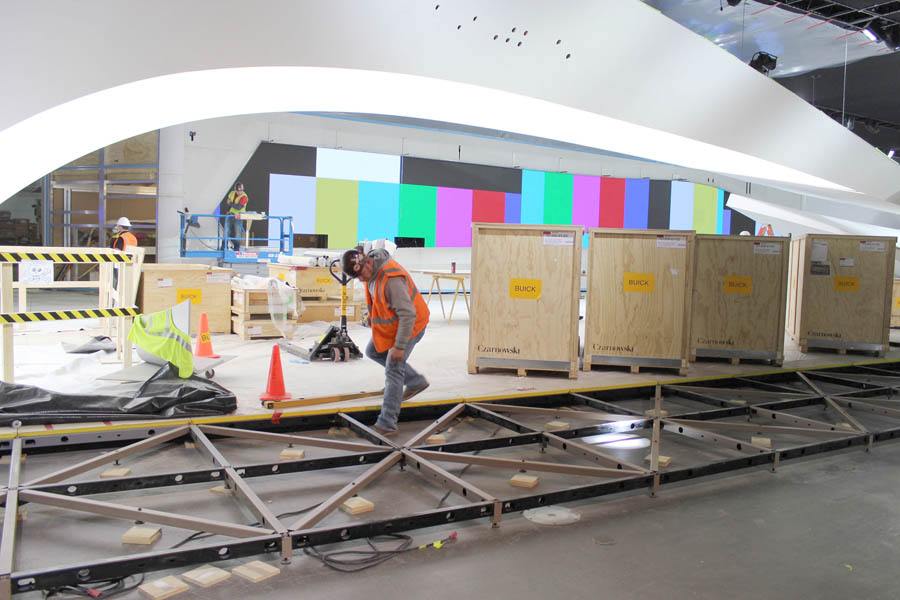 SETTING UP structural steel for a floating floor in the Buick display at the North American International Auto Show in Detroit is Mark Glen of Iron Workers 25. He's employed by Convention Show Services.