Faster than Desmond Howard returns kickoffs, the building trades and construction manager Hunt-Jenkins are moving on an accelerated schedule to complete Ford Field, the new home of the Detroit Lions.
More than 200 Hardhats are currently on the project, which is now scheduled to be ready in time for the 2001 season. If all goes well, this will be the last season for the Lions at the Pontiac Silverdome.
"We're working under a very, very aggressive construction schedule," said Greg Price, superintendent for the project's construction manager, the Hunt Construction Group. "The biggest challenge is coordination among all the trades and contractors."
Ford Field is being constructed just east of the new Comerica Park. A structural-steel supported permanent dome will cover the facility, and the entire south wall of the stadium will be made up of two shelled-out J.L. Hudson's warehouses. The 80-year-old buildings will be renovated to include about 120 luxury suites on three levels facing the playing field, along with other uses like retail, restaurants, and possibly a hotel.
The playing field will be dug 45 feet below street level, so the stadium will appear smaller and more in keeping with Comerica Park and other nearby buildings. Also included in the design of the 65,000-seat stadium is an indoor street with shops and restaurants. A six-story atrium will bring in natural light to the facility.
The Smith Group designed and engineered both Comerica Park and Ford Field. Carl Roehling, the company's president of design and engineering, said the master planning for both stadiums was done together. Planning, he said, "incorporates the conservation of property, and being pedestrian-, not auto-oriented. We wanted to put it in the context of a human community so that people could walk to it. We wanted to make sure that everything around it wouldn't be paved over. We wanted to make going to the ballpark fun."
Two months ago, the NFL announced that a lot of people would be having fun in Detroit on Feb. 5, 2006, when the 65,000-seat stadium will host Super Bowl XL.
Approximately 400 Hardhats will be employed on the project at its peak, probably next summer.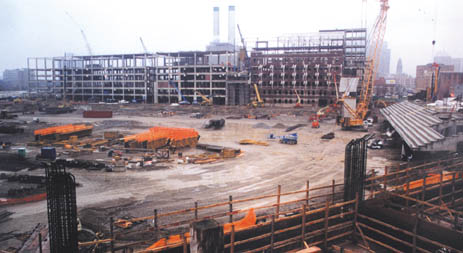 THE SHELLS OF two J.L. Hudson's warehouses will house luxury suites at Ford Field, which is beginning to take shape east of Comerica Park in Detroit.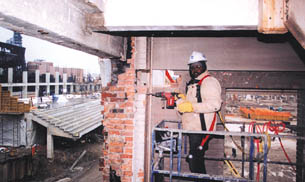 BRICKS FROM a column at one of the Hudson's warehouses are removed by Mike Webb of Bricklayers and Allied Craftworkers Local 1. They will be reused and brick-work will be a prominent feature in the renovated structure.