KALAMAZOO – A place to walk and a place to unwind were created for clients at the Jim Gilmore Jr. Treatment Center by Southwest Michigan Building Trades workers.
About 100 feet of new sidewalk, a fountain and some landscaping were installed in July by more than 20 building trades volunteers during the United Way of Kalamazoo's Day of Caring. The volunteers created a path to an outdoor sanctuary at the substance abuse treatment center, and then improved the area with new plants.
The work by the building trades was made as part of a community-wide effort sponsored by the United Way of Kalamazoo, which tries to match up the wish lists of needy agencies with volunteers willing to help. Building trades volunteers spent a full day, and then two half-days working on the Jim Gilmore Treatment Center project.
"The people at the Jim Gilmore center didn't have any blueprints but they had a rough drawing of what they wanted to do," said United Way of Kalamazoo Community Services Labor liaison Lori Stanaszek. "They really needed a sidewalk and they really wanted a fountain. They were getting discouraged and frustrated because they had been looking for someone for over a year to do the work. So I talked to the guys in the building trades and asked if they could get the job done, and they did me proud. It was a true show of character and integrity."
Southwest Michigan Building Trades volunteers hailed from Asbestos Workers Local 47, Cement Masons Local 16, IBEW Local 131, Iron Workers Local 340, Laborers Local 335, Operating Engineers Local 324, Painters Local 312 and Plumbers and Pipe Fitters Local 357.
"United Way does tremendous work, and this was a chance for us to volunteer our time and to show that union members are glad to give something to the community," said IBEW Local 131 Business Manager Pat Klocke. "We're planning on helping in the future."
Volunteers installed the sidewalk that leads to a garden sanctuary area, along with new plants, mulch and outdoor lighting.
"I can't say enough good things about the work of the building trades people," said Brenda McDonald, human resources manager for the Gilmore center. "They did a great job and everything looks wonderful. You know, sometimes when people do volunteer work here, you get the sense that they would rather be somewhere else. You never got that impression with these guys, they were all so nice."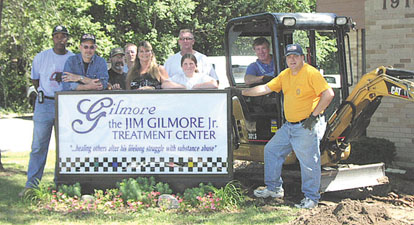 SOME OF THE building trades volunteers at the Jim Gilmore Treatment Center in Kalamazoo.