PORT SHELDON – A multi-year process of installing pollution control equipment at the Consumers Energy J.H. Campbell Generating Complex in Ottawa Co. continues to keep hundreds of building trades workers employed, while cleaning airborne emissions at the plant.
Last month, Consumers announced that it has reached the midpoint of a $135 million project to enhance the environmental performance at the coal-burning Campbell plant, which is located near the Lake Michigan shore about 10 miles south of Grand Haven.The three-year program involves the installation of equipment to further reduce the plant's emissions of small particulate, which contain trace amounts of mercury and sulfur found naturally in soil and coal.
"Consumers Energy is pleased to play a key role in continuing the improvement in air quality in western Michigan. The air in our state is the cleanest it has been in 50 years and this major investment continues that progress, as well as creating jobs," said site general manager Tom Gesinski, who added that the utility is investing a total of $1.5 billion on environmental projects at all of its major generating units statewide.
Completed in 1980, the Campbell generating complex consists of three separate coal-fired units: the 260-megawatt Unit 1, 355-megawatt Unit 2 and the 835-megawatt Unit 3 plant, which includes the largest coal-fueled unit in the company's fleet.
Federal clean air requirements have necessitated the replacement of existing pollution controlling electrostatic precipitators with next generation equipment. Campbell Unit 3 operates with a Selective Catalytic Reduction (SCR) system, which controls nitrogen oxide emissions and a $130 million SCR installation project at Campbell Unit 2 is about 75 percent complete. Additionally, Unit 2 is simultaneously kicking off a project to install pulse jet fabric filters to capture more particulate, which will keep the plant in compliance with Michigan's mercury rule and federal sulfur control regulations.
Babcock & Wilcox Power Generation Group designed the systems and is managing their design and construction throughout the plant. A completed SCR project took place on Campbell's Unit 3 in 2005 as part of a $480 million project.
"Safety is a critical matter here and the building trades and contractors have been great to work with," said Brian Fitzgerald, Consumers Energy's director of environmental projects, major projects and construction. He said there have been no lost man-hours due to injury. "Safety has been very, very good – world class. Our other top priorities are safety, quality, schedule and budget, and the guys and gals out here are getting it done. We've been blessed with some very good people out here."
The large components needed for the next phase of the Campbell project started arriving this month, many delivered by barges to the plant's nearby Pigeon Lake unloading area.
Fitzgerald said Consumers' plan is to spread out the work as much as possible to maintain a safe and productive work site and still keep within deadlines set by the Environmental Protection Agency. The utility has also made a commitment to hiring Michigan residents and companies when possible.
SCR work is complete on Unit 3, and the engineering phase is ongoing for installation of pulse jet fabric filters, then spray dry absorbers. A similar schedule will play out on Unit 2, where the SCR work is about 75 percent complete.
"We have tried to eliminate the peaks and valleys of employment, and treat people well – and keep them," Fitzgerald said. He said having a workforce that's experienced in this kind of powerhouse project, plus having knowledge about the Campbell plant's workings, is a "win-win" for Consumers Energy.
He said there are 100-200 construction Hardhats on site at any given time, and work can ramp up into the several hundreds during peak periods such as outages.
Consumers Energy burns about six million tons of coal every year at the Campbell plant. Burning that coal generates up 1,450 megawatts of electricity at the Campbell complex, enough to meet the electric needs of 1 million people. Overall, Consumers provides electricity to 6.8 million residents in all 68 of Michigan's Lower Peninsula counties.
"We've been out here since late spring, with three to 12 on a crew," said Iron Workers Local 340 foreman Ray Masselink of Bee Steel, installing re-bar for foundation work. "It's been steady work, injury free, a great job."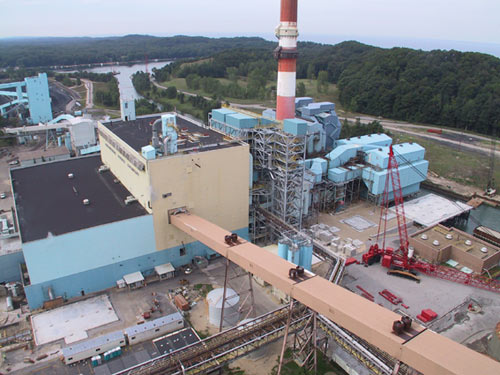 UNITS ONE AND TWO of the Consumers Energy J.H. Campbell plant are at housed in the structure at left. Structural steel for the new Unit 2 selective catalytic reduction system can be seen in the center. At the far right, a new concrete pad will support a new pulse jet fabric filter system.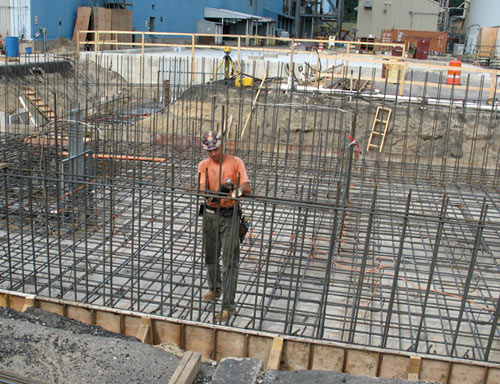 RODBUSTER Ray Masselink of Iron Workers Local 340 sets re-rod on a transformer footing at the Campbell plant. He's working for Bee Steel.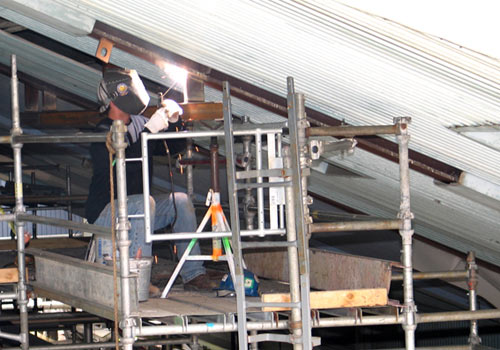 Boilermakers Local 169 member Jeff Medendorp welds at the plant's Unit 2 SCR. He's working for Northern Boiler.