EAST LANSING - The whirr of motors and the scraping of the buckets of a couple of excavators are currently among the loudest sounds of progress at Michigan State University's College of Music.

At the university's Music Building located on West Circle Drive in the North Academic District, the building trades and their tools and machinery are making room for the performance of more harmonious sounds, as part of a major new addition and then significant renovation of facilities. When the $35 million project is complete as scheduled in the spring of 2020, Spartan students will have added, flexible space to rehearse and perform their music, enhanced acoustic spaces, a modern and high-tech lecture center, faculty studios and offices, a recording and multimedia room and a public gathering space.
The project, which began in June, consists of 37,000 square feet of new space and 8,500 square feet of renovations.
"This will be an important and strategic piece of our vision for the future," said James Forger, dean of the MSU College of Music. "This state-of-the-art addition and renovation to the Music Building following the world-class renovation of performance spaces including recently completed Cook Recital Hall and Fairchild Theatre, will make it a premier destination for students and faculty from around the globe. It will support the work of an exceptional faculty that is second to none."
The new construction and renovations are much-needed at the university's College of Music, which is working out of aging, cramped quarters. Its two primary locations include the Music Building, which has undergone limited renovations since it was constructed in 1940 (with an addition in 1956) and the nearby Music Practice Building (1968).
Forger said "improved music facilities have long been on the university's list of needs. With 550 students working toward music degrees and more than 2,000 additional students participating in ensembles and classes, the college has outgrown current spaces."
MSU Project Manager Todd Wilson said their construction manager partner Christman Co., and building trades workers on site "have done very well for us." He joked that he has worked several projects with Christman at the College of Music, "and here it's like getting the band back together again. Christman has a lot of work experience here and that's an advantage right out of the gate."
Wilson said two major headaches brought on by the busy construction industry are trade personnel availability and the steadily rising costs of materials. And there are simply more materials used on a project like this. "It's all designed acoustically," Wilson said, "to separate one area from another. So that means we build in a great deal of mass." That means poured walls up to a foot thick, some concrete decking up to 18 inches thick, and added wallboard for sound retention - in the recital hall, for example, drywall will be seven layers thick.
And since the project is so sound-oriented, a tremendous amount of planning is going into the choice of construction materials, as well as other considerations that aren't as important on typical office or classroom buildings. "For example, there are areas where you simply can't drill holes," Wilson said. "The acoustical needs add a great deal of complexity to what we're doing." Other acoustical considerations include rooms being shaped to reflect sound, the ability to introduce adaptive spaces depending on the music that's being played, as well as the choice of roof decking, windows, and the use of floating floors.
Mechanically, the project will include installation of air conditioning, heating and ventilation modifications, installation of new fire alarm system and house and stage lighting upgrades.
Christman Senior Project Supt. Leigh Woodbury echoed Wilson's comments that the local construction economy is such that "you have to get in line" when it comes to procuring manpower and materials. "But the trades we have had out here are really good," he said. "It's not a huge job, but it is a complex job. The students and faculty are very excited about what we're doing, and they have been very accommodating, and I think they appreciate what we're trying to do."
The interest from the MSU music community and donors in the design of the new construction and renovation have been tremendous, Wilson said, referring to the design of the spaces that will be renovated and newly created. "There's just a high level of support by the donors and commitment from the university in what we're doing here," Wilson said. "The Music College is highly rated. and this space will be a formative change, allowing them to continue to recruit and promote at a high level."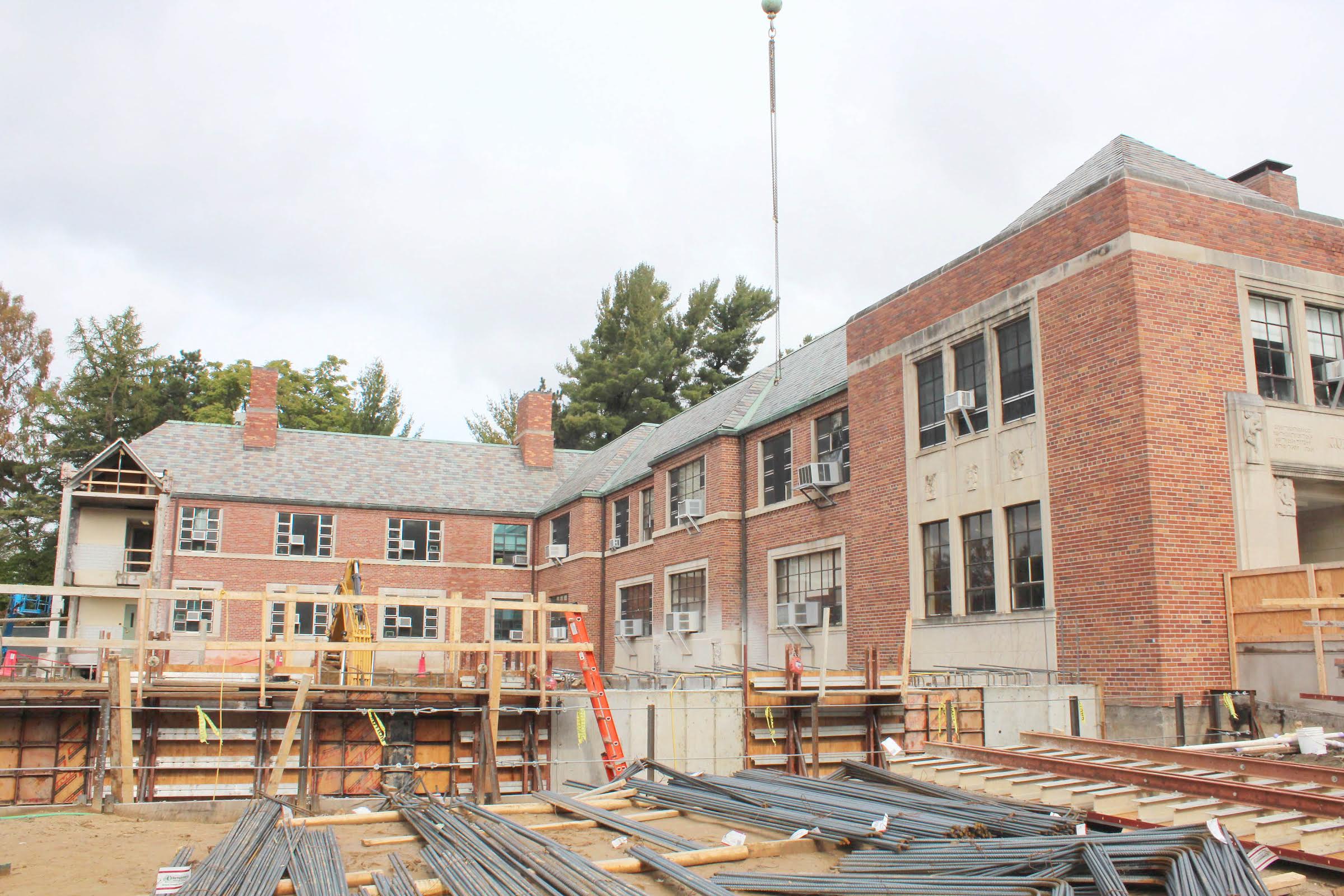 THE MICHIGAN STATE UNIVERSITY School of Music is getting rehabilitated and expanded as part of a $35 million project undertaken by Christman Construction, its subcontractors and building trades union workers.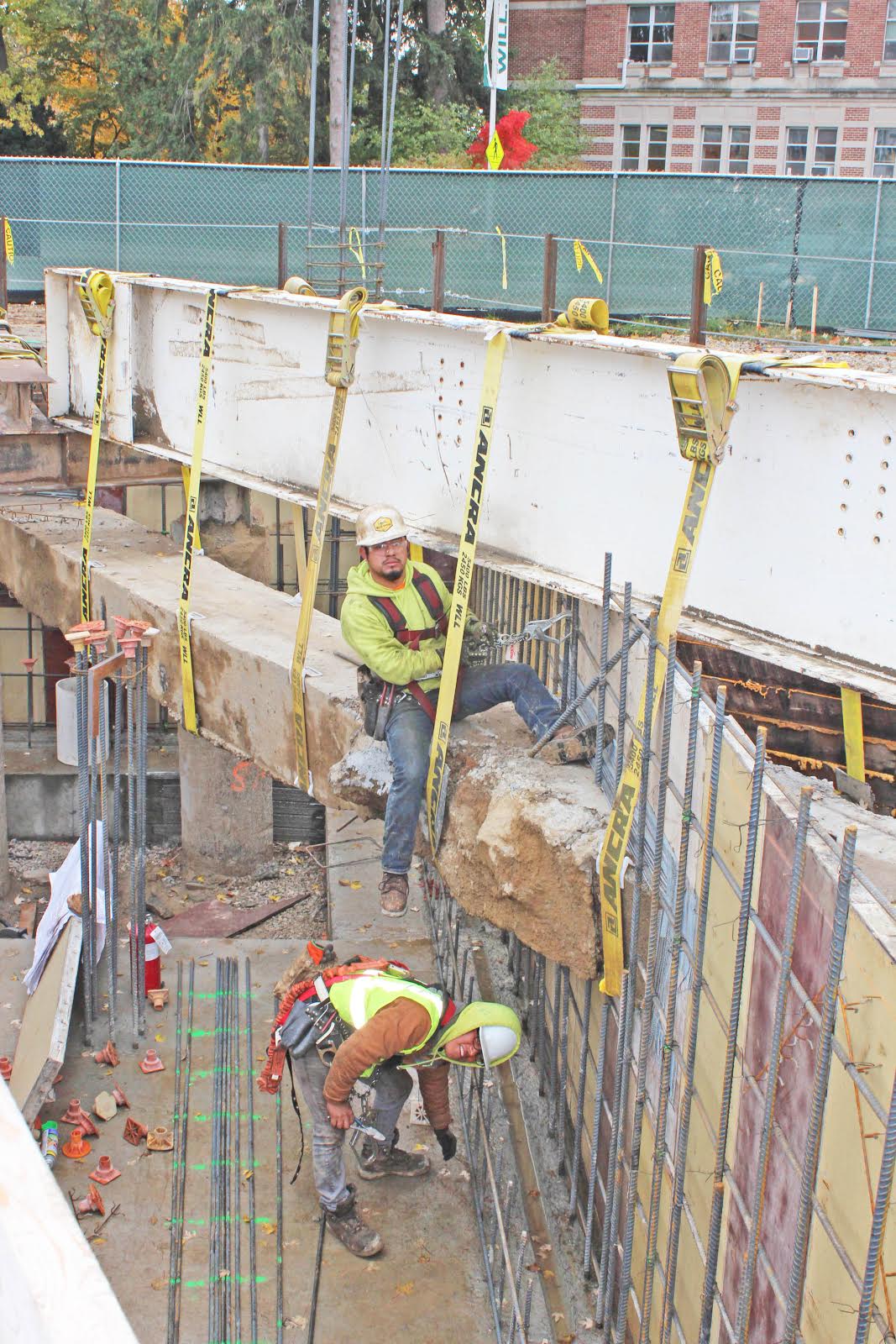 SETTING RE-BAR in a foundation at the MSU Music Building expansion in East Lansing are Victor Santizo (above) and Juan Vincente of Iron Workers Local 25 and Bee Steel. The white beam and yellow straps are temporarily holding up a key piece of infrastructure that cuts through the site: an exposed utility duct bank that could not be easily moved or disturbed.