ANN ARBOR – Crisler Arena, home of the University of Michigan men's basketball team, looks much as it did when it was completed in 1967.
But now, like the neighboring U-M football stadium, which has undergone an incredible renovation and expansion over the past decade, Crisler Arena is getting a modern makeover which is so extensive it needs to be phased in over several basketball off-seasons.
The ongoing $20 million first phase, according to U-M, is addressing "highest priority infrastructure needs," such as repair of the roof, electrical, plumbing and air handling systems. Lower bowl seating will be reconfigured to allow for the expansion of seating for people with disabilities, addition of handrails and other code- related issues.
The second $52 million phase will add approximately 63,000 gross square-feet for new fan entrances, additional retail spaces and ticketing areas, as well as a private club space. The renovation will improve seating for people with disabilities and provide expanded and renovated concourses to allow for an increase in restrooms, concessions and other fan amenities. The building will be air conditioned for the first time. And all seats throughout the arena will be replaced.
Clark Construction is acting as general contractor on the first phase of the project, which began in early April. An average of 120 Hardhats a day are working at the arena over two shifts. Last month the building was devoid of seats and the hardwood court was removed, with the concrete subfloor floor used as a lay-down area for ventilation system hardware and other construction activity.
"We're really moving, there are a lot of things to take care of in a short amount of time," said Clark Construction Project Manager Rick Hutter. He said one of the first major deadlines is the scheduled June 24 installation of the new seats – and to keep them clean, any construction that causes flying dust is going to have to be finished or contained.
"It's a big area we're working in, but with the amount of work we have to do in our schedule, we have to stagger our work a bit so we're not working on top of each other," Hutter said. "We're very happy with the tradespeople here, we have a very good construction crew; everyone is working as a team."
Specifically, some of the tasks on the to-do list for the trades in this phase include step replacement in the seating area to accommodate some seat realignment, new handrails, construction of a television camera platform, addition of luxury seats in three areas, adding spray fire protection in the concourses, removing old air handlers and adding new ones, adding exhaust fans to evacuate smoke in the case of fire, replacing the roof, and beefing up steel in the catwalk.
Hutter showed off one of the building's quirks – a landfill directly underneath stands in the arena's northwest quadrant. Instead of it being taken off-site, a significant amount of fill dirt from when the arena was originally constructed was simply left behind. During this renovation, some of the dirt, but not all, is being removed to allow for the creation of storage space, as well as a private entryway to the football stadium. A concrete slab will be poured in the space, "and it will be some pretty expensive storage," Hutter joked.
Former U-M Athletic Director Bill Martin told Ann Arbor.com that that university did consider for long replacing, instead of renovating, Crisler Arena. "We looked at it," he said. "But understand to begin with that Crisler has good bones. It's sized right. Structurally, it's very sound and it's going to last a long time."
He called the renovation "just a big overhaul. This is like taking the engine out of your car, overhauling it, putting in all different parts and putting it back together again." When the renovation is complete, Crisler Arena's 13,751-seat capacity is expected to be reduced by a couple hundred.
Named for famed football coach Hebert "Fritz" Crisler, the arena's public areas haven't changed much since it opened, but renovation projects have gone on, mainly behind the scenes. Over the past 12 years, the men's and women's locker rooms have been renovated, a new weight room and media production studio were constructed, the court has been redesigned and refinished, and some seats have been added.
"We really haven't done any infrastructure work in the arena since its construction 40-plus years ago," said Martin, before his departure, "and this will be a major step forward in improving our basketball facilities."


COMPLETED IN 1967, U-M's Crisler Arena is undergoing its first major renovation.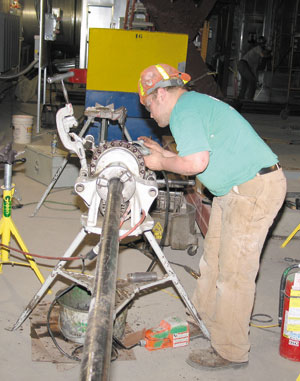 THREADING A CONDENSATE pipe at the Crisler Arena project is Billy Kohler of Plumbers and Pipe Fitters Local 190. He's working for John E. Green.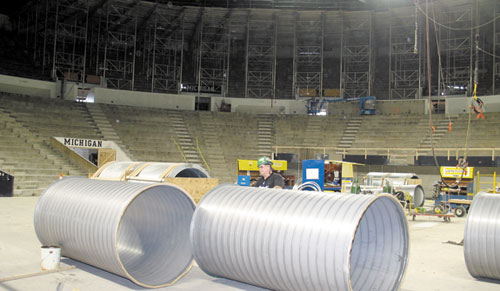 PICK AND ROLL: Mike Dostillo of Sheet Metal Workers Local 80 and Ventcon rolls a 54-inch duct into place on the floor of Crisler Arena. It will be placed 125 feet above the floor as part of the arena's new ventilation system.