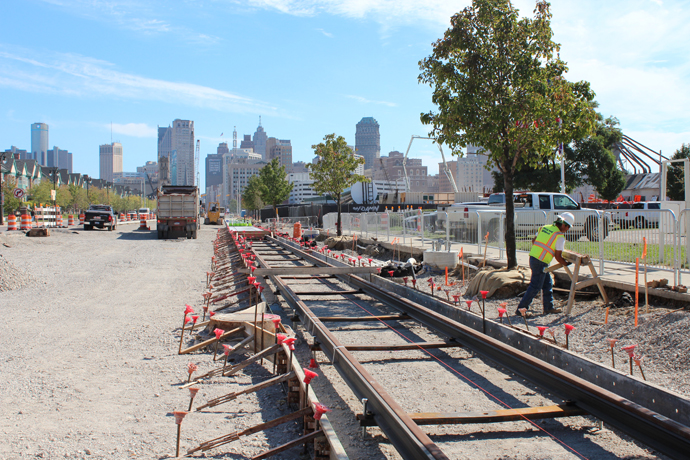 Working through the cold of winter and the heat of summer - and alongside traffic on a busy thoroughfare - Hardhats constructing Detroit's M-1 Rail project on Woodward Avenue have kept the project on track for vehicle testing in late 2016, and passenger operations in early 2017.
Construction is being led by general contractor Stacy and Witbeck, which is supervising the efforts of between 200-250 building trades workers along the 3.3-mile project. The streetcar line will connect Campus Martius to the south, then north along Woodward with stops at Comerica Park, the new Detroit Red Wings stadium/entertainment district that's also under construction, Midtown, Wayne State University, the museum district, and New Center.
M-1 Rail Chief Operating Officer Paul Childs said "unprecendented" is an apt term to describe many aspects of the project. "In the case of M1-RAIL, it is a literal truth," he said. "This transportation initiative has pushed the boundaries on transit development, from vendor recruitment to technological application, in southeast Michigan and in the U.S. overall. From its conception, this project was about much more than transit. It is about cultivating a community that is better connected, advanced and tenacious in its comeback."
With Woodward Avenue historically being the spine of road development and infrastructure for the entire region, M-1 Rail planners are not only tasked with installing new streetcar rails, signals and stations, they have had to work around, over and through existing infrastructure like power, data, lighting, communication, water, sewer and steam lines, some of which has been underneath the north-south thoroughfare for more than a century.
Project planners are using this opportunity to work with municipal and third-party firms to re-route existing utilities, and where possible, bring order to the old and new infrastructure.
Work on the M-1 Rail project began in July 2014. Much of the $140 million for the project is being provided philanthropically. With the exception of specialty rail work in Campus Martius, track installation is now complete in the downtown area. Track, excavation and pavement work is progressing at various spots to the north along Woodward. Work is also ongoing at the 19,000-square-foot Penske Tech Center along Woodward between Bethune and Custer. It will store streetcars and technology systems and house rail operations.
The M-1 Rail Project will include 2.5 miles of curb-to-curb roadway construction, and the complete replacement of two bridges over I-75 and I-94. Work will also include the construction of 20 station platforms, traction power, and train signal and communication systems.
"After the project is complete," Childs said, "Woodward Avenue will be transformed. Work of this magnitude has not occurred in Detroit in nearly 100 years, which makes this project both important and complicated. Crews have discovered historic abandoned utilities buried deep underneath the roadway, including wooden water lines, wooden conduit duct banks and old steam lines. Additionally, hundreds of feet of old, damaged and rusted streetcar track have been pulled from the ground, the skeletal remains of Detroit's old streetcar system, which fell into disuse nearly 60 years ago."
According to M-1 Rail, the system will utilize six three-piece articulated cars expected to be 66-feet long and able to carry 125 passengers on average. They will travel up to the maximum speed on Woodward Avenue flowing with traffic - 35 mph - and will stop for traffic lights. Walkup fares are expected to be $1.50, although passes and other fare options will be available.
M-1 Rail said it is using an "unprecedented" design, "which will make the Woodward Avenue route the nation's leading system employing off-wire technology." Approximately 60 percent of the line will operate on battery power provided by 750-volt rechargeable lithium-ion cells, the remainder will be powered by an overhead electrical feed.
The underground wired infrastructure is pretty impressive, too. Detroit Electrical Services and its IBEW Local 58 workforce is installing 36 miles of conduit about 42 inches deep under Woodward Avenue. Six conduit runs of three-to-five inch conduit under the northbound side, and five to seven conduit runs are going under the southbound side. The wires that will go within will power the streetcar operations, including 750 volts DC and 480 volts utility.
"Really interesting project," said DES Foreman Ken Briggs. "You don't usually work around this mixture of building trades and civil trades. But the really interesting part is what we're digging up."
Briggs said in addition to unused water wooden water mains, crews have come across hundreds of feet of intact, still-in-service, apparently still waterproof wooden conduit. He said the conduit - or duct bank - is basically akin to creosote-soaked railroad ties with two-inch holes drilled down the center, then joined together, leading manhole to manhole. The lead-encased copper wire inside, he said, looked to be fully intact as well. "Who would ever think something like that would last 100 years?" Briggs said. "But they were right there, still in use."
The M-1 RAIL project experienced zero recordable safety incidents over some 160,000 man-hours worked in the first 13 months of the project. since work began last July.
Expected to provide rides for some 3,000-5,000 passengers per day, the M-1 rail project is also acting as a catalyst for business and especially housing development along Woodward. And indeed, recent published reports reveal that Wayne State, traditionally a commuter school, is not keeping up with demand for student housing. Along the M-1 route, at least 10 housing projects are in the works. They include one near Comerica Park, another on an empty lot near Brush Park, and another at the former Hudson's site. Total units for those three: about 750.
"We went to Portland, Minneapolis, Denver and San Diego and ... we were told light rail was the single dominating economic event that took their cities to the top," said Dan Gilbert, founder of Quicken Loans Inc. and a prime proponent of the M-1 rail line.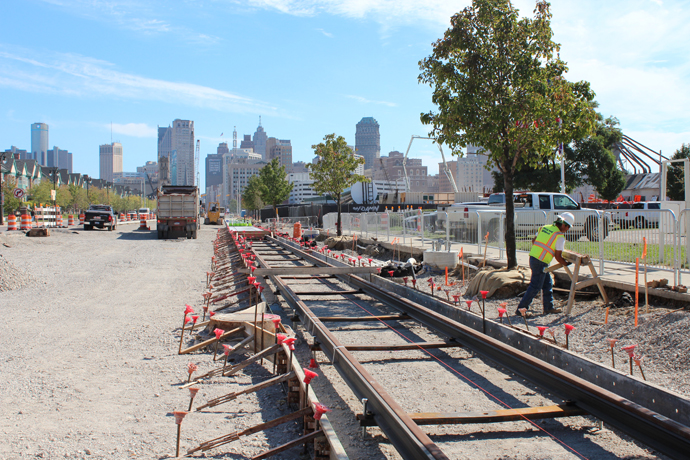 CEMENT MASON Alberto Toledo of Local 514 moves a barricade out of the way at the M-1 Rail project at Woodward and Edmund in Detroit to allow a gravel-hauler to back in and dump its load. He's working for Stacy and Witbeck.
LABORER Greg Hoffman of Local 1076 does some hand-held excavating in front of the Fox Theatre in Detroit as part of the M-1 Rail Project. He's employed by Rauhorn Electric.