MIDLAND – For as much as the world progressed in the areas of transportation and communications over the 20
th
Century, that progress generally didn't bring about leaps in new battery technology.
During the 21
st
Century, that's all changing. And Michigan is one of the leaders among the states in attracting advanced battery technology plants.The latest example of this is the ongoing construction of the Dow-Kokam Midland Battery Plant joint venture. When it's complete in 2012, the plant will produce lithium-ion batteries to supply the electric vehicle and hybrid vehicle markets. Dow-Kokam is spending $322 million on the first phase of construction.
"We're making history today for Michigan and for the adoption of alternative energy by the automotive industry," said Dow-Kokam's CEO Ravi Shanker at the plant's groundbreaking last year. "From the next generation of hybrid vehicles, to unmanned military ground and air vehicles and high-end industrial products, Dow-Kokam's robust lithium-ion technology sets the pace for advanced battery systems in today's demanding applications."
Dow-Kokam will be getting an 800,000 square-foot battery manufacturing facility that will be developed in two overlapping construction phases. When complete, the facility will employ nearly 800 people, and have the capacity to manufacture 1.2 billion watt-hours of large-format affordable lithium-ion batteries – enough to power 60,000 fully electric or hybrid electric vehicles annually. The first phase of construction, supported by a $161 Million U.S. Department of Energy Recovery Act grant, has a targeted capacity of 600 million watt hours and will employ up to 320 people.
Clayco is acting as general contractor on the project. Given the confidential nature of the battery building process, we weren't allowed into the plant to take photos. But we do know the building will be one in which they take the interior environment to the extremes to better build batteries: some zones will be super-sealed, super-clean, and super- humidity controlled in order to create the optimum environment.
Map Mechanical Foreman Rick Ecker of Plumbers and Steamfitters Local 85 said "it's a very secretive process. The job itself is going fine. We've had a few glitches here and there, but nothing that can't be handled."
"It's a great job," said Jeremy Wilson of Local 85, and foreman for John E Green Co. "It's very fast paced, but they're very safety oriented. It's probably been the most productive site I've ever been on. And it's putting a lot of us to work out here."
More than 400 Hardats are working on the project – about 70 of them plumbers and pipe fitters working for Map Mechanical (heating and air conditioning), John E. Green (plumbing and processes) and W. Soule (the tank farm and utilities).
"Over time, we have been able to consistently show Dow that our people work safely and efficiently and bring them value for the skills we bring to the table," said Plumbers and Steamfitters Local 85 Business Manager Robert Anderson. "I think that's why, together with our contractors, we have been able to secure so many man-hours with Dow over the years as they have performed billions of dollars in construction. They're looking for value, and our people deliver."

GRINDING AN EDGE from a beam at the battery plant is Dennis Drabes of Iron Workers 25, working for American Erectors.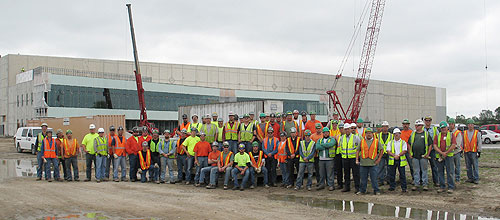 A MAJOR CADRE of construction personnel at the Dow-Kokam Midland Battery Plant are Local 85 plumbers and pipefitters working for Map Mechanical, John E. Green and W. Soule.