BROOKLYN, MI – The Raisin River isn't very wide or deep as it meanders through farmland a few miles northeast of this town in the Irish Hills in Jackson County.
But on land that will become Camp Liberty – intended to become an outdoor, therapeutic haven for wounded military veterans – the scenic river has posed a real topographical challenge for the development of the property. Until now.
Thanks to some extremely generous donations of time and materials by building trades union members and their contractors and suppliers, an old bridge that spans the river has been rehabilitated, opening up a solid pathway between nearby Austin Road and the spot on which Camp Liberty plans to start building on its property.
Iron Workers Local 25 members (and brothers) Dave and Tom Rutledge led the three-month-long effort to rehabilitate the bridge. Their employer, Monarch Welding and Engineering, generously allowed them time off of their jobs to do the work, plus they contributed many hours of their own. Most of the work got done in the final three weeks, and a steady crew of eight or nine volunteers from a variety of trades came out every day to rehabilitate the span and get it ready in time for a Sept. 13 open house at Camp Liberty.
"Looking at it today compared to a month ago," Dave Rutledge said, "I am amazed at the work we were able to do on the bridge. And I'm proud and amazed at the sacrifices of the guys who came out here to help, and with the companies who were willing to donate personnel, equipment and material. It just says a lot about the extent to which people are willing to help veterans."
The hand-riveted bridge, 51 feet long and 18 feet wide, was built in 1929 and was originally owned by the State of Michigan. In the 1950s, local farmers bought and moved the span a few miles to its present site over the Raisin River, and set it upon new concrete abutments. Over the years, the rusted span became worn out, with a rotting road bed that was no longer safe to allow the passage of a vehicle.
To make room to get the work done for Camp Liberty, the bridge was lifted this summer to a clearing near the approach to the span. Operating Engineers Local 324 Training Coordinator Lee Graham made arrangements to have cranes and operators on hand when needed during the course of the project. The road bed was then replaced with steel plate. New steel grating sideboards on the deck were welded into place, replacing rotted wooden boards. New structural steel beams were added underneath. The bridge was painted with a couple of coats of epoxy in a nice shade of green. Then the whole span was lifted by crane back into place over the river, its own 40,000 lbs. of weight keeping it in place atop the old abutments.
Originally, it was estimated that the bridge rehabilitation project would cost about $10,000. "Well, you're standing on $10,000 worth of gravel," said retired U.S. Air Force Major Richard V. Briggs, Jr., founder and president of Camp Liberty, to visitors at the open house. The visitors were standing on an approach to the bridge, which was compacted and improved with gravel to allow a 90-ton crane a solid spot to set the span.
With that early cost estimate wildly off the mark – all the labor, machinery and equipment that were donated to the project is estimated to cost a total of about $200,000 – Briggs said "we were in way over our heads," prompting calls to anyone who the group thought might be able to help get Camp Liberty's bridge re-built.
One of those calls went to Tim Nichols, a retired iron worker who sits on the Michigan Natural Resources Commission. He called Iron Workers Local 25 Business Manager Jack O'Donnell, who along with Business Agent Mark Crance made some calls to contractors to see if they would be willing to help with the bridge. Monarch Welding stepped up, in a big way. "It started out as a small job but it just kept getting bigger," said O'Donnell. "I knew if we were able to get Dave (Rutledge) and Monarch Welding involved, the job would get done. They really did a great job."
A number of other tradespeople, contractors and suppliers donated their time, employees, equipment and material to make the bridge project a reality. Five Operating Engineers Local 324 members lifted the bridge during the project, using donated cranes. Other help with welding came from members of Boilermakers Local 169. Painters District Council 1M members painted the span.
"This bridge is the lynch pin to the entire project, and will open up the doors here to Camp Liberty," said Allan Lutes, a board member of Camp Liberty who spoke to attendees at the open house. "We could not get to the other side of the river until the bridge is restored. This is the first step in creating this facility, which will help veterans with recreational rehab, and where people can come to get well. I can't say enough about the team who came out here the past few weeks. It's tremendous what people did."
Supporters of Camp Liberty are seeking to make it "Michigan's premier outdoor recreation experience for veterans and other citizens with health challenges," according to one of the project's partners, the state Department of Natural Resources. Located on 160 acres, the project will allow for an inclusive recreation center for veterans with disabilities that will be able to house veterans and their families as they participate in outdoor recreation activities and learn about various support programs and rehabilitation opportunities, with enhanced outdoor opportunities at the adjacent Sharonville State Game Area.
With the bridge built, the next step is construction of a poll barn and a 2,500 square-foot program center north of the Raisin River on the property which will allow for handicap-accessible living and meeting space for people utilizing Camp Liberty.
"We're unique," said Camp Liberty's Briggs. "There is no other place in the state that will offer recreational place with therapeutic aspects, all run by volunteers. This is all about helping veterans and getting them hooked up to the help they need."
---
Camp Liberty Bridge:
So many to thank
Thanks are extended to everyone who donated to the Camp Liberty Bridge project.
Labor:
Monarch Welding & Engineering: project management, project coordinator, project superintendent, site foreman
Operating Engineers Training Center: Operators daily and Operators for civil excavation.
Ironworkers Apprenticeship: Supplied apprentice Ironworkers as available.
Michigan Painters District Council 1M: Supplied the blast and finish painters.
Several retired Ironworkers, Operators, a Boilermaker, a couple Boilermaker apprentices and a Pipe Fitter from Ann Arbor.
Equipment:
Monarch Welding & Engineering: supplied field trailer, service trucks and all hand tools.
Operating Engineers Training Center: supplied crane for daily use.
Connelly Crane: Supplied 90-ton crane and trucking of the bridge and components on site.
Allingham Crane and Compressors: Supplied the compressors and air supply lines
Michigan Cat: Supplied the rubber tired equipment for the crane pad and ramp installations.
John A. Papalas: Supplied the blast and print equipment.
Allstate Welding: Provided a Du-op welder
Materials:
Alro Steel: Supplied beams, grating for the bridge sideboards.
MBM Fabricators: Contributed the tubes, checker plates, and angles in addition to pre-fabrication of the sideboard sections for our installation.
PPG Paints: provided the primer and finish paint as well as thinners required.
Metro Gas and Air: provided the oxygen and acetylene delivered to site.
Mazzella Lifting Technologies: were responsible for the guide cables along the bridge length.
Midland Tool: supplied consumables for the cutting, grinding and welding.
Flat Rock Bagging: supplier of all the blast media required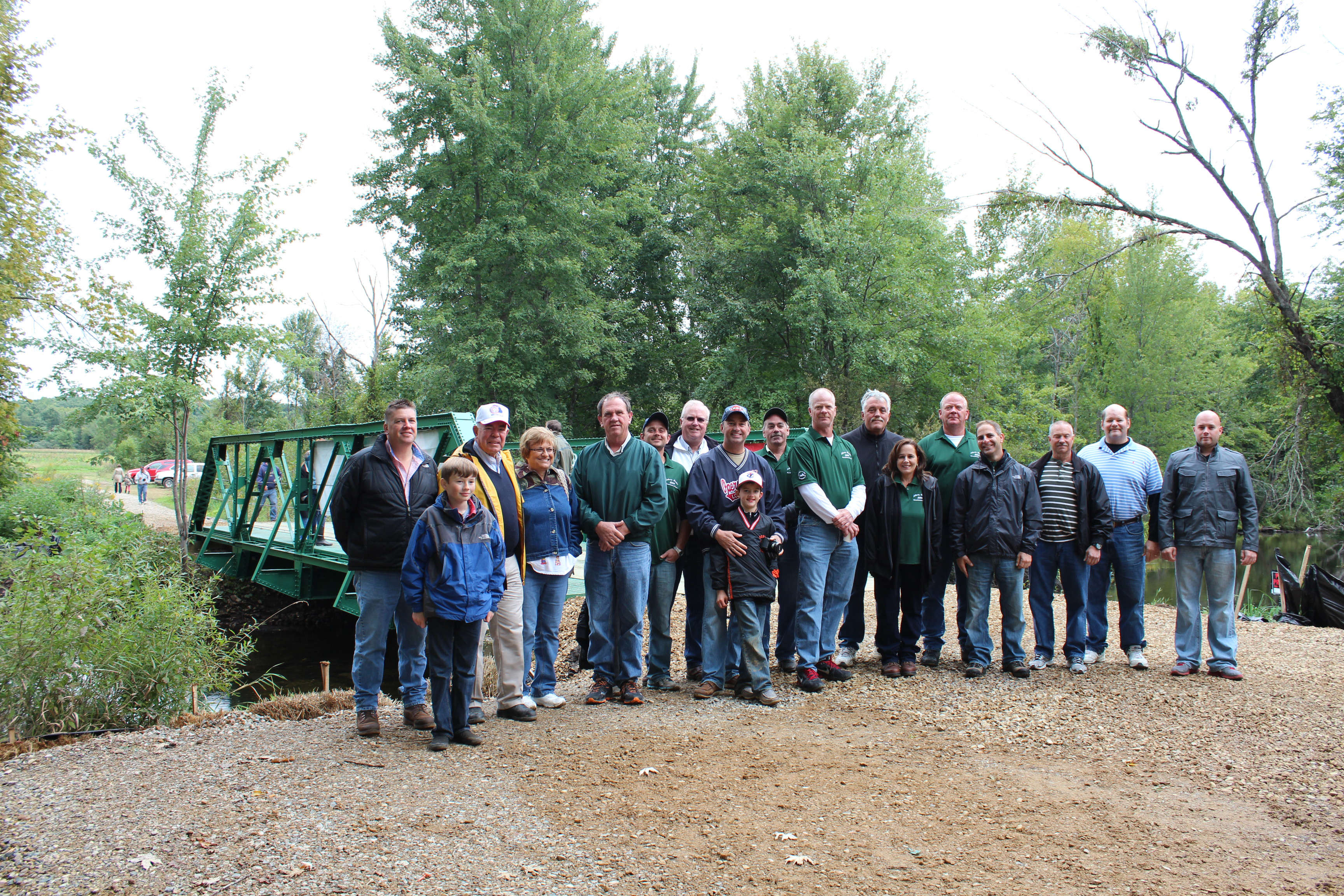 MANY OF THE PEOPLE who had a role in the rehabilitation of the Camp Liberty Bridge attended the camp's open house and bridge dedication on Sept. 13. They include (l-r) Apprentice Coordinator John Hartwell, Operating Engineers Local 324 Training Center and son Lucas; Buck Fredrickson, retiree, Operating Engineers Local Union 324, and wife Grace; Business Agent Zane Hubbard, Operating Engineers Local 324; Boilermakers Local 169 apprentice Billy Buell, Jr.; Tim Nichols, DNR National Resources Committee; Operating Engineers Local 324 Training Center Coordinator Lee Graham and son Gage; Ned Hileman, Iron Workers Local 25 and Monarch Welding & Engineering; Project Coordinator Dave Rutledge, Monarch Welding & Engineering; Business Manager Jack O'Donnell, Iron Workers Local Union 25; Kathy Nahtygal, project coordinator, Monarch Welding & Engineering; Project Supt. Tom Rutledge, Monarch Welding & Engineering; Monarch Welding & Engineering Vice President Frank Wimmer; Tim Dean, Iron Workers Local 25 Training Center; James M. Jedinak, Boilermakers Local 169, Monarch Welding & Engineering, and James B. Jedinak, Boilermakers Local 169.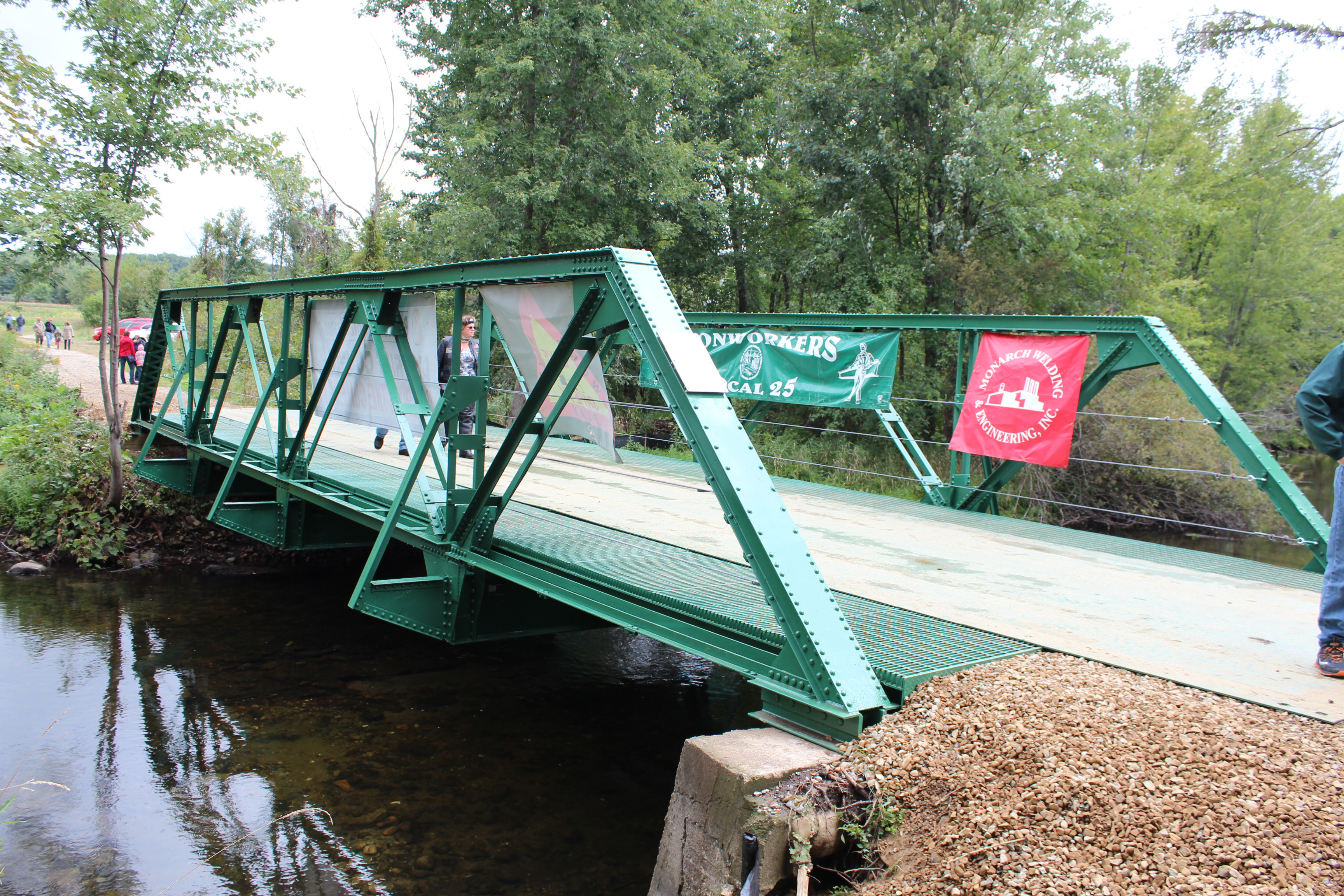 SPANNING THE RAISIN RIVER in Jackson County, this rehabilitated 51-foot-long bridge opens up Camp Liberty to development that will help heal wounded military veterans.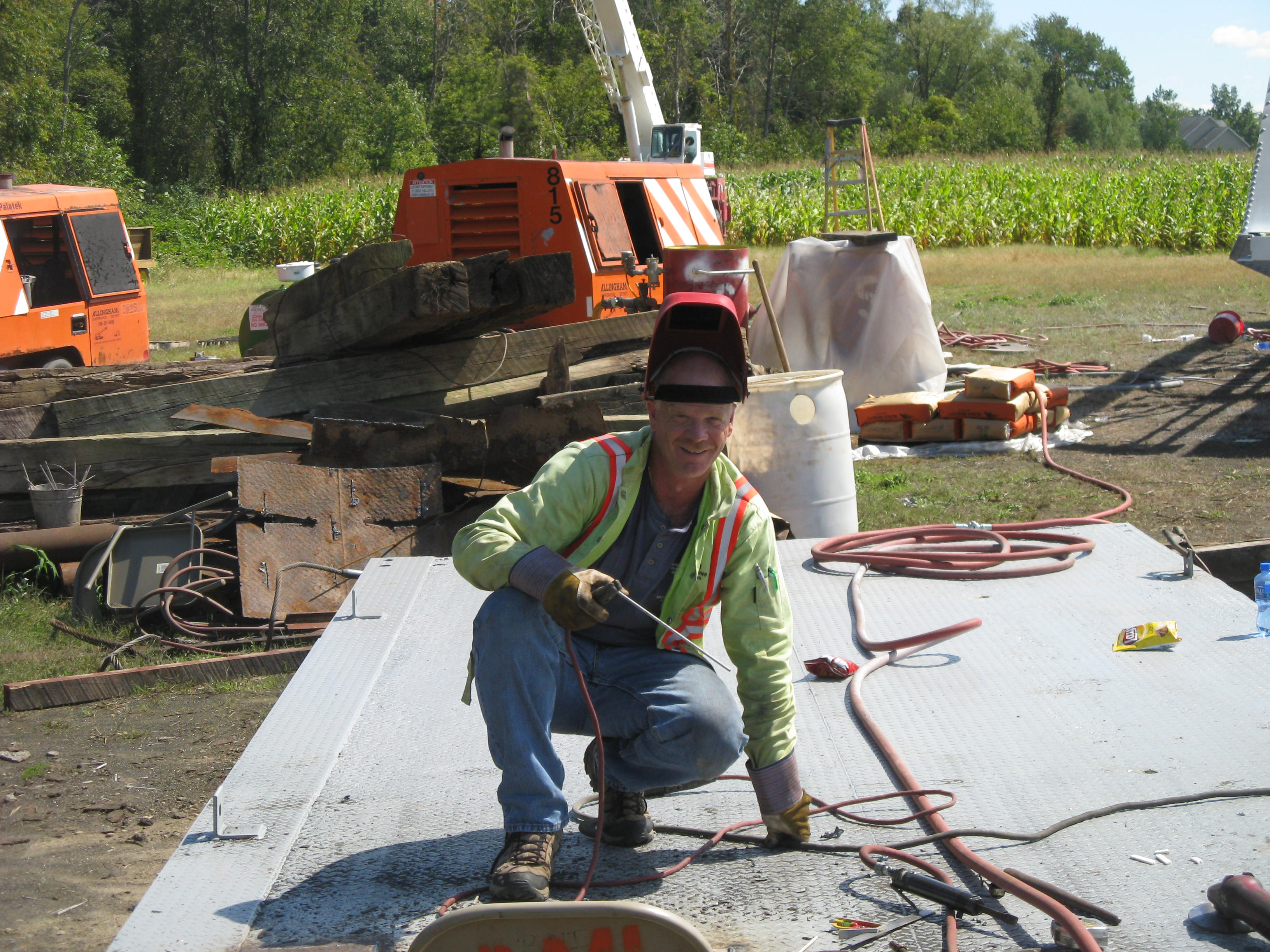 MONARCH WELDING and Engineering allowed Dave Rutledge, above, and his brother Tom time to work on rehabilitating the bridge and coordinating the work of other volunteers. Photo: Kathy Nahtygal, Monarch Welding & Engineering