KALAMAZOO – A building once associated with the city's pharmaceutical heritage is being re-purposed for another medical-related endeavor.
A seven-story, 330,000-square-foot building formerly owned by Pfizer, Inc. is being substantially gutted and will be renovated into space used by the new Western Michigan University School of Medicine. Construction manager Walbridge, its subcontractors and the building trades last month were at the midway point of a renovation that started in July 2012 and is expected to wrap up in June 2014.
"In ways it's a typical renovation," said Walbridge Project Supt. Garry McIver. "We've run into some buried footings, tunnels and structural elements that don't represent themselves in the original plans."
Located on the W.E. Upjohn Campus at 300 Portage street downtown, Pfizer's former Building 267 has been empty for the last several years. Built in the 1970s, it was once part of a downtown pharmacy campus that included Upjohn and Pharmacia.
In 2008, MPI Research, a Mattawan-based global pre-clinical research organization, took ownership of the building which was donated by Pfizer, as well as adjacent Building 126. They subsequently donated Building 267 to Western Michigan University to be used as the home of the new medical school.
"When Pfizer gave the buildings to us, we anticipated that it might take some time before our business would need to expand into that space," said MPI Research Chairman and CEO William U. Parfet to WMU News. "The medical school presents an exciting new development for our downtown. We are just happy to be in a position to donate this property so the community can begin to reap the immediate benefit, and MPI Research will look for other space to grow in Kalamazoo or Mattawan as the future dictates."
According to McIver, Building 267's first three floors will undergo "complete gutting" and subsequent renovation as part of the $68 million project. Floors five and seven will see selective demolition and renovation. Floors four and six will not be renovated during this project. A 32,000 square-foot addition is being erected on the building's north side. Approximately 85 Hardhats were on the project late last month, and at peak the job will employ about 120.
"The tradespeople have been fantastic," McIver said. "They have a great work ethic, and we've had a great experience here."
Building 267 was built to house human drug development. It was erected with typical steel framing and cast-in-place concrete decking. The exterior of the building will remain unchanged.
To find a new location for the medical school, Western Michigan University compared the pros and cons cost of new construction, renovating other existing buildings, or renovating the donated Building 267.
"In the final analysis," said WMU President John M. Dunn, "the opportunity to develop Building 267 for our use gives us a long-term financial advantage. This remarkable gift will start us at a level significantly above what we could afford with new construction, and five years from now, as the medical school grows, we won't be strained by the need to acquire or build additional space."
He added, via WMU News, "This is an extraordinary gift that will not only benefit our new medical school, but will also have a dramatic impact on our broader community and the two great hospitals – Borgess and Bronson – our partners in developing the WMU School of Medicine. The importance of this gift to the development of our school is immeasurable."
The collaboration involving Western Michigan University School of Medicine with Kalamazoo's two teaching hospitals, Borgess Health and Bronson Healthcare, has been in planning since 2007. The first medical school class will start in the August 2014. Anonymous donors have given gifts of more than $100 million to start the school.
"This renovation is going to be a shining star for Western Michigan University School of Medicine," McIver said. "The design of the building is going to make it a fantastic renovated space, and it's going to give the school international recognition as a premier medical school."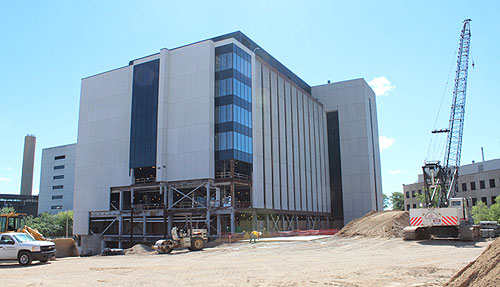 FORMERLY A BUILDING owned by Pfizer and used for drug development, this 330,000 square-foot building is being transformed by Walbridge and the building trades into a new medical school building for Western Michigan University.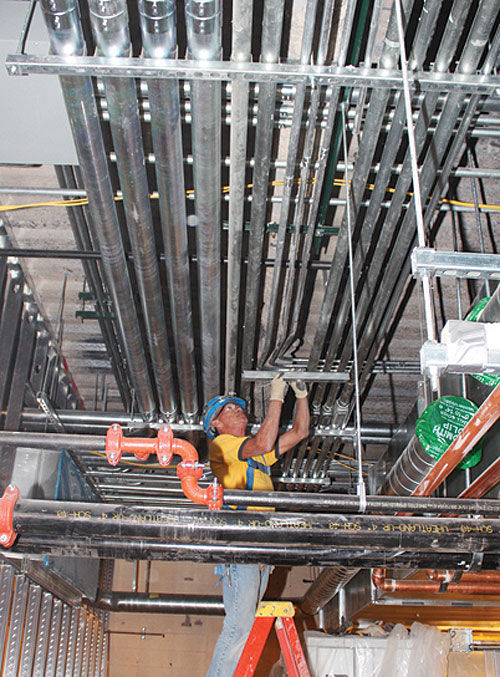 A NICE COLLECTION of conduit at the new WMU School of Medicine Building was created in part by Clyde Streeter of IBEW Local 131, working for Moore Electric.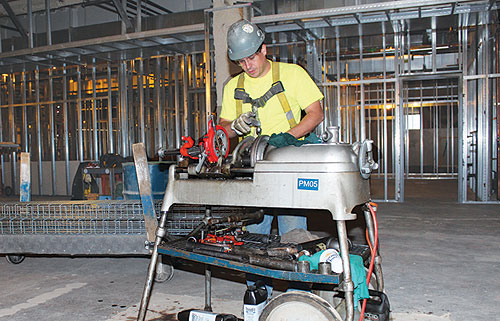 THREADING AIR LINE pipe at the new WMU Medical School Building is Steve Phillips of Plumbers and Pipe Fitters Local 357. He's working for ProServe.