The Detroit Building Trades on Nov. 2 honored three retired labor leaders who left a legacy of good service to unionism.
During a luncheon at the Gaelic League in Detroit, more than 200 union leaders paid tribute. "In the building trades, we're not big on gold watches, or long speeches, but we never forget our friends, and we're never short on appreciation for their efforts over the years," said GDBTC Sec.-Treas. Patrick Devlin. "The entire labor community in Southeast Michigan is better because of Elvin, Jack and Ed."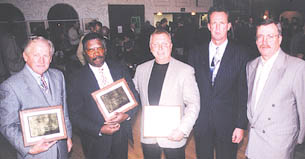 THE HONOREES were (l-r) retired Metro Detroit AFL-CIO President Ed Scribner, retired Cement Masons Local 514 Business Manager Elvin Atkins and retired Iron Workers Local 25 Business Manager Jack Koby. Hosting the event were Detroit Building Trades Council President John Hamilton and Secretary-Treas. Patrick Devlin. Proceeds went to The Children's Foundation and St. Rita's Food Bank.