YPSILANTI - One of the largest expenditures in recent years at Eastern Michigan University will yield new and revamped existing space for teaching and learning STEM principles.
Strong Hall, on the central part of the university's campus, is the beneficiary of nearly $40 million in ongoing renovations provided in a project managed by Clark Construction, along with the work of their subcontractors and the building trades.


The renovation work is intended to enhance education in the STEM curricula - Science Technology, Engineering and Math - and the major outlay "spotlights Eastern's continued focus on preparing students for high-demand careers in science that are aligned with state's economic needs," the university said.


"Lately we have been employing 70-80 tradespeople," said Andy Burch, project manager for Clark. "We have a great workforce, and everything has gone relatively according to plan."


Strong Hall was built in 1957, and it was ripe for renovation. The 80,713-square-foot science building is getting an additional 20,000 square-feet of new space. It connects with the nearby Jefferson Science Building, which received a $90 million renovation earlier this decade. Strong Hall has housed the departments of geology and geography, astronomy and physics.


According to Clark Construction, the work at Strong Hall includes renovation of the entire existing two-story structure, including; classrooms, lecture halls, student common areas, and faculty offices. Space will be reconfigured to modernize classroom and lab spaces with new technologies and flexible use spaces for both research and instruction. The existing HVAC, plumbing, and electrical systems will be replaced, improving energy efficiency. The building's fire suppression system is being replaced, and a mechanical penthouse is being added to the roof. The renovation will include substantial "green" improvements to reduce long-term energy costs.


"Strong Hall had almost no renovations done to it since it was built, so it was in serious need of renovation," said EMU Project Engineer Chris Longerbeam. "We basically drove a Bobcat through it, and essentially took the interior down to concrete deck and columns. We tore out everything, but it's going to look beautiful when it's finished."


The building will tap into the university's steam and chilled water loops to serve the heating and cooling systems. The renovation work began last fall, and is expected to wrap up in time for the January 2019 semester.


EMU's Strong Hall and its Science Complex houses key science programs including the Mars Computer Weather Simulation Lab, the Plasma Physics Lab, the Laser Physics Lab, the Modern Optics Lab, Environmental Sciences, and the departments of astronomy and physics and geology and geography. More than 25 percent of the university's STEM lab classrooms are in the Strong building.


"The renovation of Strong Hall holds tremendous significance for many future students who will come to EMU for science-related education and career preparation," said EMU president James Smith. "The project aligns with the state of Michigan's well-articulated goal of preparing more students for STEM careers that contribute to the state's economy."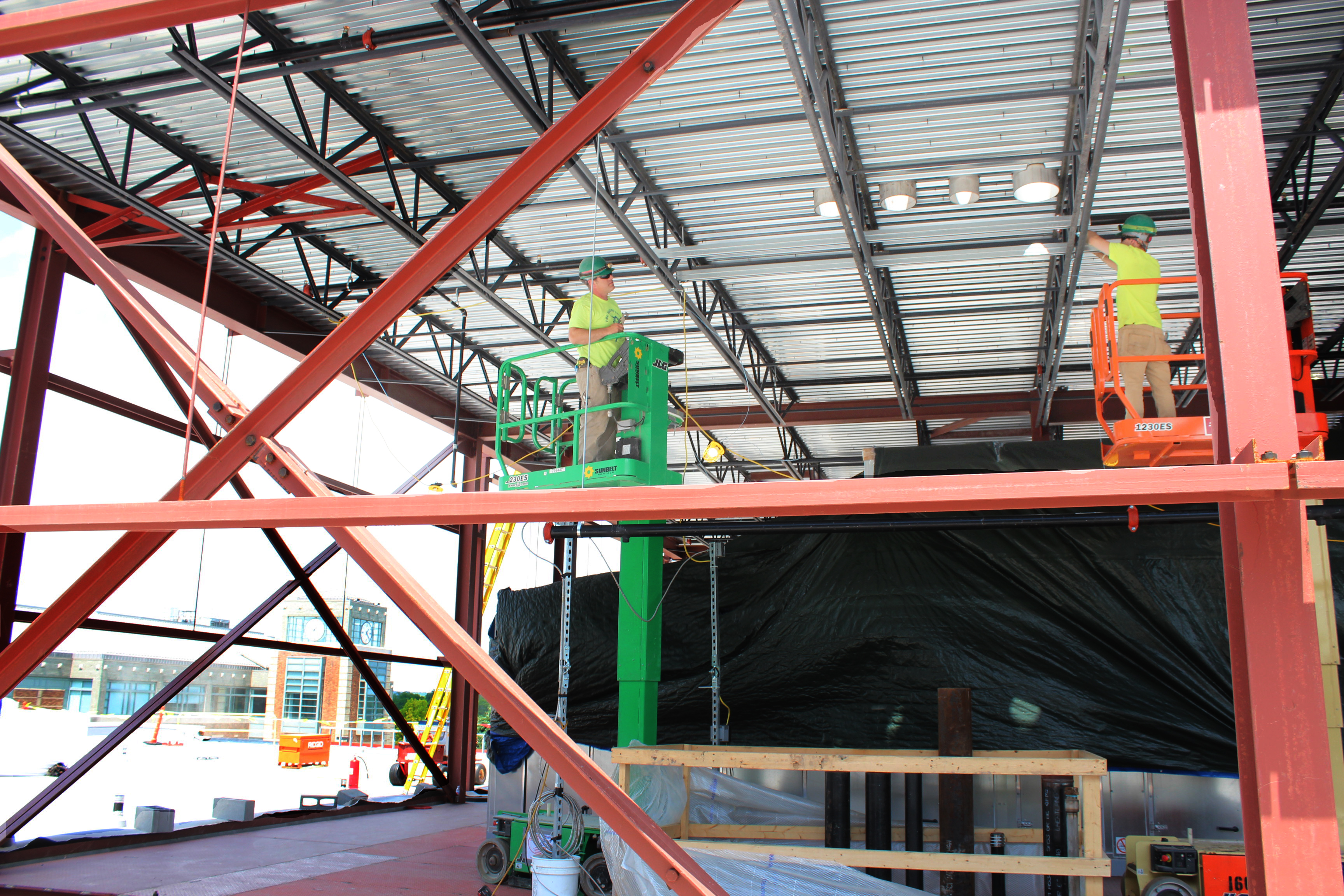 SETTING HANGERS for mechanical piping under the roof of the addition to Strong Hall at Eastern Michigan University in Ypsilanti are (l-r) Mike Jones of Plumbers and Pipe Fitters Local 671 and Nick Yonish of Local 190. They're employed by Monroe Plumbing and Heating.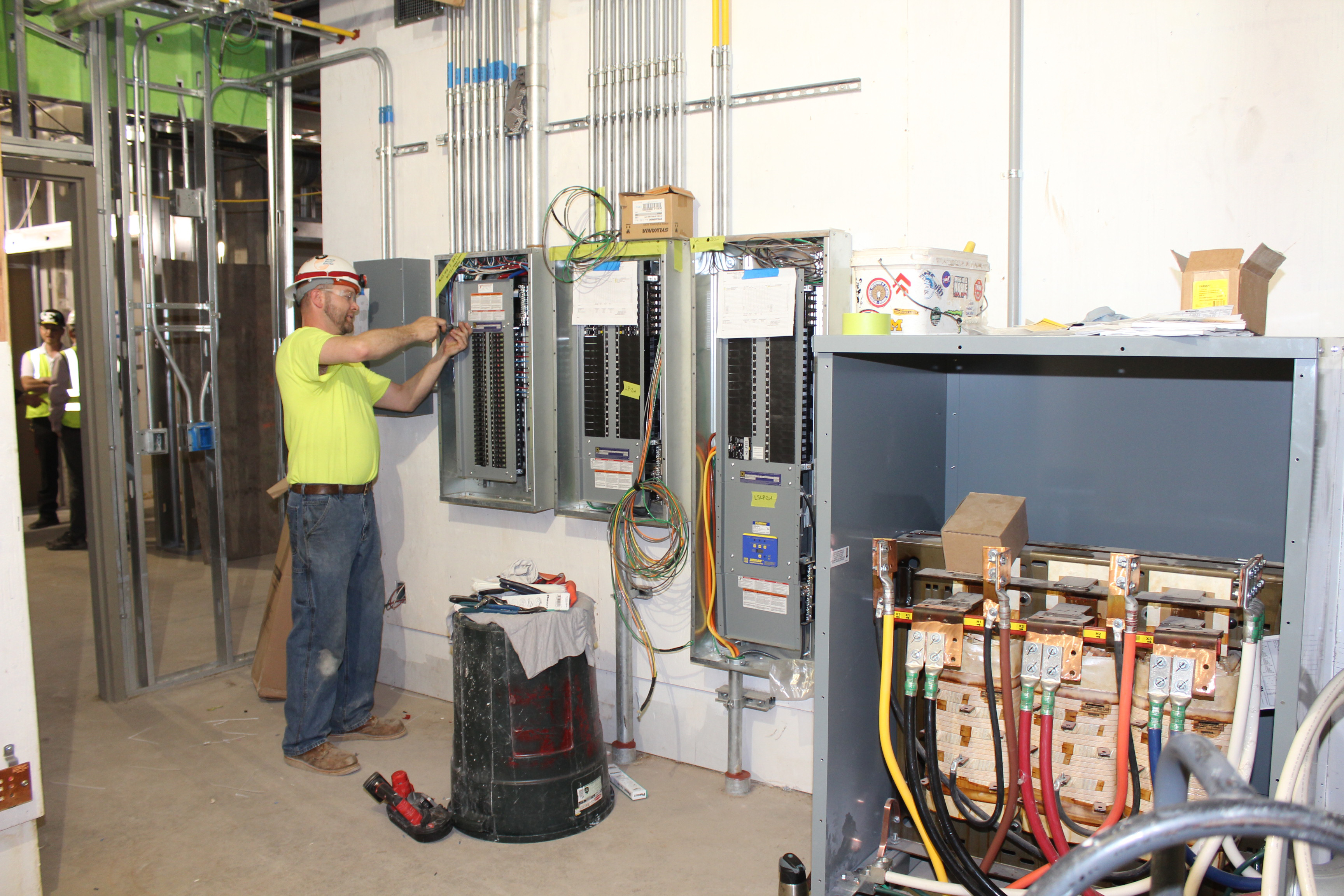 WORKING ON A SECOND-FLOOR, 225-amp electrical panel at the EMU Strong hall renovation project is Nick Quigley of IBEW Local 252. He's employed by Huron Valley Electric.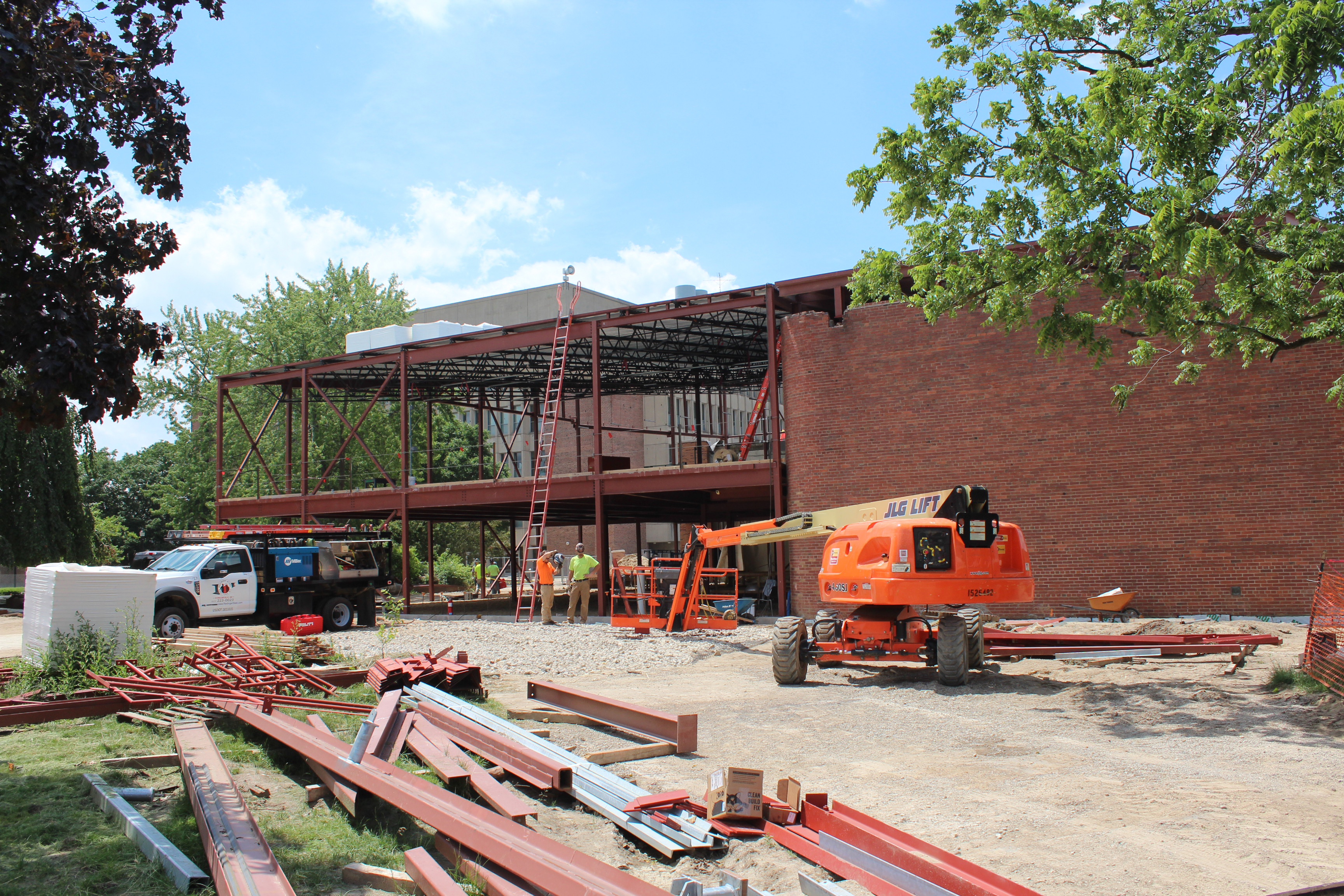 PROJECT MANAGER Clark Construction, its subcontractors and the building trades are undertaking a 20,000-square-foot addition to Strong Hall at Eastern Michigan University, to bolster the school's science department. That's in addition to the renovation of 80,000 square feet of existing space that's part of the project.