EAST LANSING – Now rising at Michigan State University is the Eli and Edythe Broad Art Museum – a building sure to add architectural flair to the campus.
Foundations are set on the building, and now walls are rising on the project site on Grand River next to Berkey Hall. The building was designed by world-renowned architect Zaha Hadid. Construction is being managed by Barton Malow.
"It is very exciting to see such progress on the Broad Art Museum," Hadid said. "Another of our art museum projects, the new MAXXI Museum in Rome, opened this summer and has been extremely well received. What is also exciting is that the local community is coming together and using the museum like a new Roman piazza. It has become a meeting place for everyone, like a village square, each afternoon. It is no longer just a museum, but part of the urbanism of Rome. I look forward to the Broad Art Museum serving everyone in the community at Michigan State in the same way."
This summer, according to MSU, contractors completed work associated with building excavation, which included earth retention, de-watering wells and utility relocations and rough-ins. Steam tunnel and other infrastructure improvements also began. The building foundation and exterior walls were completed as well as interior concrete walls in the lower level. The foundation waterproofing and back-filling is currently under way and contractors have begun working on first-level structural concrete.
The three-level, 46,000–square-foot building, to be located at the corner of Grand River Avenue and the Farm Lane campus entrance, will feature a unique design constructed of steel and concrete with a pleated stainless steel and glass exterior. The museum will be adjoined by an expansive outdoor sculpture garden as an extension of the east entrance courtyard and by a large pedestrian plaza at the west entrance.
The museum has nearly met its fundraising goal of $40 million thanks to a $28 million gift by long-time university supporters Eli and Edythe Broad. About half the cost will go toward construction, with much of the rest going toward art acquisition.
The MSU museum and its architect got the attention of the New York Times, which said in an article that Hadid is known for her "bold, unconventional forms" in architecture. The building, it said, "is designed to appear emerging out of the landscape," with an outdoor sculpture garden to the east.
The museum, which broke ground on March 16, is expected to open in the spring of 2012 and is on schedule and within budget. When completed, it will feature more than 70 percent gallery space and room for large art works to be displayed. The primary focus of the museum will be contemporary art.
"This is an exciting project for many MSU alumni and friends of the university, not only in mid-Michigan but around the world," said Robert Groves, vice president of University Advancement. "We have seen increased interest in the project since the groundbreaking, and we're optimistic that we can complete the fundraising before the building opens in a little less than two years."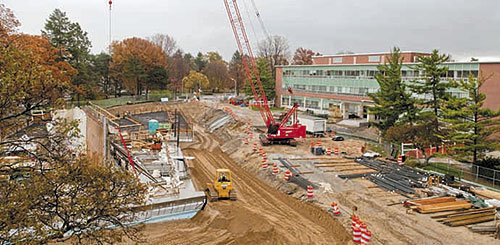 WALLS START GOING UP at Michigan State University's Eli and Edythe Broad Art Museum, located next to Berkey Hall. It will feature more than 70 percent gallery space and room for the display of large art works. This photo was taken on Oct. 29. Photo by Derrick Turner